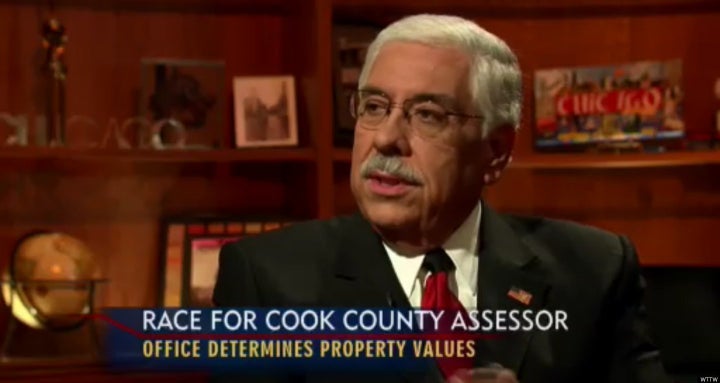 During the race for Cook County Assessor, Democrat Joe Berrios faced frequent allegations of nepotism and clout. And it's not hard to see why: in his previous position at the Board of Review, Berrios hired his son Joey, his sister Carmen, two sisters-in-law and a brother-in-law.
Berrios ended up winning that election, defeating independent reformer Forrest Claypool. And judging by an interview with the Chicago Sun-Times today, Berrios apparently saw that win as a mandate to keep the nepotism going.
As he staffs the new Assessor's office, Berrios announced that Joey and Carmen will both have jobs in his administration. They will join another family member, Berrios's daughter Vanessa, who already works at the Assessor's office.
When asked if the hirings confirmed those campaign accusations against him, Berrios responded brashly: "I still won the election."
"Obviously, he doesn't give a damn, does he?" said Cindy Canary of the Illinois Campaign for Political Reform, one of the many government watchdogs that has been a persistent Berrios gadfly. "Yes, he won the election, but it's been abundantly clear that the voters in Cook County are getting wary of this nepotism."
Voters didn't make a resounding show of their wariness in November, voting Berrios in as the property tax assessment chief by a margin of 48-32. But the playing field wasn't exactly level for his opponent Claypool, on an independent ticket: Berrios got ample financial and man-hour support from the Cook County Democratic Party. ("Chicago Machine" redirects to the CCDP on Wikipedia.) The chairman of the Cook County Dems? None other than Joe Berrios.
He has, though, faced increased scrutiny over allegations of clout and pay-to-play politics during his Board of Review tenure. The Board considers appeals to property tax decisions made by the Assessor, in which millions of dollars can hang in the balance for developers of downtown properties. An excoriation of Berrios by the Better Government Association during the campaign detailed how tax lawyers sought reduced assessments from Berrios in exchange for supporting him in his other career as a lobbyist. Speaker of the Illinois State House Mike Madigan, for instance, is also a tax attorney who has won hundreds of thousands in appeals from Berrios at the Board; the Madigan-controlled House also recently pushed through a bill to legalize video gambling, one of Berrios' biggest interests as a lobbyist.
(Joe's third child, daughter Toni, is a state representative who won office on the strength of a $100,000 campaign contribution from her dad; she has often pushed for bills supporting her father's lobbying efforts.)
Berrios has never been shy about his hiring of family relations. From a campaign interview on WTTW's "Chicago Tonight" program: "If I go out and get you a job -- if you were related to me ... am I hiding the fact that you're going to work in government?" he asked moderator Phil Ponce.
"No, I'm out front. I'm out front. I'm out front with it."
Having won the election, he continues to be out front with it. Once he takes over as Assessor, three members of his immediate family (sister, son and daughter) will be on his office's payroll, making nearly $200,000 a year combined in taxpayer dollars.
Watch the clip of Joe Berrios discussing nepotism on "Chicago Tonight":
REAL LIFE. REAL NEWS. REAL VOICES.
Help us tell more of the stories that matter from voices that too often remain unheard.