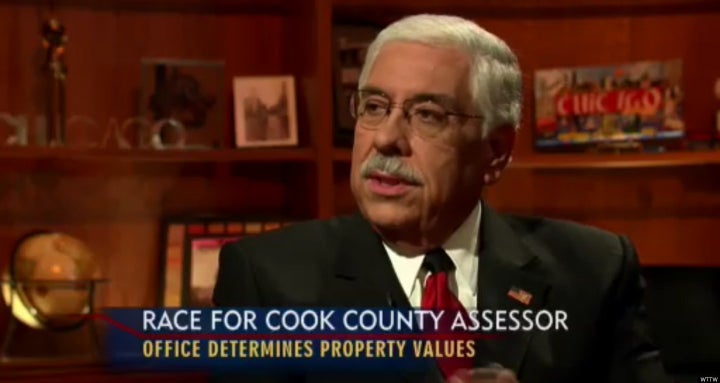 From the Joe Berrios campaign: the two $4,500 donations from Toni Berrios were in fact just one, an in-kind donation to rent a restaurant for a fundraiser. They were erroneously filed twice by Berrios staff.
And as for the $45,000, it was a loan and not a contribution, explains spokeswoman Kelley Quinn. Citing wealthy donors to Forrest Claypool's campaign, Quinn writes: "Because Joe doesn't benefit from millionaires and billionaires, he has not only had to make a $100,000 loan to himself, but take this loan from his daughter, as well. I'm sure any daughter in her position would do the same."
Ten years ago, during redistricting, an Illinois State House district came to be in Logan Square, Hermosa and a couple of other West Side neighborhoods.
There was never any doubt as to who would represent the 39th: Maria Antonia Berrios, better known as Toni--the daughter of the Democratic machine powerhouse Joe Berrios. Joe Berrios gave her $100,000 from his campaign coffers, and Toni ran unopposed in the primary and the general.
This year, Joe is fighting for his political life in a very contentious race for Cook County Assessor with Independent Forrest Claypool. And while Toni herself is fighting off an impressive upstart in Green Party candidate Jeremy Karpen, her father is borrowing from her campaign fund to bankroll his own survival.
On October 19th, Citizens for Toni Berrios " target="_hplink">lent $45,000 to the Committee to Elect Joe Berrios -- the treasurer of which is none other than Toni Berrios.
The influx of cash comes as the elder Berrios faces a much better-funded opponent in Claypool. The former head of the Park District has taken in over $1.5 million during the battle for Assessor, the post that sets property values for tax purposes for all of Cook County. While the position normally flies under the radar, this year's race has been loud and ugly, with both candidates spending thousands of dollars on negative TV advertising.
As Joe digs in against Claypool, his daughter isn't the only one from whom he calling in favors. State Senator Tony Munoz, a longtime Berrios ally and previous recipient of Joe's largesse, donated $40,000. Alderman Ray Suarez, whose career has also been Berrios-sponsored, kicked in $25,000.
But Karpen, Toni Berrios's Green Party opponent, thinks the cash from his daughter is most egregious.
"I think that says something about the value she puts on civic engagement in our community, he said. "Most of [Toni's] donors are corporations and PACs, so maybe they don't mind, but voters should wonder about a candidate who cares more about advancing her father's agenda than connecting with working families."
Interestingly, in a September interview with Huffington Post, Toni had tried to distance herself from her father.
"He has nothing to do with my district. Some people might use that against me, but I'm the legislator," she said. "I'm the one who goes down to Springfield and votes. It's not him. People need to learn to separate that."
With more than 50 percent of Rep. Berrios's campaign cash gone to the Assessor's race, one of those people who need to learn that separation might be in her own nuclear family.
REAL LIFE. REAL NEWS. REAL VOICES.
Help us tell more of the stories that matter from voices that too often remain unheard.