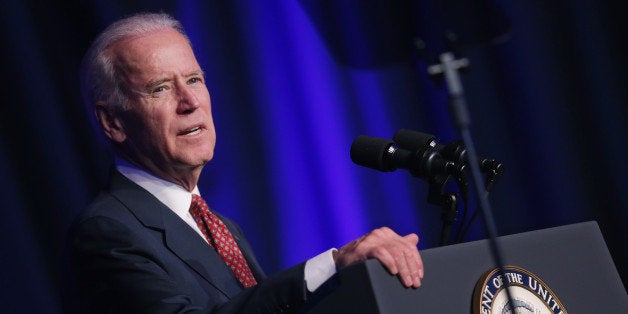 In the early summer of 1971 I received a telephone call from Wes Barthlesmes, a key U.S. Senate aide. He asked if I would to join him for lunch with a young Democrat from Delaware planning to run for the U.S. Senate against Caleb Boggs, the state's senior senator.

"Who's running?" I asked. "Joe Biden," Barthlesmes answered. "He's a New Castle County councilor." "How old?" "Twenty-nine," he said. "Twenty-nine! The Constitution says you have to be 30 to serve in the Senate." "He'll be 30 by then," I was told.

I did some quick political math. Caleb Boggs was a Delaware political institution, U.S. Representative, governor, senator; a highly likeable guy, with no known enemies that I could think of. (I had gotten to know Boggs when I was press secretary to New York senator Charles Goodell, a fellow Republican, whose offices adjoined one another.)

For one of the few times in my life, I turned down a free lunch. It was pointless. What chance had some county councilor against the likes of Caleb Boggs? A mere sapling lost amid the lengthening shadows of a towering oak, standing large against the Delaware political landscape.

I've been wrong many times. Wrong about people. Wrong about politics. Wrong in ways I don't even want to think about, but seldom have I been more egregiously wrong than I was about Joe Biden.

The phone call from Barthlesmes, the invitation to lunch, was 44-summers past. But it came back to me when I heard the news, the terrible news, that Biden has lost his son, Beau, to brain cancer.

It started me thinking again about Biden, about our long friendship (while I was a no show at the luncheon, we would later meet). It reminded me that among the chattering classes of Washington and an often arrogant national media, Biden was mostly misunderstood.
They didn't understand someone who would leave Washington at the end of each day to go home to Delaware, someone who would rather be with family and friends than attending fancy Georgetown dinner parties. But mostly I thought about his extraordinary qualities as a person, his great decency, of his transcendent personal values.

I'm not Joe Biden's best friend, but I know him well, and I believe to the core of my being, that in the whole of American politics, there's no better person than the Vice President.

When Biden lost his wife and daughter in a pre-Christmas car crash in '72, just a few weeks after his surprising election to the U.S. Senate, he wasn't certain he would take the job. He was, amid a huge political win and the most crushing personal tragedy, understandably traumatized by deeply conflicting emotions, he didn't know what he should do -- take the Senate seat he had won or dropout and stay home? His life had become the stuff of which novels are written and movies made; the type of improbable happenings that escape even the most imaginative writers of fiction.

Biden's ultimate decision to go to Washington was significantly influenced by the Senate's majority leader, Mike Mansfield, the wonderful man from Montana. Mansfield assisted others, family and friends, in bringing Biden through the necessary healing process; he would tell the young man from Delaware that the challenge of the Senate would help him overcome his grief.

The decision to become a senator came with a personal commitment, a commitment to his young sons, Beau and Hunt (who barely survived the crash that took the life of their mother and sister). The commitment was this: After the work of the Senate was finished, Joe Biden would leave Washington, board Amtrak at Union Station, and go home to family -- and he would do it every night through all the years of serving in the U.S. Senate.

A commitment made in a time of extraordinary personal loss, of unimaginable grief, but kept through better times, reveals a person whose ultimate loyalty is not to ambition alone, but to transcendent and lasting values -- to serve the people of your state and country, to keep the ideal of family foremost in your heart, mind and soul, all dramatically underscoring the character of Joe Biden.

While others preach "family values", Biden lives it. To know the Bidens -- mother and father, wife and children, sisters and brothers -- is to appreciate anew the meaning of family.

Biden, as a friend is also special. In the past 44-years he's spoke more than 15 times to the public forum I run -- The City Club of San Diego. He never asked to be paid (even when it was permissible under senate rules, and many senators were handsomely rewarded for their speeches). Neither did he do it because I'm a major contributor to his campaigns, I'm not. He's did it because, as he values family, so too does he value friendship -- even when there is no political capital to be found in that friendship.

For his many gifts -- keen intelligence, gift of camaraderie, and stunning ability as an orator (one of the best speakers in politics) -- the people of Delaware justly rewarded Biden by returning him to the Senate six times. But I'm confident each time a decisive majority of Delawareans cast their votes for Biden, their judgment was less about Biden, the politician, and more about Biden the person. They know their senators, as those of us who live in mega-states like California or New York, are never permitted to know ours -- and in knowing him, they know he is one of them.
Tip O'Neil famously said, "All politics is local." Joe Biden has said, "All politics is personal." The Vice President is closer to the truth than the late Speaker.

To earn the trust of your constituents is a politician's greatest achievement; to keep it through four decades, even as cynicism has grown toward politics and government, is nothing short of remarkable. It stands as a tribute to Joe Biden, yes, but also as a tribute to the sound values and good sense of the people of his home state.

I'm grateful to Delaware for sharing Joe Biden with the rest of America -- and, as Vice President, the magnitude of that sharing is even now more abundantly clear.
Calling all HuffPost superfans!
Sign up for membership to become a founding member and help shape HuffPost's next chapter