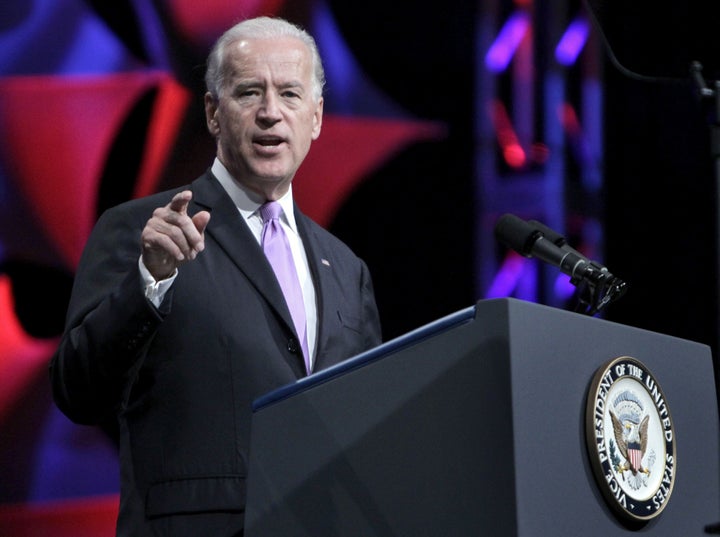 WASHINGTON -- Vice President Biden promised Sunday that the United States will withdraw from Afghanistan by 2014, "come hell or high water."
Last week, the Obama administration issued its strategic review of the situation in Afghanistan and Pakistan, assuring the public that it is still on target to begin withdrawing U.S. troops in July 2011 and fully hand over security operations to Afghan forces by 2014. But many observers have raised concerns about what the pace of withdrawal will look like within that time frame.
But in an interview with NBC's "Meet the Press" Sunday, Vice President Biden said that the withdrawal that begins next year will be more than symbolic:
It will not be a token amount, but the degree to which we draw down -- if I can make an analogy to Iran, excuse me, to Iraq, which I've been put in charge of -- What happened there? We signed three years ago an agreement with the Iraqis saying that what we're going to do is two summers ago we're going to draw all combat troops out of the cities, populated areas. Then we said that our administration, we're going to draw 100,000 troops out the next summer, and we're going to be totally out.

In the meantime, we'll help to build a government. We'll transfer responsibility and we'll be gone. That's exactly what we did at the recent Lisbon conference, NATO conference, where we said we're starting this process like we did in Iraq.

We're starting it in July 2011, and we're going to be totally out of there, come hell or high water, by 2014.
When asked whether the United States is winning or losing in Afghanistan, Biden replied, "The one thing I've never been accused of is not being straight. We are making progress. Are we making sufficient progress fast enough? The answer remains to be seen."
On WikiLeaks, Biden sharply condemned Julian Assange, saying he was more like a "high-tech terrorist" than something akin to the leaking of the Pentagon Papers. Biden stopped short of calling him a criminal, saying it needs to be determined whether he conspired with a member of the U.S. military to obtain the information.
"This guy has done things that have damaged and put in jeopardy the lives and occupations of people in other parts of the world," said Biden. "He has made it more difficult for us to conduct business with our allies and our friends. For example, in my meetings -- you know, I meet with most of these world leaders, there is a desire now to meet with me alone rather than have staff in the room. It makes things more cumbersome. So, it has done damage."
Rep. John Conyers (D-Mich.), who chairs the Congressional Out of Afghanistan Caucus, and Rep. Buck McKeon (R-Calif.), who will be chairing the House Armed Services Committee in the new year, have both called on the White House to make Gen. David Petraeus available to testify before Congress.
"In the 112th Congress, I intend to place the Armed Services Committee on a war footing with a renewed focus on winning in Afghanistan," said McKeon in a statement. "As part of that effort, we intend to hear directly from General Petraeus early next year on the conditions on the ground, where progress is being made, what challenges exist, and where he believes we can begin transitioning security responsibilities from our troops to Afghanistan's security forces. We will also focus on whether our military forces have the tools, support and training they need to win in Afghanistan."
Biden discusses Afghanistan:
Biden discusses WikiLeaks:
UPDATE, 11:23 a.m.: On ABC's "This Week," Washington Post journalist Rajiv Chandrasekaran, who has been to Afghanistan more than a dozen times over the last couple of years, gave an assessment of what he's seeing in Afghanistan:
There are pockets of progress, but overall it's still a very difficult, very grim picture. When you put more U.S. boots on the ground, you do get short-term security improvements. That's what we've seen around Kandahar. The review notes that.

But the bigger strategic questions, getting Afghan governance up and running, getting them to deliver basic services, getting them to build the necessary, most basic frameworks of a state so they can take responsibility of a situation, that still seems a long way off. And -- and this strategy hasn't yet yielded those sorts of gains and benefits. ... They've kicked the can down the road until the spring, early summer, when the president is going to have to decide just how many troops to withdraw, and it's looking like there will be a meaningful troop drawdown by next summer. The skeptics are not convinced.
Related
Popular in the Community