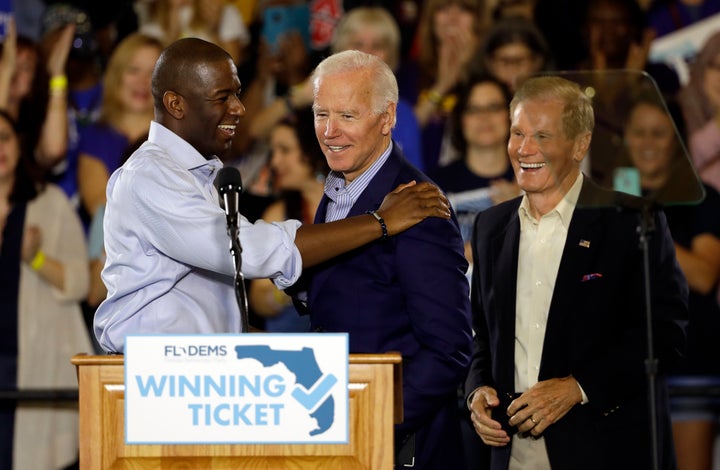 TAMPA, Fla. — As many polling places opened for early voting Monday, Democrats rolled out one of their big guns, with former Vice President Joe Biden swooping into Florida to help Andrew Gillum and Bill Nelson in their runs for governor and U.S. Senate, respectively.
"You have one of the most exciting young leaders in the nation," Biden told a University of South Florida gym packed with some 1,500 students and area Democrats, describing Gillum, Tallahassee's mayor. "You want change in this state? Well, you got the guy standing behind me to change it."
All of Florida's 67 counties are required to offer at least a week of early voting starting Saturday and are allowed to offer an additional five days starting Monday. Many of the state's most populous counties do that, including Tampa's Hillsborough County.
"Election Day has started. Right here on this campus, today is Election Day," Gillum said. "Today is Election Day, USF. Today is Election Day, Floridians."
Biden urged voters to return Nelson for a fourth term, citing his willingness to stand up for the Affordable Care Act in 2010, when then-President Barack Obama was pushing it through Congress at a time when it was deeply unpopular with many voters.
He also praised Gillum as a powerful voice for progressive ideals and someone who would immediately expand Medicaid for 800,000 Floridians, after current Republican Gov. Rick Scott refused to do so over his two terms.
Biden also spent considerable time on a national message as he considers another run for president in 2020. "This election is bigger than politics," he said. "You'll never vote in an election that's more important, not only for Florida but for the nation."
Biden said he and Obama tried to afford Donald Trump the same courtesy that George W. Bush showed them: remaining quiet as the new administration took over.
"After Charlottesville, I could not remain silent," Biden said, referring to a neo-Nazi march in the Virginia college town last year; violence that weekend left one protester dead, and Trump said there were "good people" on "both sides."
"The president of the United States made a moral equivalence. … No president has done that since before the Civil War," Biden said. "Our most important job is to reset the moral compass. Because our children are listening, and our silence is complicity."
Biden said Trump is "trying to amass power so he can abuse power" and it was up to every American who disagrees with that to stand up against it. "Ladies and gentlemen, that's not who we are."
It's about time we lift our heads up. Get the hell up and take back the country.

former Vice President Joe Biden
Biden closed his half-hour of remarks on an optimistic note, pointing out that despite all the worry-mongering about China, the United States was far better positioned in this century, in terms of natural resources, in terms of clean air and plentiful water and in terms of human capital in the form of research universities.
"Don't tell me that China is going to own America," he said and urged Democrats to stop being pessimistic about Trump and to do something about it. "It's about time we lift our heads up. Get the hell up and take back the country. Remember: This is the United States of America, the greatest country in the world. And that's not hyperbole. So let's take it back!"
Recent public polling shows Gillum with a modest lead over Republican nominee Rep. Ron DeSantis and Nelson with a smaller edge over Scott, who couldn't run for governor again because of term limits.
Democrats have not controlled the governor's mansion in 20 years, although Alex Sink and Charlie Crist came within a percentage point of winning against Scott in 2010 and 2014, respectively.
Nelson, meanwhile, has not had a tough election since winning his first term in 2000. Scott, as he did during both his gubernatorial runs, has spent heavily from his personal fortune on his campaign, with $40 million to date in his challenge for Nelson's Senate seat.
Biden had another rally with Gillum and Nelson scheduled for Monday in Jacksonville, with a third set for Orlando on Tuesday.
Calling all HuffPost superfans!
Sign up for membership to become a founding member and help shape HuffPost's next chapter