 WASHINGTON -- Vice President Joe Biden pushed several pieces of President Barack Obama's gun violence package on Friday, particularly the need for universal background checks -- one of the few items with a chance of moving through Congress.
But during his remarks after a two-hour roundtable with cabinet heads and Virginia officials, Biden noticeably omitted the two most ambitious, contentious pieces of Obama's package: an assault weapons ban and a ban on high-capacity gun magazines. His silence on those fronts comes amid signs that neither stands a chance of becoming law, despite some Democrats -- and the president -- forging ahead anyway.
Talking to reporters, Biden ticked off a range of recommendations the group discussed in the meeting: federal gun trafficking legislation, better access and resources for mental health services, more funding for law enforcement positions, better research into violent behavior and possible ties to violent video programming.
Biden also stressed training for gun owners so they know "how to better husband their weapons." He gave a strong push to universal background checks and said that while opponents of gun control may say that the government should just focus on enforcing existing laws instead of making new ones, the first step to doing that is making sure that people deemed mentally unstable or violent by courts are registered in the background check system.
"That's why we need universal background checks. All information is sent to a national system," he said. "It in no way impacts someone's ability to own a gun. Zero. Zero."
The vice president's meeting, which took place in Richmond, Va., marks the first of several that he and Obama are planning around the country as part of their effort to build public support for action on gun violence. Attendees in Friday's meeting included Homeland Security Secretary Janet Napolitano, Health and Human Services Secretary Kathleen Sebelius, Deputy U.S. Attorney General Jim Cole, Sen. Tim Kaine (D-Va.) and Rep. Bobby Scott (D-Va.). Experts who worked on gun safety issues in the wake of the Virginia Tech University shootings also participated.
Still, throughout the vice president's remarks and those of some of the others in attendance, nobody mentioned an assault weapons ban or restrictions on high-capacity magazines. On Thursday, Biden downplayed the importance of an assault weapons ban in favor of pushing background checks and magazine restrictions.
White House Press Secretary Jay Carney dismissed the idea that Biden didn't talk about the two proposals because they've become a lower priority for the White House, given the political challenges.
"The president supports the renewal of the assault weapons ban. He supports addressing or limiting the magazine capacity," Carney said at his daily briefing Friday. "These are all priorities … The fact that they're hard, some harder than others, doesn't mean we shouldn't move forward on them and make the case for them. That's what the president has done and will do."
UPDATE:: 6:30 p.m. -- A source inside the room during Biden's meeting said he did bring up the assault weapons ban during his conversations in there, as well as high-capacity magazines.
Before You Go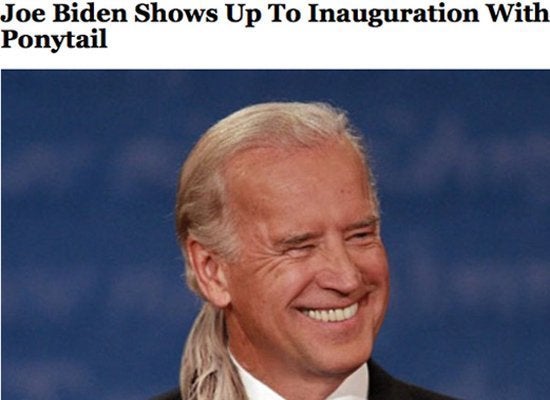 The Onion's Best Joe Biden Parodies
Popular in the Community