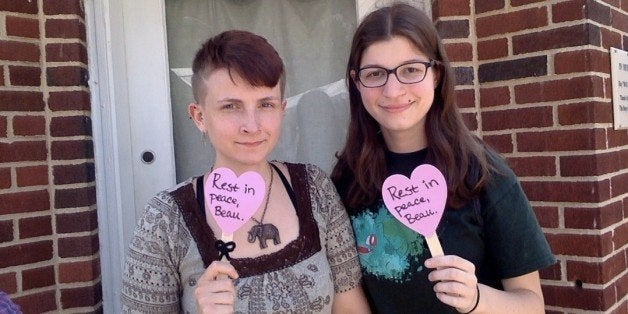 WILMINGTON, Del. -- There were about 1,000 people packed into the Saint Anthony of Padua Church on Saturday for Beau Biden's memorial service. Members of Congress were there. Cable TV show hosts. White House staffers, past and present. President Barack Obama was there, as were former President Bill Clinton and former Secretary of State Hillary Clinton.
But across the street, the sidewalks were lined with a different crowd: people from the community. Dozens and dozens of them, separated from the church by metal barriers and lines of police officers. None could say they had a particularly close relationship with the Biden family, and they couldn't see much of anything as they stood for hours hoping for a chance to wave at Vice President Joe Biden and send their support.

Yet, each person felt a connection to the Biden family. Everyone seemed to have a story to share about why it was important to them to clear their day to be close to the vice president, even if out of sight, as he grapples with the pain of burying his second child.
The Huffington Post spoke to several people in and around Saturday's service, from the woman who got an unexpected helping hand from the vice president's daughter Ashley, to the manager of a shop in the Wilmington train station who could relate to Beau Biden's fight with cancer, to the guy from Philadelphia who just got robbed (!) but still said his biggest regret of the day was missing the chance to offer his condolences to the Biden family.
Here are their stories in their own words, edited for brevity.
Kathie Herel of Wilmington
[Note: The Biden family held a memorial service for Beau Biden on Friday, open to the public]

Being here yesterday, we waited about five hours to get inside. But you know what, it was OK. It was worth it, because Joe has waited for us and stood for us for so many things and so many times. So it was definitely worth it. I'm from from Delaware, and they truly are who they say they are. They're us. They're part of us. So we really do love them.

My sister, about five years ago, was beaten by a boyfriend she had been dating for just a short period of time. When I came back from kind of helping her out, I contacted Ashley, who runs the Delaware Center for Justice. I did not know her personally, but I contacted her and asked if I could talk to her. She met me for coffee and she was able to facilitate me getting a meeting with some other advocates with the newly appointed director of the Office on Violence Against Women in Washington.

It's Ashley, she's part of our town. She's the executive director of a nonprofit organization. She doesn't need to be. She could do lots of other things. So I just called her and she's like, sure, let's meet for coffee, and we did. That's what Joe does. That's what they do. It's just the way they are.

Coming out today, I read in the paper that that church, the Westboro Baptist group, was going to be here, and it just made me sick. There were three people there, with ugly [homophobic] signs. They were standing near where the motorcade was, which apparently was their intention. So my sister and I joined a group down there and helped block them. It was just important to me to do, just as one person, whatever I could to shield the family from seeing something so ugly or nasty.
Carol Holly, manager of a shop in the Wilmington train station
Oh, yes, everybody knows Beau. They said people stood in line for like three to four hours yesterday just so they could send their condolences. Because they loved him. He was just like, you know, somebody that would be like your next-door neighbor. To me it was like, wow, to have that much love for another person.

People around here, they feel sad for the Biden family. A couple of people came in today and said they're going to pay their last respects and go over there. They didn't know him personally. It was just something they thought they should do, you know?

If I wasn't working, I would go. I've never met him, but just to show respect for another human being. I'm a cancer survivor. I can understand what he was going through. I had uterine cancer at 24 years old and my son actually saved my life when I got pregnant. I was at stage 4 already. They wouldn't have known about it if I wasn't pregnant. So, you know, I can kind of empathize with what Beau was going through.

He was different. You looked at him as a person, not just an attorney general. And some of the politicians are like, they're just rigid and whatever. He was down to earth, somebody, like I said, that would live next door to you.
Liane Jones, manager of Avis Rental Car center in Wilmington
There's a weeklong festival Saint Anthony's does every year; it starts on Sunday. It's how the church generates their funds. They ceased all preparations for the festival to deal with the funeral and everything. Usually they'd be setting up starting on Friday. They stopped all that and are going to just rush and do it Saturday night. They want to honor Beau. It's nice to see people feel that way about an elected official.

I just think they're genuine people. Joe Biden is a very kind person. Sometimes he says the wrong thing or whatever, but he seems like a really nice person. For years, he came through the train station and he was always very, very friendly. Even like, during the election period, he would come in, talk to people, take pictures with people. He is a valued part of the community.

It's really, really sad about Beau. I think the whole state is in mourning. I don't necessarily think people care about every elected official this way. The Bidens are different. Even Jill, I mean she taught at Delaware Technical and Community College, and she continued to teach during the election and all that. So, people know that.
John Lee of Philadelphia, stranded at the Wilmington train station

Somebody just robbed me. I fell asleep on the bus this morning and they took my $30. I'm trying to get back to Philly. I know Beau's service is today, that's why I really wanted to be here. I came here to see my sister and I was going to go with her today. But then all this happened.

I wanted to go today because I like Joe. Joe's all right, you know? I like Joe. Because he's really together upstairs, and he's for everybody. That's why I like him. I wanted to go to the service to pay my respect to his son.
Amar Reddick, Wilmington city employee

Their family is very friendly, very nice. Joe would be walking down the street, talking to you, in and out of stores, he'd say hi to everyone. Even Beau was like that. I worked with him on a case once.

It is unusual to see how much people care about an elected official. You don't see that much because Joe Biden is the people's people. You don't find too many politicians who will just sit down and talk to you. Most politicians just wave you off. Both of them took the time to talk to you. I remember I was at a fundraiser with Beau for the Delaware Association of Police, and we talked about the Miami Heat. Just about basketball. Just a normal, everyday conversation that people have. I don't think most politicians would just have a conversation like that.

Nobody wants to bury their son. I just feel really sad for Joe Biden. I think he's taking it real hard. Standing by the casket all day, I can understand him wanting to keep his son close to him up until he's buried. I have two boys, 12 and 2. I probably wouldn't leave the casket either.
Eileen Birch, Wilmington resident for 60 years
I've never been involved in politics and I don't want to be. I know the Bidens are nice people, and I know it's a good family. And I feel really bad for them because they've gone through this and Beau was so young and I really feel for his children. My heart goes out to them. The world is tough today.

Joe Biden has a lot of friends. He grew up here. They have close friends. And it's wonderful. Before he was vice president, he was always in our procession at church. We have good neighbors and we're pretty close.
Bill Dowling, Wilmington resident, wearing a Delaware shirt and wrapped in an American flag

To me, being outside this service is not as much a political gathering. It's more like patriotism, being able to unify the people, even the most diverse of people. That's kind of what it's about. Pride in Delaware, pride in the United States.

I've never met the Bidens. But I'm a fan. Joe Biden is a really good man.

One thing about Wilmington, despite having the murder town USA stigma, it is a really tight community. I can't explain it. But I love living here. People really know each other. It seems like you've been friends for years when you've just met. It's just the right people in the right area.
Lee Simpson, FedEx employee in Wilmington

Beau used to come into our shop on Saturdays. He was just an ordinary guy. He wasn't your typical political person. We would have plain old conversations. I can't even remember them. I came today to pay my respects. My co-worker went to the service Thursday, and she was in line for like four hours.

People here definitely feel connected to the Bidens. It goes back to 1972, when Joe Biden lost his first wife. It's been that way ever since. For decades, the community has been right behind him all the way.

Delaware is small, but like I said, people here just have that connection with Joe Biden for some reason.
Popular in the Community