Joe Biden and his former presidential primary rival, Sen. Bernie Sanders (I-Vt.), have unveiled a list of 48 lawmakers, activists, union leaders and academics who will work to craft a compromise Democratic policy platform and shape a possible Biden administration.
On the task forces are Rep. Alexandria Ocasio-Cortez (D-N.Y), a progressive firebrand whom Sanders tapped to co-lead the policy task force on climate issues; as well as prominent labor leaders like Randi Weingarten, the president of the American Federation of Teachers; and former Obama administration Cabinet members, such as former Secretary of State John Kerry, and Dr. Donald Berwick, who used to run the Centers for Medicare & Medicaid Services and has become an advocate for Sanders' signature "Medicare for All" health insurance plan.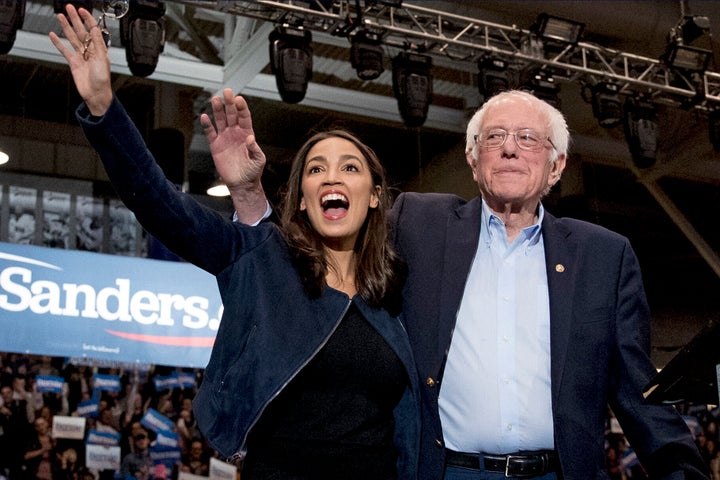 Over the last month, Biden's and Sanders' teams have been negotiating the makeup of six joint policy task forces on the economy, education, criminal justice, immigration, climate change and health care, which are meant to represent a united Democratic Party in the campaign to defeat President Donald Trump in November.
Each task force will have eight participants, five of whom have been picked by Biden's team and three of whom were tapped by Sanders. Each committee will have two co-chairs, representing each man's viewpoint.
Over the next six weeks, these task forces, which are a core part of Biden's outreach to the progressive wing of the party and played a major role in Sanders' endorsement of Biden after he dropped out of the Democratic primary on April 8 — will be asked to offer policy recommendations as well as influence the kind of personnel Biden would bring to the White House and his Cabinet. The hope is they could also arm Biden with possible executive orders that he could issue quickly should he be elected president.
"A united party is key to defeating Donald Trump this November and moving our country forward through an unprecedented crisis," former Vice President Biden said in a statement about the task forces. "As we work toward our shared goal, it is especially critical that we not lose sight of the pressing issues facing Americans."
Progressive academics on the task forces include Darrick Hamilton, an Ohio State University economist who has become one of the leading academics on the racial wealth gap in the United States, and Stephanie Kelton, an economist at Stony Brook University who has championed modern monetary theory, the idea that governments can never run out of money and that deficit spending on major domestic programs would lead to economic growth.
Biden's campaign has also selected several members of Congress, including Rep. Bobby Scott (D-Va.), who was most recently behind the House proposal to expand subsidies for COBRA, the federal program that allows the newly jobless to retain their employee health insurance but at full cost. It has also asked Sonal Shah, who was national policy director for Pete Buttigieg's 2020 Democratic presidential campaign, to be on the economic policy task force.
Faiz Shakir, Sanders' former campaign manager who has been the lead negotiator with the Biden campaign, told HuffPost that their team was looking for people that could "persuade others" — though understanding that there are some ideas, like Medicare for All, that the Biden campaign is unlikely to adopt.
Sanders, who along with his wife, Jane Sanders, signed off on the task forces, spoke with his appointed representatives Monday night and is expected to have some guiding role with the task forces, Shakir said.
"He is really trying to build a dynamic of folks who represent progressive principles but also represent communities that are struggling out there in the world and know what it's like to be struggling," Shakir said, adding that he thinks the list of names from Biden's team is also promising.
Biden has come under some scrutiny for his ties to Obama-era advisers mistrusted by the left, such as economist Lawrence Summers. Two groups aligned with Sanders ― Justice Democrats and the Sunrise Movement ― started a petition advocating for Biden to no longer go to Summers as an adviser. But notably, those names have been left out of these groups. Biden's team tapped progressive labor leader Mary Kay Henry, the president of the Service Employees International Union, to participate in the health care task force. As HuffPost's Dave Jamieson reported last year, Henry was "genuinely angered" by Biden's argument that proposals like Medicare for All would hurt unions, calling it a "false choice."
"It's clear to me that they are offering a willingness to have a fresh start with these names," Shakir said of the committee members Biden's team has appointed. "I hope that that's a good harbinger of things to come."
Biden, who largely did not emphasize policy in his campaign over the course of the last year, has signaled an openness to making some adjustments to his platform, crediting Sen. Elizabeth Warren (D-Mass.) and Sanders. In the last two months, Biden has backed making public colleges and universities tuition-free for students from families with incomes less than $125,000 a year, eliminating student debt for those making less than $125,000 a year and lowering the Medicare eligibility age from 65 to 60.
Sanders supporters and surrogates, including Ocasio-Cortez, have called those changes too modest. Now with a more active seat at the table, the Sanders team is hoping it can have more influence on Biden's general election campaign. Biden's campaign has yet to build a substantial in-house policy team and has largely relied on outside advisers to inform policy and positions throughout the campaign.
"I think the fruits of the task forces are limitless," Shakir said. "If they are doing well and the camaraderie is working, the product is good, my anticipation is that the Biden campaign would like to see some engagement on things like debate prep, transition personnel, to critique what Trump has put out today."
Here is the full list of the task forces:
Rep. Alexandria Ocasio-Cortez (D-N.Y.), co-chair
Varshini Prakash, co-founder of the Sunrise Movement
Catherine Flowers, founder of the Center for Rural Enterprise and Environmental Justice
Former Secretary of State John Kerry, co-chair
Rep. Kathy Castor (D-Fla.)
Kerry Duggan, former Obama policy adviser
Former EPA Administrator Gina McCarthy
Rep. Donald McEachin (D-Va.)
Chiraag Bains, director of legal strategies at Demos, co-chair
Linn County, Iowa, Supervisor Stacey Walker
South Carolina state Rep. Justin Bamberg
Rep. Bobby Scott (D-Va.), co-chair
Tennessee state Sen. Raumesh Akbari
Former Acting Assistant Attorney General Vanita Gupta
Former Attorney General Eric Holder
Symone Sanders, Biden campaign adviser
Sara Nelson, president of the Association of Flight Attendants-CWA, co-chair
Stephanie Kelton, Stony Brook University
Darrick Hamilton, Ohio State University
Rep. Karen Bass (D-Calif.), co-chair
Jared Bernstein, chief economist and chief economic adviser to Vice President Biden
Ben Harris, chief economist and chief economic adviser to Vice President Biden
Lee Saunders, president of the American Federation of State, County and Municipal Employees
Sonal Shah, policy director for Pete Buttigieg's 2020 presidential campaign
Heather Gautney, Sanders policy adviser, co-chair
Alejandro Adler, Center for Sustainable Development, Columbia University
Professor Hirokazu Yoshikawa, New York University
Rep. Marcia Fudge (D-Ohio), co-chair
Lily Eskelsen García, president of the National Education Association
Maggie Thompson, executive director of Generation Progress
Christie Vilsack, literacy advocate
Randi Weingarten, president of the American Federation of Teachers
Rep. Pramila Jayapal (D-Wash.), co-chair
Dr. Donald Berwick, former director of the Centers for Medicare & Medicaid Services
Dr. Abdul El-Sayed, former Michigican gubernatorial candidate
Former Surgeon General Vivek Murthy, co-chair
Mary Kay Henry, president of the Service Employees International Union
Professor Sherry Glied, New York University
Chris Jennings, Obama administration health care policy adviser
Rep. Robin Kelly (D-Ill.)
Marielena Hincapié, executive director of the National Immigration Law Center, co-chair
Marisa Franco, director of Mijente
Javier Valdés, co-executive director of Make the Road
Rep. Lucille Roybal-Allard (D-Calif.), co-chair
Cristóbal Alex, Biden campaign adviser
Rep. Veronica Escobar (D-Texas)
Juan Gonzalez, adviser to Vice President Biden
Nevada Lt. Gov. Kate Marshall
CORRECTION: Because of an editing error, an earlier version misidentified Symone Sanders. Sanders used to work for Bernie Sanders' campaign, but now works for Biden.
Popular in the Community