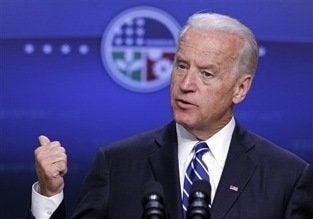 (AP) - Vice President Joe Biden rallied Tennessee Democrats at the party's annual fundraiser Friday night by attacking the record of the previous Republican administration.
Biden said at the Jackson Day event at Belmont University that Democrats in this fall's midterm elections face "a recalcitrant Republican Party that is dominated by a group that ... have not shown any instinct to offer any real alternative to anything we're doing."
Biden derided the Republican strategy as "Repeal and Repeat: Repeal everything positive done, and repeat the polices of the previous eight years of the Bush administration."
In response, Republican National Committee spokeswoman Amanda Henneberg dismissed Biden's speech.
"Tennesseans have endured enough broken promises, and deserve better than a vice president who is willing to disingenuously promote his damaging tax-and-spend agenda," she said in a statement.
Biden said that when he and President Barack Obama took office in January 2009, the nation was on the brink of a depression and that its foreign policy was in disarray.
The vice president said Republicans oversaw a massive rise in the federal deficit when they controlled Congress and the White House.
"Republicans moralizing about deficits is a like an arsonist moralizing about fire safety," he said.
Biden urged Tennessee voters to elect more Democrats to Congress to keep the president's agenda on track. He cited examples of drawing down combat troops in Iraq from 140,000 to 50,000 this summer and the health care and financial overhauls passed by Congress.
In his introduction of Biden, former Vice President Al Gore sounded a similar criticism of the GOP.
"They ran this country into the ground," Gore said. "That may sound partisan, and it is partisan, but it also happens to be the truth."
Gore stressed the need to concentrate on promoting the Democrats' record this fall.
"Listen, we're in a fight here, and let's not be poor mouthing this," Gore said. "Because we've got a great story to tell and we have a great record to defend."
Gore did not mention his recent separation from wife Tipper or a reopened police investigation into sexual assault allegations made by an Oregon massage therapist in 2006.
Several speakers returned to the theme of bucking Republican electoral gains in the state.
"Some folks say that Tennessee's a Republican state," said U.S. Rep. Lincoln Davis of Pall Mall. "We're going to show America and the rest of the world that Tennessee is a Democratic state."
Gov. Phil Bredesen, who can't run for re-election because of term limits, introduced presumptive Democratic gubernatorial nominee Mike McWherter as "a man with genuine empathy for the people of Tennessee."
McWherter in his speech criticized the three major candidates running for the Republican gubernatorial nomination. He said working families don't have any idea what U.S. Rep. Zach Wamp's "20-20 Vision" platform is about, and that state Senate Speaker Ron Ramsey's slogan about standing against the federal government is misguided.
Tennesseans, he said, don't "want to 'Give Washington the Boot,' when they're down here trying to help our flood victims."
Chip Forrester, the chairman of the state Democratic Party, said another top priority is regaining control of the state House.
"We're going to show Republicans the door in November, you can count on that!" Forrester said. "We are just two seats away from victory in the state House, and with the ability to stop the Republican madness we have witnessed."
Forrester said the event is expected to net the party more than $400,000.
Popular in the Community