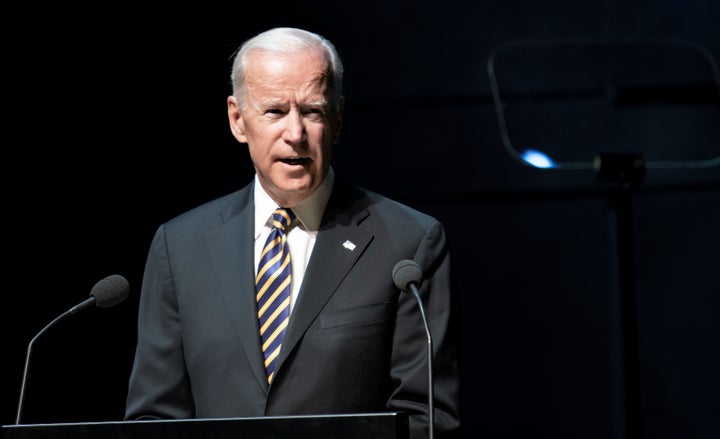 Biden, then-chairman of the Senate Judiciary Committee, presided over Thomas' confirmation hearings for the Supreme Court that year and faced widespread criticism for allowing ― and some said abetting ― an all-white and all-male committee to badger Hill with probing and skeptical questions.
Speaking to reporters Monday at an event at the residence of the U.S. ambassador to Ireland, Biden again expressed regret for how Hill was treated and insisted he'd believed her allegations against Thomas from the very start.
"I thought she was telling the truth at the beginning," Biden said, according to the Post. "I really did."
Biden added that any woman's public allegation of sexual assault should generally be presumed to be true.
"For a woman to come forward in the glaring lights of focus, nationally, you've got to start off with the presumption that at least the essence of what she's talking about is real, whether or not she forgets facts, whether or not it's been made worse or better over time," Biden said. "But nobody fails to understand that this is like jumping into a cauldron."
According to the Post's Philip Rucker, there was one question about Kavanaugh's alleged assault that Biden appeared unwilling to answer.
Rucker described the exchange:
Earlier Monday, Biden said through a spokesperson that he believed Kavanaugh's nomination should be postponed until Christine Blasey Ford, the clinical psychology professor who's accused the judge of physical and sexual assault, has an opportunity to tell her story.
"Vice President Biden believes Professor Ford deserves a fair and respectful hearing of her allegations, and that the committee should undertake a thorough and nonpartisan effort to get to the truth, wherever it leads," the spokesperson said, according to CNN. "He believes the vote should be postponed to allow this to happen appropriately, because this is an appointment for life to the nation's highest court, and getting the decision right is more important than getting it done on a rushed timeline."
In the years since Thomas' confirmation hearings, Biden has repeatedly come under scrutiny for how Hill was treated during her testimony.
He has since publicly apologized to Hill, saying last year that he was "so sorry that she had to go through what she went through."
A few days later, Hill told the Post that while she accepted "part" of Biden's apology, she did not believe the former vice president has taken sufficient "ownership of his role in what happened."
"He also doesn't understand that it wasn't just that I felt it was not fair. It was that women were looking to the Senate Judiciary Committee and his leadership to really open the way to have these kinds of hearings," Hill said. "They should have been using best practices to show leadership on this issue on behalf of women's equality. And they did just the opposite."
Support HuffPost
The Stakes Have Never Been Higher
Popular in the Community