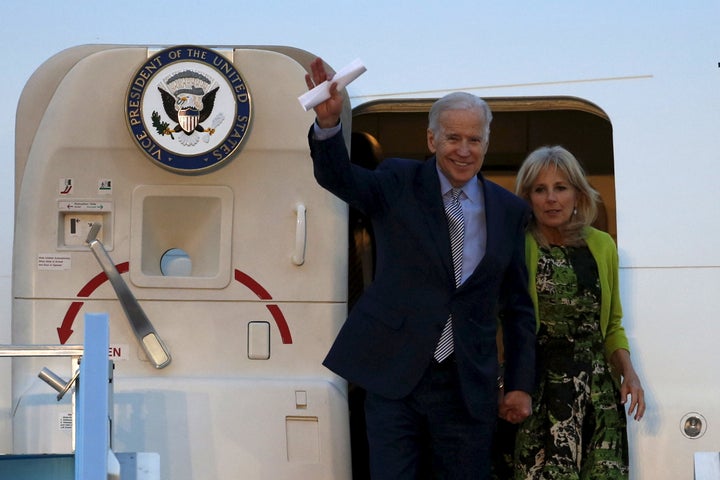 In an interview with CBS' "60 Minutes" that debuted Sunday morning, Joe and Jill Biden offered their first explanation for why the vice president passed on a White House run.
"I came home and Hunter, our son, was upstairs with mom, with Jill. And I walked in and said, 'You know, I just don't think there is time.' I just decided, I don't think we can run the kind of campaign we have to run to be able to win," the vice president said. "And I remember Jill just got up off the couch, gave me a big hug and said, I think you're right."
"I think I was disappointed," Jill Biden added. 'Like I said in the beginning, I thought Joe would be a great president. And I've seen, in the 40 years we've been together I've seen the strength of his character, his optimism, his hope… so I believed he would have been the best president."
Jill Biden's testimonial puts to rest one of the lingering questions about Biden's Hamlet act over a presidential bid. His family (at least his wife) was on board. 
As for his decision ultimately not to run, that did appear to be influenced by the proverbial door closing as he weighed the pros and cons.
During the first Democratic presidential debate, former Secretary of State Hillary Clinton's strong performance reassured backers worried about her email scandal. Days later, Rep. James Clyburn (D-S.C.) told The Huffington Post that he thought Biden should pass on a campaign run -- an announcement that reportedly hit a nerve in Biden's universe, convincing advisers that the support and infrastructure wouldn't be available should they launch a campaign. 
.@VP is a good friend and a great man. Today and always, inspired by his optimism and commitment to change the world for the better. -H

— Hillary Clinton (@HillaryClinton) October 21, 2015

I think Joe Biden made correct decision for him & his family. Personally, I would rather run against Hillary because her record is so bad.

— Donald J. Trump (@realDonaldTrump) October 21, 2015

.@VP Biden is an all-American patriot and a middle-class warrior!

— Nancy Pelosi (@NancyPelosi) October 21, 2015

Joe Biden has and will continue to dedicate his life to helping every American do better. Couldn't be prouder to call him a fellow Democrat.

— D Wasserman Schultz (@DWStweets) October 21, 2015

Vice President Joe Biden has devoted his life to public service and will continue to be a voice for hardworking Americans across the nation!

— Congressman Tim Ryan (@RepTimRyan) October 21, 2015

I'm surprised. Clearly something changed. Like many, I admire & respect VP Biden. In the meantime I'll stick to my day job!

— US Rep Brendan Boyle (@RepBrendanBoyle) October 21, 2015

.@vp @JoeBiden announcing now he's not running for president.He's a good man w/so much more to do.As he said, he will not be staying quiet!

— Amy Klobuchar (@amyklobuchar) October 21, 2015

Love that Joe Biden called out Hillary for saying republicans are the enemy.

— Meghan McCain (@MeghanMcCain) October 21, 2015

.@VP: Looking forward to many more years of your service to our country, in whatever form you decide. #ThankYouJoe - GG

— Gabrielle Giffords (@GabbyGiffords) October 21, 2015
Calling all HuffPost superfans!
Sign up for membership to become a founding member and help shape HuffPost's next chapter