Former Vice President Joe Biden, whose delegate and polling leads make him all but certain to be the Democratic Party's nominee to battle President Donald Trump even though his campaign has come under fire for its lack of organization, is switching campaign managers.
Jennifer O'Malley Dillon, a veteran Democratic operative who was a deputy campaign manager for President Barack Obama's 2012 reelection campaign and led former Texas Rep. Beto O'Rourke's 2020 presidential campaign, is the campaign's new top official. She replaces Greg Schultz, a Biden loyalist who served as the vice president's top political adviser during Obama's second term.
"Like so many other Democrats who are unifying behind Joe Biden's character and leadership, I'm excited to join the team at this critical moment," O'Malley Dillon said in a statement announcing the change. "Vice President Biden is turning out voters at record levels and building the broad coalition we need to ensure Donald Trump doesn't get a second term. It's an honor to help make him the 46th President and I'm ready to get to work."
O'Malley Dillon began working with Biden's team in the run-up to the Nevada caucuses.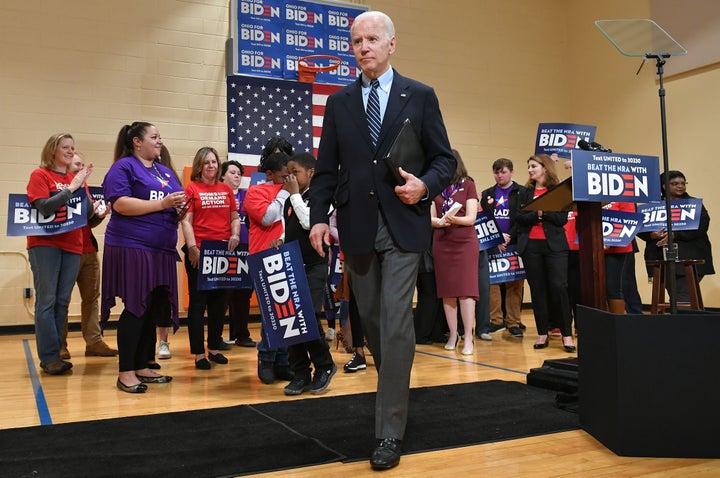 The change, first reported by The New York Times, reflects how Biden's campaign has struggled in key areas even as he finds himself on the verge of seizing the Democratic nomination. Iowa Democrats found the campaign's field operation there lacking, and Biden long struggled to match the campaigns of Sen. Bernie Sanders (I-Vt.), Sen. Elizabeth Warren (D-Mass.) and even former South Bend, Indiana, Mayor Pete Buttigieg in fundraising.
The campaign did get many big-picture questions right: It avoided tacking to the left to match Sanders and kept the focus on Biden's ability to beat Trump, matching the Democratic electorate's priority. And its belief that Black voters in South Carolina and other states would rescue Biden after poor performances in Iowa and New Hampshire panned out.
But even on the day of Biden's South Carolina victory, one of his top endorsers warned that his campaign was dangerously weak.
"I think we will have to sit down and get serious about how we retool this campaign, how we retool the fundraising, how we do the GOTV," or "get out the vote" efforts, House Majority Whip Jim Clyburn (D-S.C.) said on CNN. "I'm not going to sit back idly and watch people mishandle this campaign." Clyburn's endorsement of Biden provided a critical boost in South Carolina.
Schultz will now work on "organizational planning for the general election and continuing to bolster the campaign's external outreach," Biden's campaign said.
"I am grateful to Greg for his leadership and hard work to help get our campaign where it is today, and I will value his continued input on this campaign," Biden said in a statement. "I am also thrilled that Jen is bringing her considerable talent and insight to this team. She will be a tremendous asset to a campaign that is only growing and getting stronger as we prepare to take the fight to Donald Trump this fall."
The Biden campaign, which has raised millions more in recent weeks than it did in whole quarters of 2019, is expected to rapidly add staffers in the coming months as it prepares to battle a cash-rich Trump campaign in the general election.
Many of those staffers are expected to have worked for Biden's defeated rivals for the Democratic nomination, including Warren, Buttigieg, Sen. Amy Klobuchar (D-Minn.), Sen. Kamala Harris (D-Calif.) and Sen. Cory Booker (D-N.J.). The latter four candidates have endorsed Biden, while Warren remains neutral in the race between Biden and Sanders.
Support HuffPost
The Stakes Have Never Been Higher
Popular in the Community