In a speech at the commemoration of the John McCain Library in Arizona, President Joe Biden slammed former President Donald Trump's plans to centralize control of the executive branch in the White House, bring the Department of Justice under presidential control and purge the civil service in favor of partisan actors.
Billed as a defense of democratic institutions, Biden quoted from a New York Times article on Trump's plans for centralizing control over the executive branch to call out his likely 2024 opponent's efforts to "alter the balance of power by increasing the president's authority over every part of the federal government."
"Erode the power of independent agencies. Put them under the thumb of a president. Give the president the power to refuse to spend money the Congress has appropriated if he doesn't like what it's being spent for. Get rid of long-standing protections for civil service," Biden said, listing Trump's plans.
Biden zeroed in on one Trump policy in particular, the reassignment of tens of thousands of federal civil servants to positions without long-standing civil service protections. At the tail end of Trump's presidency, he signed an executive order establishing Schedule F, a new class of federal worker who could be fired at will by the president and replaced by someone more amenable to the president's wishes. Now, he is running to put it back in place if he wins in 2024.
"These civil servants had to pledge loyalty to the president, not the Constitution. They did not require any protections if the president wanted to wholesale fire them," Biden said, noting that he repealed Trump's order soon after taking office in 2021.
Trump's plans to gut the civil service and bring the entire federal bureaucracy under his direct control flows from his assertion that the Constitution gives him "the right to do whatever he wants as president," Biden said, quoting Trump.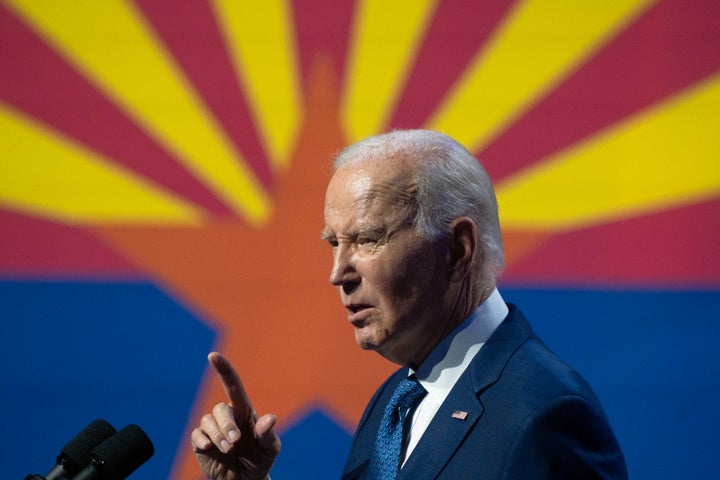 "I've never even heard a president say that in jest," Biden said. "[He's] not guided by the Constitution, or in common decency and service to our fellow Americans, but by vengeance and vindictiveness."
In contrast, Biden declared that "the defining feature of our democracy is our Constitution."
"I believe in the separation of powers and checks and balances; that debate and disagreement do not lead to disunion," Biden said. "I believe in free and fair elections and the peaceful transfer of power. I believe there's no place in America – none, none, none – for political violence."
And while Biden focused in on Trump's policy prescriptions for personalist control, he declared that the threat to democracy and its institutions does not derive from Trump alone.
"It's not one person," Biden said. "It's a controlling element of the House Republican party."
Biden noted as an example of what he called "MAGA Extremism" when Florida Gov. Ron DeSantis' boasted he would "start slitting throats" of federal workers if he were elected president. He also made note that congressional Republicans were silent after Trump called for the execution of outgoing Joint Chiefs of Staff Chairman Mark Milley.
"The silence is deafening," Biden said. "Hardly any Republicans called out such heinous statements."
While Republicans may remain silent, or supportive, in the face of Trump's provocations, Biden called on the non-MAGA majority of Americans not to be silent, too.
"Democracies don't have to die at the end of a rifle," Biden said. "They can die when people are silent."
Support HuffPost
The Stakes Have Never Been Higher
Popular in the Community