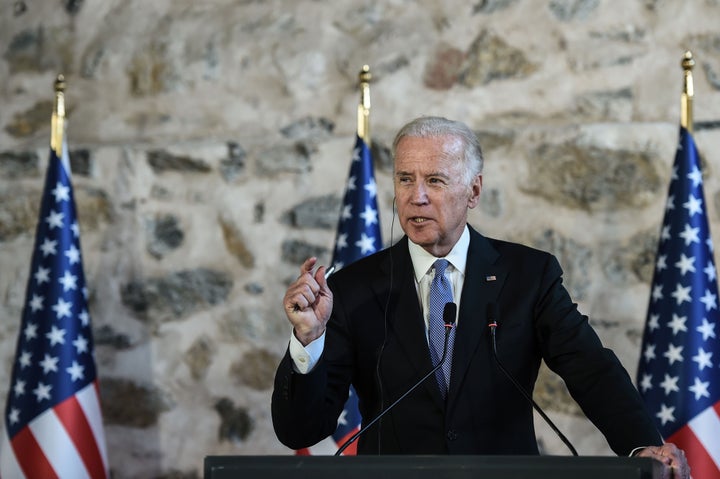 BALTIMORE -- Vice President Joe Biden insisted in a meeting with skeptical House Democrats on Thursday that the administration's deportation raids on families are being carried out as humanely as possible, according to members in the room.
A majority of Democrats in Congress assailed the administration earlier this month after it began conducting raids to detain and deport undocumented mothers and children, despite the fact that they face great danger in their home countries in Central America.
Biden addressed the issue head-on during a private question-and-answer session at the House Democrats' retreat in Baltimore. The vice president asked to answer a question on deportations last so he could go into greater detail, said House Democratic Caucus Chairman Xavier Becerra (D-Calif.), one of the members who signed onto a letter condemning the raids.
"The vice president was very passionate about this," Becerra told reporters afterward. "They are trying to do this in not just a constructive and legal way, but they are trying to do it in a humane way."
Biden defended President Barack Obama, painting the deportations as the kind of enforcement that happens with "a broken immigration system," Becerra added.
Attempting to quell concerns further, the vice president told members that fewer than 100 immigrants had been deported under the latest enforcement actions, House Minority Leader Nancy Pelosi (D-Calif.) told reporters after the meeting.
Biden also pushed back at the characterization that the administration was carrying out "raids," she added.
"He said they weren't raids, they were individuals who either had broken the law in other ways other than status or were newcomers to the country," Pelosi said.
Pelosi quickly added that she sides with her members who have had concerns about the raids and the conditions under which families are held by the government.
"Many of us have visited the border and seen the early stages, which were deplorable, and expressed our more than dismay to the administration, and then they started building these other centers," Pelosi said.
The meeting came a day after Obama administration officials wrote to Democratic senators and House members defending their efforts to address a stream of families and unaccompanied children coming to the U.S. border to seek asylum. The Department of Homeland Security began early this year to carry out raids on some of the mothers and children who entered the country after May 11, 2014, and have received a final removal order. They initially picked up about 120 people, but not all of them were deported.
The letter from Secretary of State John Kerry and Homeland Security Secretary Jeh Johnson lays out a similar case to the one the administration has made publicly. They wrote that the "enforcement actions" were in line with its policies.
"While many do seek humanitarian relief, the reality is that not all those apprehended on our southern border, including adults traveling with children, seek or successfully establish that they qualify for such relief," the letter reads, as first reported by Politico.
"We will continue to conduct enforcement actions in line with existing laws and policies, including the apprehension and removal of individuals with final orders of removal who have exhausted or waived all appeals," it continued. "The enforcement actions referenced in your letter are consistent with this approach."
Kerry and Johnson also touted the administration's humanitarian efforts and plans to expand refugee resettlement efforts in El Salvador, Honduras and Guatemala. They specifically referenced the Central American Minors program, which was announced in 2014 and allows parents in the U.S. to apply for their children to come legally from the three countries. Kerry and Johnson noted that there have been more than 6,500 applications -- not mentioning that the number who have actually made it to the U.S. is far smaller because the program was so slow to start up.
Senators and House members received the same letter from Kerry and Johnson, even though they had written separately with similar but not identical concerns. The letter to lawmakers in both chambers thanks them for a "January 12, 2016 letter," referring to the one sent by House members. The response doesn't mention the senators' Jan. 22 letter at all, leading one aide to question whether the administration had even read it.
More than 140 House Democrats signed onto the Jan. 12 letter condemning the raids -- awkwardly timed hours ahead of Obama's final State of the Union. They argued that because of dangerous conditions in El Salvador, Honduras and Guatemala, families should be given further opportunities to fight their deportation or temporary protected status to remain here.
They wrote that the raids "should be immediately suspended until we can ensure no mother or child will be sent back to a country where they would face persecution, torture or death."
Twenty-two Democratic senators signed the January 22 letter, including presidential candidate Bernie Sanders (I-Vt.).
"We are deeply concerned that in its eagerness to deter additional arrivals from this region, the Department is returning vulnerable individuals with valid protection claims to life-threatening violence," they wrote.
Democrats again brought up the deportations of Central American migrants when Obama came to Baltimore to address the caucus Thursday evening, according to an aide in the room. In the private session, Obama said the administration is "focused on in country processing" and has expanded it because "our strong preference would be that those seeking asylum or refugee status" can apply in country.
Obama told members his "heart breaks" when he thinks of the plight of the women, children and men coming to the U.S., the aide said.
"I feel it as much as anybody," Obama said. "I care about [it] as much as anything."
This story has been updated to include later comments from Obama.
The Obama Administration's Controversial Use Of Family Immigrant Detention
Popular in the Community