 WASHINGTON -- Vice President Joe Biden on Wednesday rebuked Dick Cheney's call to cut spending for food stamps and highways and increase funds for the military.
Cheney said Monday that national defense "ought to be our top priority for spending. Not food stamps, not highways or anything else."
Biden rejected his predecessor's absolutism in remarks at the annual gathering of Generation Progress, a youth-focused organization associated with the Center for American Progress.
"I don't take a back seat to anyone, including Vice President Cheney, on the issue of our military," Biden said, adding that he does not subscribe to the idea that "it's somehow inherently more important to spend the money on the military than on domestic needs." He said he saw a "sacred obligation" to take care of those who came home from war, and that he knew what it was like to have a son stationed in Iraq.
Biden spoke -- sometimes at a blistering pace -- about many of the issues that progressives have put at the center of their electoral efforts. On topics from immigration reform to voting rights, he rallied a crowd of young progressives who were spending a day in trainings with and hearing speeches from top Democratic leaders.
Recounting his work as a senator from Delaware to ensure voting rights, Biden seemed befuddled that the issue was still controversial today.
"I never ever thought I'd be standing here as a grown man, in a battle still, for access to the ballot box in the year 2014," he said.
But Biden became most animated when talking about the issue of campus sexual assault and his efforts to end violence against women.
"I'm committed to ensuring that our country adopts a no-tolerance policy on violence against women," Biden said to applause, his voice rising. "Your generation has the ability to make it clear that anyone who engages in this behavior is a pariah."
Biden has long pursued prevention of domestic violence as a signature cause, introducing the Violence Against Women Act as a senator in 1990.
His speech on Wednesday turned personal at times. Speaking softly, he told the story of his first wife and daughter, who died in a car accident as he was first preparing to take his place in the Senate. He said older members of the Senate taught him lessons during that period about valuing consensus over polarization, and his audience needed to take those lessons to heart.
Biden, a possible 2016 presidential candidate, will also address progressives Thursday at Netroots Nation in Detroit.
Support HuffPost
The Stakes Have Never Been Higher
Before You Go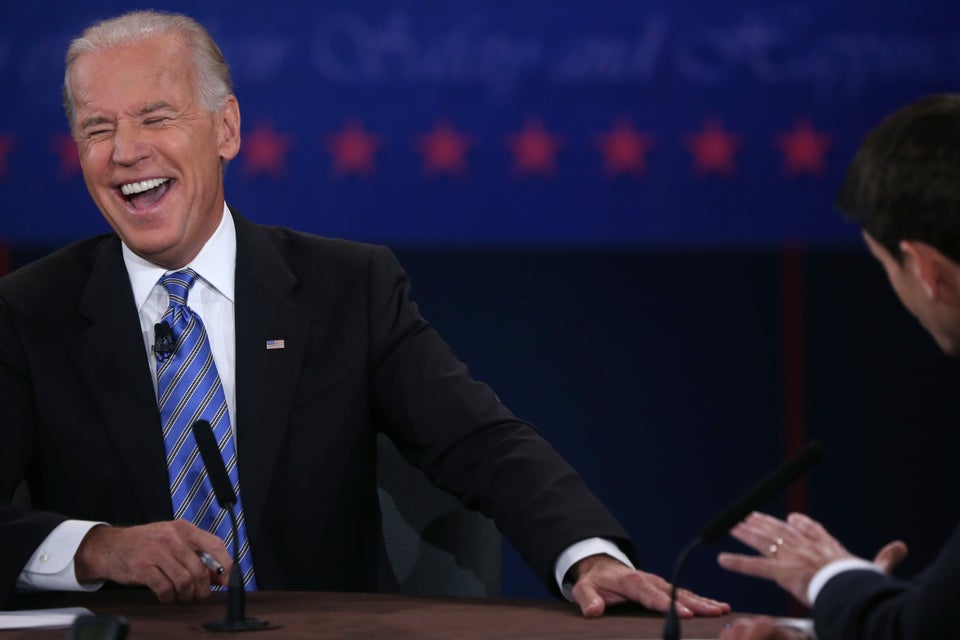 Joe Biden Makes Faces At VP Debate
Popular in the Community