"One of the reasons people love Joe Biden is he just kind of says what he thinks," vice presidential nominee Sen. Tim Kaine (D-Va.) told The Huffington Post on Thursday. "He's a guy whose heart is on his sleeve, and that's one of the things people love about him."
In an interview with CBS' "Face the Nation" host John Dickerson on Sunday, Biden acknowledged that he has this reputation ― but said it's in part because he's a guy and doesn't have to deal with the double standards that female politicians still face.
BIDEN: I think she [Hillary Clinton] also knows that when she's elected she's going to have to be prepared to be more open as president as to what her feelings are about things.

But you know there's kind of a double standard, John, you know. I get all of this credit for being authentic, and you know, and now even Biden gaffes are now, you know, "Biden tells the truth," kind of thing.

But, I'm a guy. I go out, and if I start talking about my Beau and I get filled up, my son who died, they say, "Well, he's just a good decent father, honorable man." If she were to do that, you'd have a chorus of, "She's playing the woman card here. She's crying."

A little bit like ― like Michelle. Anytime Michelle Obama said something strong, "Well, she's an angry black woman." There's a sector of the electorate that ― and I think that has a tendency, at least on over 30-some years with Hillary, to cause her to close rather than open.
Clinton and other female politicians have long had to deal with expectations that male politicians don't. The Democratic presidential nominee is frequently told to smile more to appear more likable, while her opponents, including Sen. Bernie Sanders (I-Vt.) and Donald Trump, never face those criticisms. Men have also gone after Clinton's voice, saying she sounds annoying and too loud.
Biden has also said he is worried that if Clinton becomes president more sexism will surface from men who resent a woman being in charge.
HuffPost also asked Kaine about this possibility in our sit-down interview with him on Thursday. He said that while some people may be more vocal in their sexism, the good of electing the first female president will outweigh all that.
KAINE: I was talking to a college audience at Kenyon today and I've been saying this thing that, when President Obama was elected, the moment they called him the winner, before he had done anything else, suddenly, a whole group of people who could never see themselves as president said, "I can be president of the United States, and if I can do that, I can do anything."

And Hillary's election is going to do the same thing. Before she takes the oath of office or does one bill, immediately — "I can be president of the United States."

They each are creating a group of successors who had never been able to see themselves as president. That's a step forward, but it's not the end of sexism, it's not the end of racism. We're human. But it's a step forward.
Watch the full interview with Kaine:
HUFFPOST READERS: What's happening in your state or district? The Huffington Post wants to know about all the campaign ads, mailers, robocalls, candidate appearances and other interesting campaign news happening by you. Email any tips, videos, audio files or photos to scoops@huffingtonpost.com.
Before You Go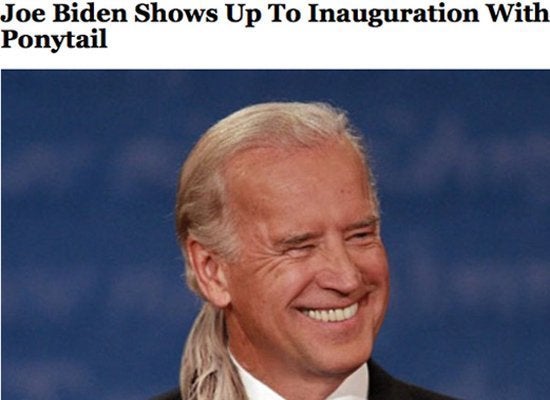 The Onion's Best Joe Biden Parodies
Popular in the Community