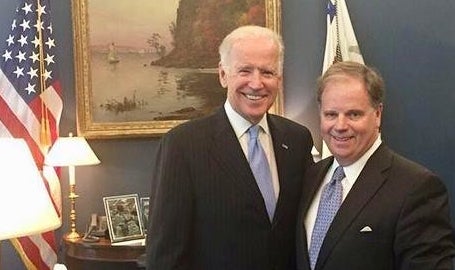 Former Vice President Joe Biden will be in Alabama next month campaigning for Doug Jones, the Democratic candidate running in the state's special Senate election.
"I have seen Doug Jones' dedication to civil rights and social justice," Biden said in a statement released by the Jones campaign. "From his time as U.S. Attorney prosecuting the 16th Street Baptist Church bombers to his private life as an advocate for social justice and economic empowerment, Doug Jones is a proven leader in which we can place our trust."
President Bill Clinton named Jones the U.S. attorney in Birmingham in 1997. There, he led the successful prosecution of two of the Ku Klux Klan members responsible for bombing the 16th Street Baptist Church on Sept. 15, 1963. The heinous act killed four African-American girls during church services. The Rev. Martin Luther King Jr. called the bombing "one of the most vicious and tragic crimes ever perpetrated against humanity."
Given that Alabama is a solidly red state, Jones is considered a long shot for the seat currently held by Republican Sen. Luther Strange. The state's governor appointed Strange to the seat when Jeff Sessions resigned to became President Donald Trump's attorney general.
On Tuesday, Republican voters will go to the polls in a runoff primary election to choose between Strange and Roy Moore, the former chief justice of the Alabama Supreme Court who was twice removed from that position for flouting the law and is famous for telling state judges to ignore federal rulings in favor of same-sex marriage.
Democrats haven't won a U.S. Senate election in Alabama since 1992, when Richard Shelby was elected to a second term. Two years later, Shelby switched to the Republican Party.
So far, national Democrats have largely stayed away from the current race, both because it's considered a tough seat to flip and because Jones might not benefit from too much big party support. But Biden's involvement may give the race more visibility and encourage others to come out. Jones said in a statement Wednesday that he has known the former vice president for nearly 40 years.
The general election is set for Dec. 12.
On Tuesday, Jones wrote an oped on HuffPost warning that he has seen history repeat itself in the years since he went after the KKK.
"Sadly, the pattern of violence as a response to hope has reasserted itself," he wrote. "We saw it in the Charleston church massacre in 2015. We saw it on display in Charlottesville this past August. We've seen it in the attacks on mosques and synagogues, and against the LGBT community. We see it in the hostility toward the Latino community. We cannot sweep this violence under the rug. We must address the forces that lead to it and prosecute those who perpetrate such acts."
Want more updates from Amanda Terkel? Sign up for her newsletter, Piping Hot Truth, here.
Popular in the Community