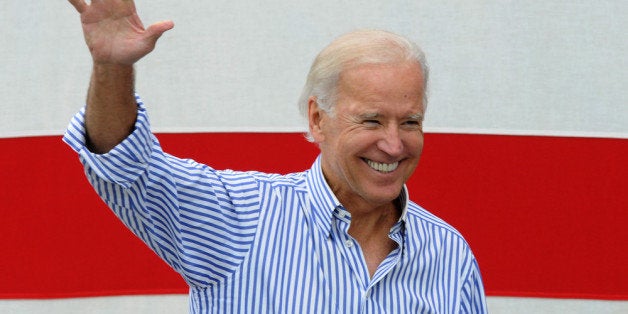 Who would have predicted just five years ago that potential contenders for the Democratic Party's 2016 presidential nomination would be knocking each other over -- in Iowa, no less -- trying to prove that they were the first to champion gay marriage? But that's what Vice President Joe Biden did at a fundraiser in the state over the weekend, not so subtly pointing out that he was ahead of the pack when he spoke out in early 2012 -- before former Secretary of State Hillary Clinton, who only came out for marriage equality a few months ago -- noting that "a lot of people criticized me for speaking out, not long ago, about gay marriage."
The criticism at the time, at least from Democrats, wasn't about Biden's position itself, however, but about his blurting it out before President Barack Obama got around to announcing his own evolution on the issue, pushing the president to come forward in a matter of days.
"I could not remain silent any longer," Biden said at the Iowa fundraiser, seeming to offer his passion for gay rights as the reason that he announced his evolution on the issue even before his boss. "It's the civil rights of our day. It's the issue of our day."
The comments fueled speculation that Biden is making a run for the presidency; indeed, he's referred to his support for gay marriage twice in two weeks, and he made the most recent comments in the early-voting state of Iowa. And that's just remarkable in and of itself. Not only is marriage equality no longer a liability for Democrats; it's actually something that potential presidential candidates tout and promote to show their progressive values and whip up support in the base of their party. And given that even supposedly moderate New Jersey Gov. Chris Christie refuses to support marriage equality, the issue is one that marks a clear distinction between Democrats and Republicans, whose base is still very much opposed to LGBT rights.
It also shows that activists can have a great impact when they speak up. Obama (and Biden) evolved on marriage -- and can now wield it as a something against the retrograde GOP -- because LGBT activists made it uncomfortable for the White House to do anything else, criticizing the president at every turn. (It's similar to what progressive activists did in recent weeks by vigorously and publicly taking on the potential pick of Larry Summers as Federal Reserve chairman, moving the White House to drop him.)
However, if Biden really wants to distinguish himself on gay rights for a possible presidential run, he's got to move on from marriage equality to the full spectrum of LGBT rights that activists are focused on. No one is going to care that he was ahead of Hillary Clinton in his position on marriage. And two other possible presidential contenders, New York Gov. Andrew Cuomo and Maryland Gov. Martin O'Malley, actually spearheaded and signed marriage equality legislation in their states rather than simply talking about their support. President Obama still hasn't signed an executive order banning discrimination against LGBT people among federal contractors; the FDA bans gay men from donating blood; Russia and the International Olympic Committee are under fire for Russia's anti-gay crackdown; and the Pentagon still bans transgender service and has no nondiscrimination policy for gay and lesbian soldiers even now that "don't ask, don't tell" is history.
So there's a lot that Joe Biden and any other potential contender for the Democratic Party's 2016 presidential nomination can and should be talking about moving forward. But the fact that we've come this far, so quickly, on marriage equality is pretty amazing.
REAL LIFE. REAL NEWS. REAL VOICES.
Help us tell more of the stories that matter from voices that too often remain unheard.