WASHINGTON -- Just days before Vice President Joe Biden issues a sweeping series of recommendations on gun policy Tuesday, the outline of his suggestions is coming into focus.
Multiple sources close to the talks tell The Huffington Post that the vice president will make universal background checks for all gun purchases the "top priority" of his suggestions. The idea has broad support among politicians in the wake of the shooting at Sandy Hook Elementary School, as well as backing from some traditionally pro-gun rights voices. The clearest sign that background checks will be the centerpiece of the Biden recommendations, however, is that a number of gun control advocacy groups have also deemed it such, as opposed to focusing their efforts on higher-profile measures, such as those that would limit the types of guns available for purchase.
That said, those measures will also likely end up in Biden's set of recommendations as well, according to an administration official. The White House pushed back Friday morning on reports that it is shying away from including some form of an assault weapons ban in its final legislative push out of concern that it was too heavy a lift through Congress.
"Those reports are false," White House spokesman Matt Lehrich told The Huffington Post Friday. "The president has been clear that Congress should reinstate the assault weapons ban and that avoiding this issue just because it's been politically difficult in the past is not an option."
The question confronting the administration at this juncture concerns process as much as policy. After inviting input from virtually all stakeholders in the gun policy debate, the vice president's team has a general idea of what recommendations it will put forward in its final proposal on Tuesday. Among the other ideas likely to be included are funding for more police officers and first responders, a more comprehensive federal database on gun violence and gun purchases, more direct coordination between state and federal law enforcement officials, a push for better mental health care services and measures to deal with gun violence and pop culture.
But what's uncertain is the best way to get those policy prescriptions into law. Does the White House introduce one comprehensive package in hopes of passing the most thorough response possible to the wave of mass-shooting violence? Does it pare down that package if it runs into opposition on the Hill? Or does it pursue separate votes on individual items so that at least some legislation is passed, with hopes that legislative success begets more legislative success in the future?
The White House declined to address questions about procedural tactics. But on and off the Hill, pro-gun control officials are gravitating toward the latter option.
"I don't want to lose a vote on this," said one progressive gun control advocate. "If we go too soon and we lose a vote then we are fucked."
The most illustrative example of this conundrum involves the literal gun control component of the equation. While the administration will put restrictions on military-style firearms in its recommendations, both the White House and advocates are far more bullish on the prospects of prohibiting high-capacity ammunition magazines.
"I have never quite heard as much talk about the need to do something about high-capacity magazines as I have heard spontaneously from every group I have met with so far," Biden said prior to a stakeholders' meeting on Thursday.
There's reason for such bullishness. Over the past days several Republican lawmakers have said they could, in fact, support action on high-capacity magazines but would oppose any ban on assault weapons.
"I think that's a whole different issue, that can maybe be dealt with without violating the 2nd Amendment, but I want to see the legislation," Sen. Chuck Grassley (R-Iowa) told the Des Moines Register.
Rep. Phil Gingrey (R-Ga.), who has a lifetime "A" rating from the NRA, made the same point in a separate interview.
"There are some problems, and maybe these huge magazines even for someone who says, 'look, I just use an AR-15 for target practice,' but do you really need to be standing there shooting at a silhouette a shot a second or even quicker with that kind of weapon? For what purpose?" Gingrey told the Marietta Daily Journal. "I would be willing to listen to the possibility of the capacity of a magazine."

Before You Go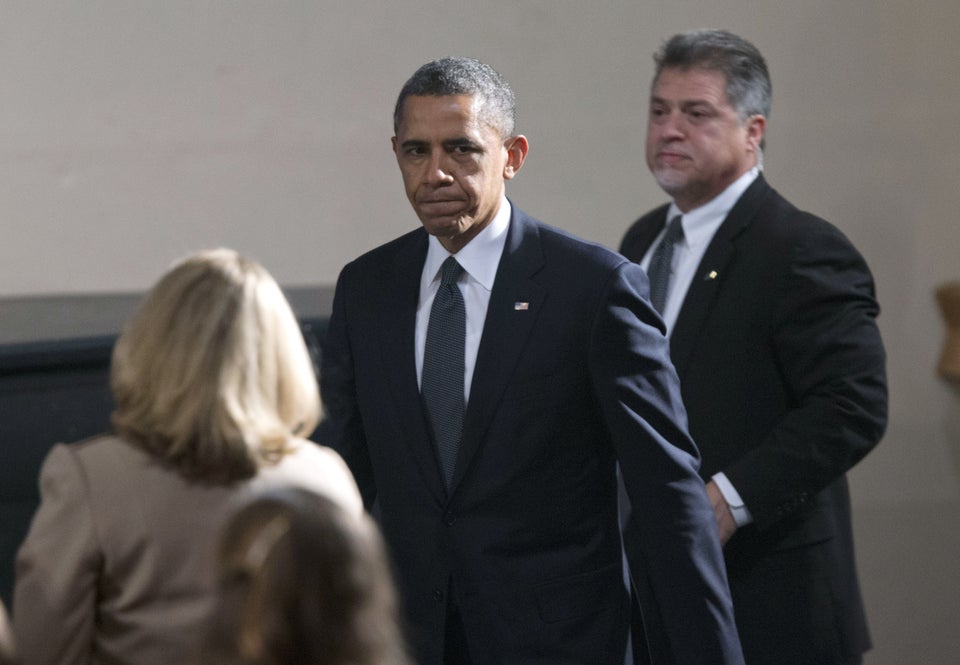 Obama Speaks At Sandy Hook Vigil
Popular in the Community