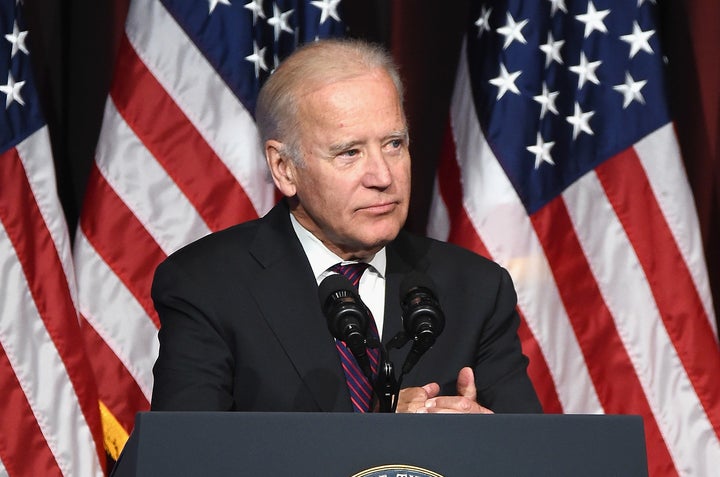 WASHINGTON -- Vice President Joe Biden is urging people to pay attention to Monday's Senate votes on gun safety measures, saying lawmakers will only change gun laws if concerned voters "make yourselves impossible to ignore."
"After every mass shooting, we've waged campaign after campaign to turn our grief into action, each time thinking maybe, just maybe, this will be the one that breaks through," Biden says in a new video that responds to a popular White House petition calling for a ban on AR-15 rifles.
"On Monday and beyond, make yourselves impossible to ignore," he continues. "You know that by stepping up, your action has the potential to create a domino effect. Have the courage to do it. We have done it before. We can do it again."
The Senate is voting on four gun-related bills after Democrats, led by Sen. Chris Murphy (Conn.), staged a 15-hour filibuster last week to pressure GOP leaders to do something about gun violence in the wake of a shooting massacre at a gay club in Orlando, Florida.
Democrats have two bills: One would expand background checks for gun sales to those made at gun shows and on the internet, and the other would let the U.S. attorney general deny guns to people on a terrorist watchlist.
Republicans have their own, watered-down versions of those bills. Their bill pertaining to background checks doesn't actually expand checks; it just gives more money to the agency that runs them. Their terrorist watchlist bill would still let the attorney general deny firearms to a suspected terrorist -- but only if she could prove to a judge, within three business days of an attempted gun purchase, that there is probable cause for suspecting the person has ties to terrorism.
None of these bills is expected to pass. Democrats are pushing their bills to at least get everyone on record on the issues, and the GOP bills are designed to give political cover to Republicans running in tight re-election races.
Biden noted that the vast majority of Americans support both of the Democrats' proposals, and said people need to speak out if they don't like the way their senators vote on Monday.
"Use your voice," the vice president says in the video. "It matters. We need you. This will only change if we continue making ourselves impossible to ignore."
The Senate is voting at 5:30 p.m. EST to advance each of its four gun bills. You can watch the live stream here.
Calling all HuffPost superfans!
Sign up for membership to become a founding member and help shape HuffPost's next chapter
BEFORE YOU GO
PHOTO GALLERY
Pivotal Moments In The U.S. Gun Control Debate