WASHINGTON -- Vice President Joe Biden said Tuesday that there's no reason that people should need to own an assault weapon. They're hard to aim, they're difficult to use. But shotguns, well, that's a different story.
During a Facebook Town Hall hosted by Parents magazine, Biden took a handful of questions from readers about gun violence. One questioner named Kate asked how gun owners would be able to sufficiently protect themselves if Congress passed a bill banning certain weapons and high-capacity gun magazines.
"Kate, if you want to protect yourself, get a double barreled shotgun," Biden responded. "I promise you, as I told my wife, we live in an area that's wooded and somewhat secluded. I said, Jill, if there's ever a problem, just walk out on the balcony here, walk out, put [up] that double barreled shotgun and fire two blasts outside the house."
The vice president said that by firing two shotgun blasts, anyone who might be trying to break in would be scared off.
"You don't need an AR-15," he said. "Buy a shotgun! Buy a shotgun!"
Biden fielded a handful of other questions about gun reform proposals. He said he doesn't support making changes to the Second Amendment and described America's "really healthy gun culture," which was a "part of my father's ethic." He clarified to another questioner that nobody wants to take away people's guns.
"I have two shotguns at home," he said. "No one is going to come and take my guns."
Biden appeared to get testy in some moments. When one person suggested that gun reforms would infringe on people's constitutional rights, Biden began his response by muttering, "How can I say this politely?"
He also described his younger days of shotgun use, which were around the same time he was driving around in his cherished 1967 Corvette.
"Still have it," Biden said.
Before You Go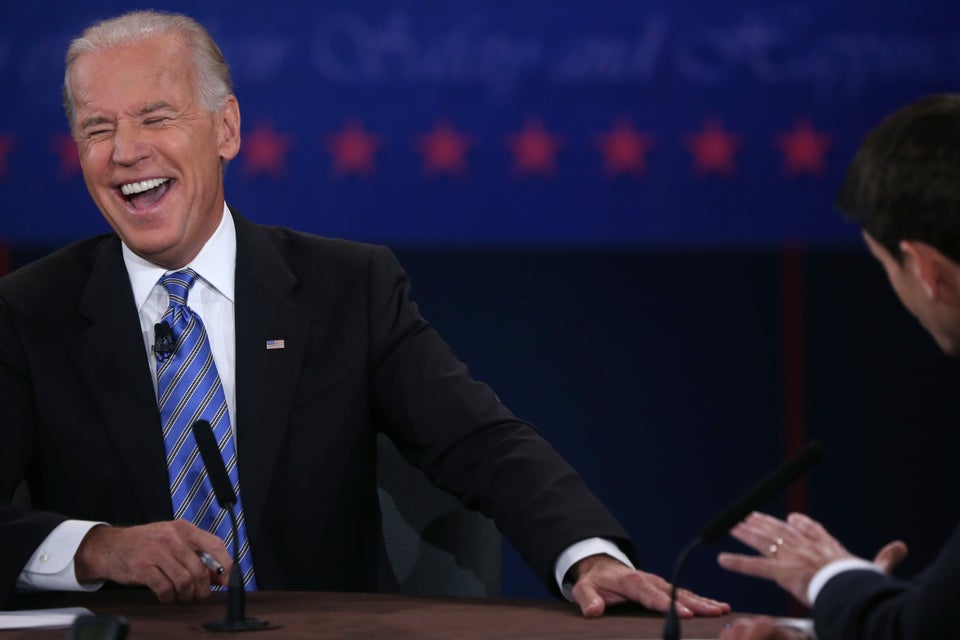 Joe Biden Makes Faces At VP Debate
Popular in the Community