 WASHINGTON -- A week after the Senate failed to come up with 60 votes to pass a measure expanding background checks on gun buyers, Vice President Joe Biden regrouped with gun control advocates on Thursday and reassured them the White House isn't giving up the fight.
Biden made "a real commitment" to keep pushing for gun reforms, said Pia Carusone, executive director of Americans for Responsible Solutions, a gun control PAC run by former Rep. Gabby Giffords (D-Ariz.) and her husband Mark Kelly.
"Walking into the meeting, I wasn't sure which way this was going to go," Carusone said. "But now I'm more confident they're going to keep the pressure on."
Biden met with the groups for about an hour. In addition to Giffords' group, Mayors Against Illegal Guns; The Brady Campaign; the Center for American Progress; the Indiana-based Moms Demand Action for Gun Sense in America and law enforcement officials also attended the meeting.
Biden's message to the groups was, "It's the beginning. It's not the end," said Carusone. "The tone of the meeting was very positive. There is a collective sense that we are on the right side of history."
A Biden spokeswoman did not provide any further details of the meeting.
But the road ahead on Capitol Hill is unclear. House Speaker John Boehner (R-Ohio) says he won't even act on gun bills until the Senate sends over something first. And while Senate Democratic leaders are vowing to make tweaks to their bill and bring it back up, the details of those changes still need to be hashed out with the handful of senators who may be willing to support it a second time around.
Senate Majority Leader Harry Reid (D-Nev.) told reporters Tuesday that he thinks Democrats have a path forward on the background checks bill, but conceded that "we're not ready to move on that at this time." Asked what the next step is, Reid said only, "Get a bill that we can bring back."
Sen. Charles Schumer (D-N.Y.), who helped craft the background checks bill, is meeting Thursday afternoon with the same gun reform advocates that met with Biden earlier in the day. Schumer, too, will tell the groups the fight isn't over yet, according to a Senate aide who spoke on background.
"He intends to say he thinks the Senate will vote again on this issue in 2013, and he plans to discuss ways to further galvanize public opinion in favor of background checks," the Senate aide said.
The Huffington Post caught up with a few senators on Capitol Hill this week to see if they thought the issue of gun reform was dead in this Congress, and people on both sides of the debate seemed to disagree with that conclusion.
"No, I don't," said Sen. Chuck Grassley (R-Iowa.), who voted against the gun bill. "I think Reid's going to feel a lot of pressure to bring it up again. I presume he expects some compromise on some of the amendments that didn't quite get 60 votes."
"I think we're going to bring back that bill and address it," said Sen. Richard Blumenthal (D-Conn.), who has been leading the charge for action in the wake of the Newtown shootings. "It may be months, it may be half a year. But the Majority Leader seems committed to bringing it back."
Sen. Joe Manchin (D-W.Va.), who cosponsored the background checks bill, said he is looking for ways to make the bill more amenable to senators who may be on the fence.
"We're looking at a lot of different things. Conversations are very good," Manchin said.
Some senators who went out on a limb to support the background checks bill, including Sens. John McCain (R-Ariz.) and Mary Landrieu (D-La.), just shrugged when asked about the prospect of another gun debate. Sen. Mark Begich (D-Alaska), who took heat for his vote against tighter background checks, avoided the question altogether.
"I try not to imagine too much right now on that front," Begich said as he speed-walked into an elevator and disappeared.
CORRECTION: This article has been edited to correct the name of the group Moms Demand Action for Gun Sense in America and its location. Joyce Foundation staff were also not in attendance.
Before You Go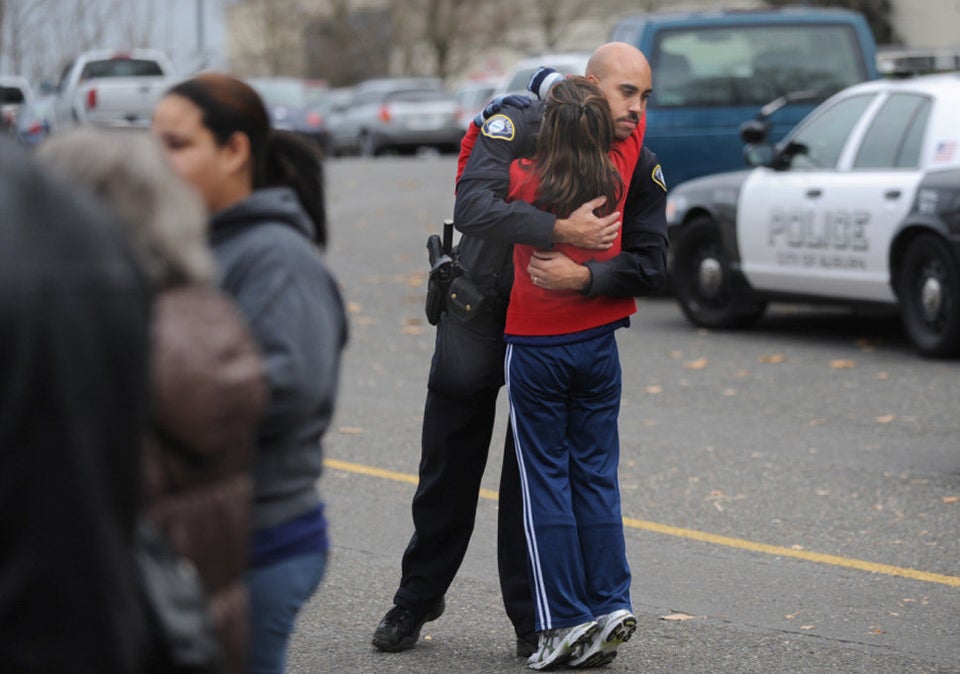 Obama's Gun Control Proposal Explained
Popular in the Community