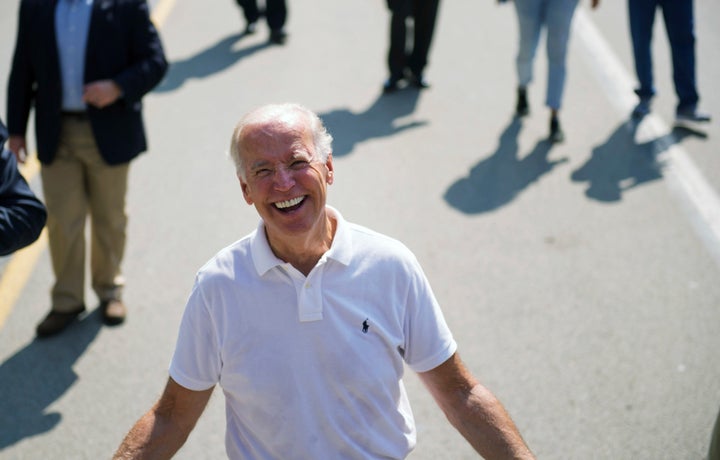 Vice President Joe Biden has not announced a run for president, yet he's up 10 percentage points from one month ago in a new national poll, while Democratic front-runner Hillary Clinton has taken a 10-point drop. 
A Monmouth University poll released Tuesday finds that Clinton's support has dropped to 42 percent among Democratic and Democratic-leaning voters; at the same time, Biden's support has increased to 22 percent. Sen. Bernie Sanders (I-Vt.) is up 4 points and now sits closely behind Biden with 20 percent of the vote, placing the two in an essential tie, given the poll's 5.3 percent margin of error. 
The remaining Democratic candidates, Martin O'Malley, Lincoln Chafee and Jim Webb, continue to struggle in the race, taking just 1 percent or less of the vote. 
The poll also finds that Biden and Clinton are equally liked among Democrats: 71 percent of Democrats rate them each favorably. Forty-one percent of Democrats rate Sanders favorably, while 45 percent still have no opinion of him. 
According to the HuffPost Pollster National Democratic chart, which aggregates all publicly available polls, Clinton continues to maintain a strong lead with 45 percent of the vote; Sanders is second with 23 percent and Biden now takes 17 percent. 
Biden's poll bump comes amid speculation that the vice president might jump in the race for the White House. Biden, who lost his oldest son to brain cancer earlier this year, says he is still considering whether he and his family have the "emotional energy" for a 2016 run. 
Huffington Post data scientist Natalie Jackson tracked the attention paid in previous elections, and found that only a small portion of those surveyed this far out from Election day are actually tuned in.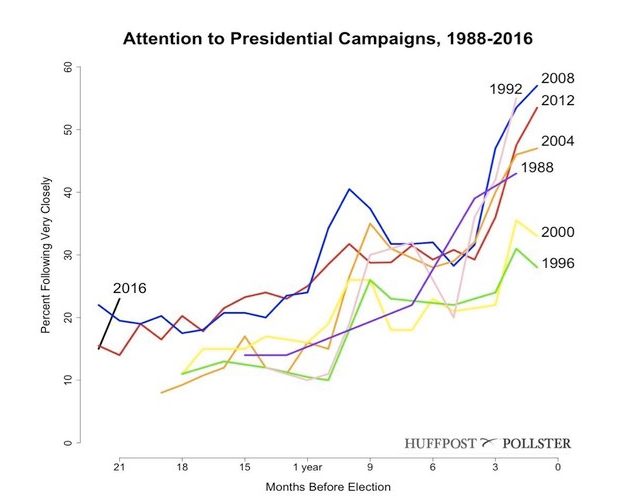 Monmouth University surveyed 1,009 U.S. adults and a subsample of 339 registered voters who are Democrats or lean Democrat using live interviewers over landline and cell phone Aug. 31 through Sept. 1. 
Calling all HuffPost superfans!
Sign up for membership to become a founding member and help shape HuffPost's next chapter