 WASHINGTON -- Vice President Joe Biden vowed Wednesday that the comprehensive immigration reform bill passed by the Senate would become law, even as he was hammered by conservatives over whether the legislation is fair.
"There's an easy thing that can happen: even the majority of the members of Congress in both political parties believe there's a need for this reform," Biden said during a question-and-answer chat hosted by Skype and Bing, featuring questions submitted via the video messaging service and Twitter. "But Mr. Boehner, who is a good man, the speaker of the House of Representatives, he will not call up the bill passed overwhelmingly by the Senate."
"He will not bring it up because he is very worried about his very conservative base, his tea party base," he continued. "He's unwilling to let the House speak. He's unwilling to let the House vote."
The vice president veered slightly from the more recent White House messaging by making firm commitments about the the Senate bill, which passed 68 to 32 in June, rather than reform in general. House Speaker John Boehner (R-Ohio) has vowed not to hold a vote on the Senate legislation, and although there is a similar bill in the lower chamber, it seems unlikely to get a vote. President Barack Obama has said the House should hold a vote on the Senate bill and that it would pass. But in absence of such action, Obama has also recently expressed more openness to working with Boehner on the "step-by-step" approach the speaker has promised, so long as important issues such as a pathway to citizenship for undocumented immigrants aren't left out.
But while Obama has said he is willing to take other routes to immigration reform, Biden repeatedly made promises specifically referring to the Senate bill.
"We're going to pass this bill, this Senate bill that we're talking about here. It's going to happen," he told an undocumented immigrant, or so-called Dreamer, who received reprieve under the Deferred Action for Childhood Arrivals program.
Biden and White House Domestic Policy Advisor Cecilia Muñoz took questions for about half an hour, and were put on the defense by some conservatives and others skeptical to reform. The first question came from Crystal Wright, a conservative blogger and consultant, who challenged Biden and Muñoz on whether they "think it's fair to grant amnesty" to undocumented immigrants.
"We're not granting amnesty," Biden said. "They're going to have to get in line. They have to get in line in order to earn that citizenship, and it's a long line, and it's going to take a long time."
Although a number of activists submitted questions on whether the president will halt deportations, the issue was addressed only in response to Twitter user WiseLatina2theRight:
"The president doesn't have the authority to suspend deportations," Muñoz said. "If you're referring to [Deferred Action for Childhood Arrivals], that was an action by the Department of Homeland Security and it was a use of their enforcement authority."
Although Muñoz defended that policy, and said it would remain intact so long as Obama is president, she also defended the administration's decision not to broaden deferred action.
"I know what some people want to know is whether or not we can use that authority, DHS can use that authority, more broadly, and the answer to that is we've got 11 million people who are deportable by act of Congress; we need Congress to act if we're really going to protect everybody from deportation and put those people on a path to citizenship," Muñoz said. "We can't use just enforcement authority to fix this problem. The pathway to really fixing it goes straight through the Congress of the United States."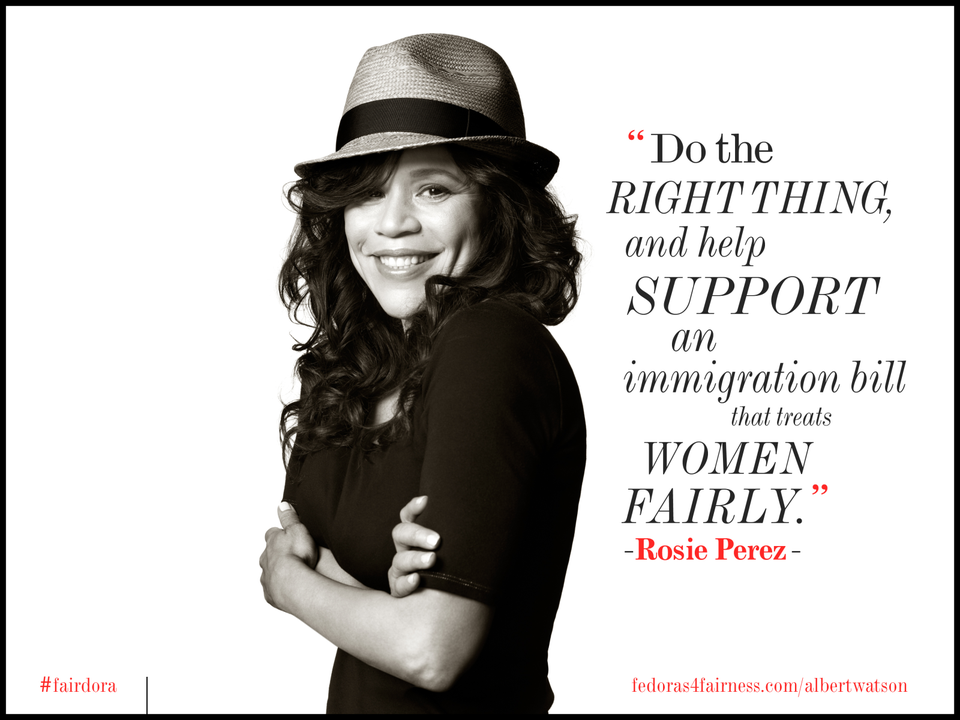 Stars Support Immigration Reform
Popular in the Community