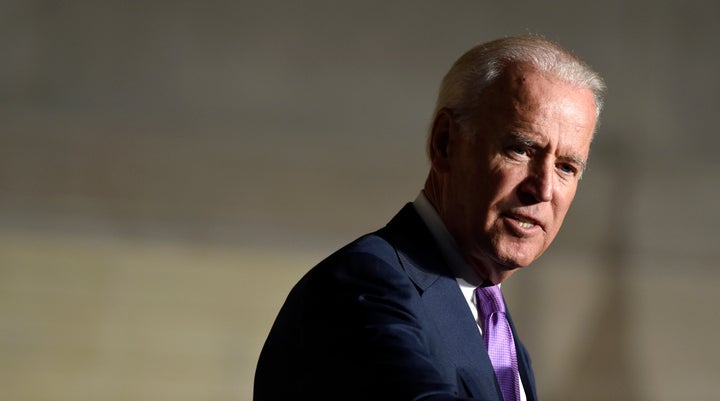 Vice President Joe Biden has spent more than 20 years fighting to end violence against women in the United States. In the 1990s, as a senator, he wrote the landmark Violence Against Women Act, which drastically changed how the U.S. responded to domestic violence and sexual assault.
He's still at it. After Biden became vice president, he appointed the first-ever White House adviser on violence against women. And this week, he's touring the country speaking about It's On Us, a public awareness campaign aimed at reducing campus sexual assault.
The Huffington Post asked Biden about his quest to reduce gender-based violence, and what he'd like the country to do better.
I'm curious about why you got involved with the issue of domestic violence. If there was a particular person or event that inspired you to try to change the status quo, can you tell me about it?
I'm often asked why I've been so passionate about this issue, and people think it may be because my mother or my sister or someone in my life had been assaulted. The truth is, I wrote the Violence Against Women Act because I was raised by a gentle, honorable man who always taught his children that the greatest sin anyone could commit is the abuse of power — and the cardinal sin is when a man raises his hand to a woman or a child or someone with less physical power.
When I started to work on this issue more than 20 years ago, violence against women was not taken as seriously, and survivors were not given the recourse they deserved. Too often, they were blamed. Too often, perpetrators were not prosecuted.
I was convinced we needed to change our culture. And in order to change the culture, we had to pull the mask off of this dirty little secret. The turning point came when we heard from survivors themselves — they turned the spotlight on a violence that too often was in the shadows.
Over the years, you've met with countless survivors of gender-based violence. Is there one whose story you think about when you speak for victims? Can you tell me about that person?
I've been spending a lot time recently going to college campuses, where I've met with thousands of students who are involved with the It's on Us campaign to end campus sexual assault. And a story I tell that took place 20 years ago still resonates — because it's the kind of story that happens all too often, even today.
One of the women who testified in the VAWA hearings was a student at a college just north of Pittsburgh. On one of her first nights of freshman orientation, she attended a bonfire before a big game. An upperclassman she knew offered to walk her back to her dorm. It was cold, and he asked to stop in his room first to get a jacket, so she walked to the dorm with him. He dragged her in the room and raped her.
I'll never forget her testimony. She described how she ran back to her dorm, took a scalding hot shower, walked back to her room, and sat at the end of her bed sobbing. Her RA came in and asked her what happened. She told her. And her RA said, "You've been raped." And she said, "No, no, I wasn't raped. I knew him. I knew him."
That's when I realized we had to do more than pass tougher laws and create more protection. We had to change the cultural norm in this country, and that's one of the goals of the It's on Us campaign.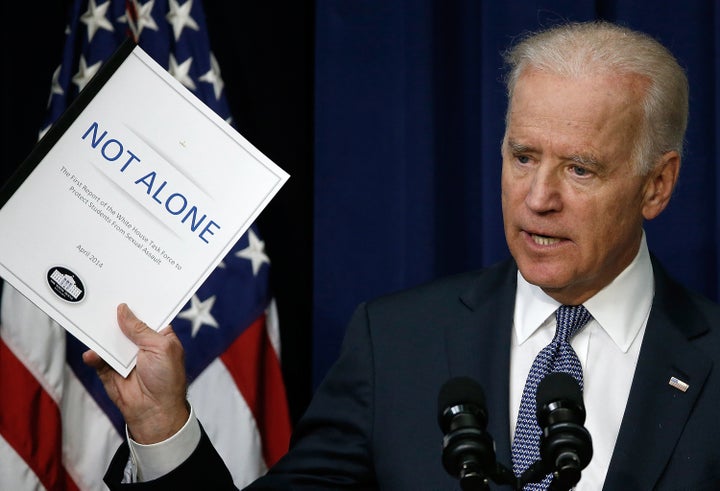 People often think of domestic violence as a "women's issue." You've spoken about how your father taught you that the ultimate abuse of power was for a man to raise his hand against a woman or a child. How should men participate in the fight against domestic violence and help end the cycle of abuse?
I have a simple message for all Americans: Don't look to your left, don't look to your right. Look in the mirror. It's on you. It's about you. And, guys, it's particularly about you. You should be the ultimate agents of change. It's time for all of you to step up.
Think about it. Think about a culture that exists when a woman who's been abused or raped is asked all the wrong questions: Why were you there? What were you wearing? What did you say? Why did you say it? What were you drinking? Those are all the wrong questions. It's never the victim's fault.
The right questions are: What made him think that he had a right to touch me? Why on Earth did no one step up when they had the chance? Or for you men: Why didn't I have the courage to speak up — to intervene, to act? I ask men to ask themselves: What would I have done if she was my sister?
It takes courage to speak up, to intervene. That's the definition of whether you're a man. And if you can't do it on your own, you must call attention to what's happening. Don't just stand there.
In all your years working on the issue of domestic violence, what accomplishment are you the most proud of?
Passing the Violence Against Women Act in 1994 and getting it reauthorized three times. The law has literally saved lives. Because women know they won't be abused again by the system, they're reporting violence at higher rates. Twenty years ago, there was no domestic violence hotline — now 3.4 million women and men have called the National Domestic Violence Hotline and gotten support and help.
Because there are real penalties that are being enforced, fewer women are abused. The yearly domestic violence rates dropped 64 percent between 1993 and 2010. Twenty years ago, there were no special victims units — now, police departments across the country have specially trained personnel to treat domestic abuse as crime rather than a private matter. And we're changing the culture so that abusers are now treated as the criminals they are.
The culture is beginning to change. It's no longer acceptable for a man to denigrate a woman in public. Sexism is no longer tolerated. We no longer remain silent when a woman is being abused in front of us.
What will really change the mindset is when abusers face the same moral disapprobation of society.
That's why when the president and I launched the It's on Us campaign, which I mentioned earlier, we focused on men and women between the ages of 14 and 25. We're asking everyone to take the It's on Us pledge.
The pledge says three things: One, you promise to intervene instead of being a bystander. Two, you promise to recognize that any time consent is not given -- or cannot be given -- it's sexual assault and it's a crime. And three, you promise to do everything you can to create an environment where sexual assault is unacceptable, where survivors are supported, where perpetrators are treated with the moral disapprobation they deserve.
Gun violence is an epidemic in the U.S., and there is a deadly relationship between guns and violence against women. More than 50 percent of women murdered with guns are killed by intimate partners or family members. The 1994 Biden Crime Bill prohibits convicted domestic violence abusers from buying a gun or even possessing one.
But many states do not require a background check to see if a purchaser is legally allowed to possess a gun. Because of this, many convicted domestic violence abusers can buy a gun without a background check — they can drive across the state line and buy a gun where background checks are not required, or from a gun show or an unlicensed dealer.
That's why the vast majority of Americans support common-sense measures like expanding background checks, closing the gun show loophole and ensuring that all states enter convictions into National Instant Criminal Background Check System – or NICS system. If all states required background checks and ensured that all domestic abusers were entered in the NICS system, fewer convicted abusers would be able to get their hands on guns.
This interview was conducted by email and has been edited and condensed for clarity.
Melissa Jeltsen covers domestic violence and other issues related to women's health, safety and security. Tips? Feedback? Send an email or follow her on Twitter.
Popular in the Community