Former Vice President Joe Biden honored the memory of Sen. John McCain at a memorial service at the North Phoenix Baptist Church in Arizona on Thursday.
Biden gave an emotional eulogy for McCain, who died at the age of 81 on Saturday after a battle with brain cancer. They had a decadeslong friendship that began in the early days of their time in Washington. The former vice president's speech was a powerful reflection on McCain's life and legacy as the nation mourns his loss.
"To paraphrase Shakespeare, we shall not see his like again," Biden said.
Here are some of the most heartbreaking moments of Biden's eulogy.
On Their Shared, Silent Pain
Both men met shortly after their personal tragedies, when McCain served as a Navy liaison for the Senate, but they never touched on their pasts, Biden said.
"And we would sit on that plane, late into the night while everyone else was asleep, and just talk, getting to know one another," Biden said. "We'd talk about family. We'd talk about politics. We'd talk about international relations. We'd talk about promise."
"We talked about everything but captivity and the loss of my family, which had just occurred, my wife and daughter," he continued. "The only two things we didn't talk about."
On The Early Days Of Their Friendship
Biden recounted the years early in his career that he spent getting to know McCain, telling the crowd they "just hit it off." The former vice president told stories of the friendship McCain had with Biden's sons and second wife, Jill Biden.
"As a young man, he'd come up to my house, he'd come to Wilmington, and out of this grew a great friendship that transcended whatever political differences we had or later developed. Because above all, we understood the same thing. That all politics is personal. It's all about trust. And I trusted John with my life," Biden said.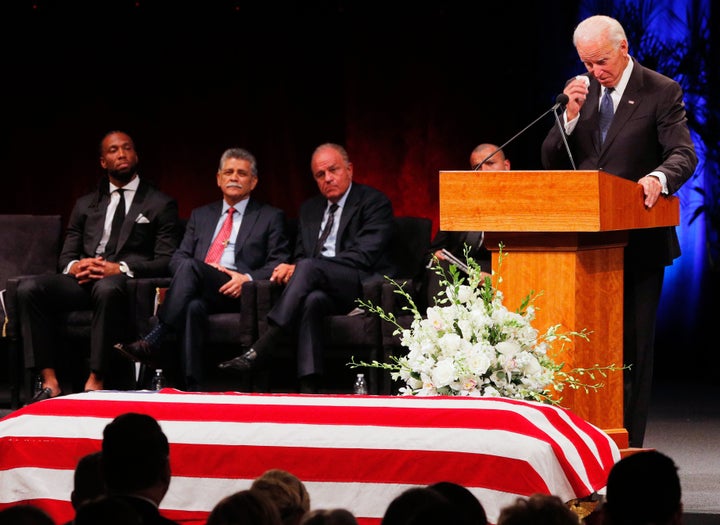 On How Much Cancer Sucks
Beau Biden, one of Joe Biden's children, died in 2015 from glioblastoma, the same rare brain cancer that McCain was diagnosed with last year. The former vice president spoke candidly about something universal: how much cancer sucks.
"We both knew then from our different experiences ... that there are times when life can be so cruel — pain so blinding, it's hard to see anything else," Joe Biden said. "The disease that took John's life, took our mutual friend Teddy [Kennedy]'s life nine years ago, and three years ago, it took my beautiful son Beau's life."
"It's brutal, it's relentless, it's unforgiving. And it takes so much from those we love and the families who love them that in order to survive, we have to remember how they lived, not how they died," Biden continued.
On The Loss Of McCain As 'All Consuming'
In his speech, Biden captured the feeling of grief, describing the absence of McCain as "all consuming." Biden addressed the McCain family directly on what they may be feeling.
"It's like being sucked into a black hole inside your chest, and it's frightening," Biden said. "And I know something else, unfortunately, from experience: that there's nothing anyone can say or do to ease the pain right now. But I pray you take some comfort knowing that because you shared John with all of us your whole life, the world now shares with you the ache of John's death."
On The Times They Gave Each Other Advice
Biden managed to bring some levity to his emotional speech, telling stories of times the two senators would talk to each other in a brutally honest fashion.
″Whenever I was in trouble, John was the first guy there, and I hope I was there for him. And we never hesitated to give each other advice," Biden said. "He'd call me in the middle of a campaign and say, 'What the hell did you say that for? You just screwed up, Joe.'"
They always had each other's backs, Biden said.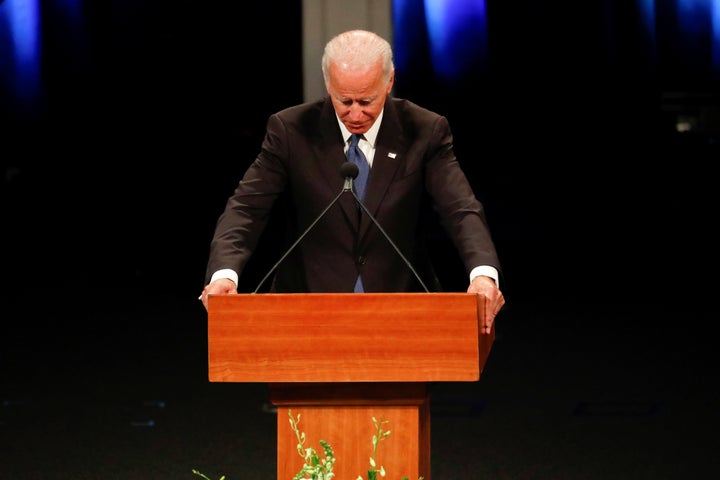 On Why The Country Mourns Together
There has been an outpouring of kind words about McCain in recent days from Democrats and Republicans alike. Biden said on Thursday that the senator's death has been felt so resoundingly because of how McCain's love of his country gave Americans "confidence."
"John believed so deeply and passionately in the soul of America. His faith in the core values of this nation made them somehow feel it more genuinely themselves," Biden said.
"His conviction that we as a country would never walk away from the sacrifices generations of Americans have made to defend liberty and dignity around the world it made Americans proud of themselves. His belief — and it was deep — that Americans can do anything, withstand anything, achieve anything was both unflagging and ultimately reassuring."
On What McCain Left His Family
Biden ended his speech by addressing McCain's family. He told McCain's wife, Cindy McCain, that the late senator "owed so much of what he was to you."
And then Biden spoke directly to McCain's children.
"You may not have had your father as long as you would have liked, but you got from him everything you need," Biden said. "To pursue your own dreams. To follow the course of your own spirit. You are a living legacy — not hyperbole. You are a living legacy, living proof of John McCain's success."
Watch Biden's full eulogy below.
Before You Go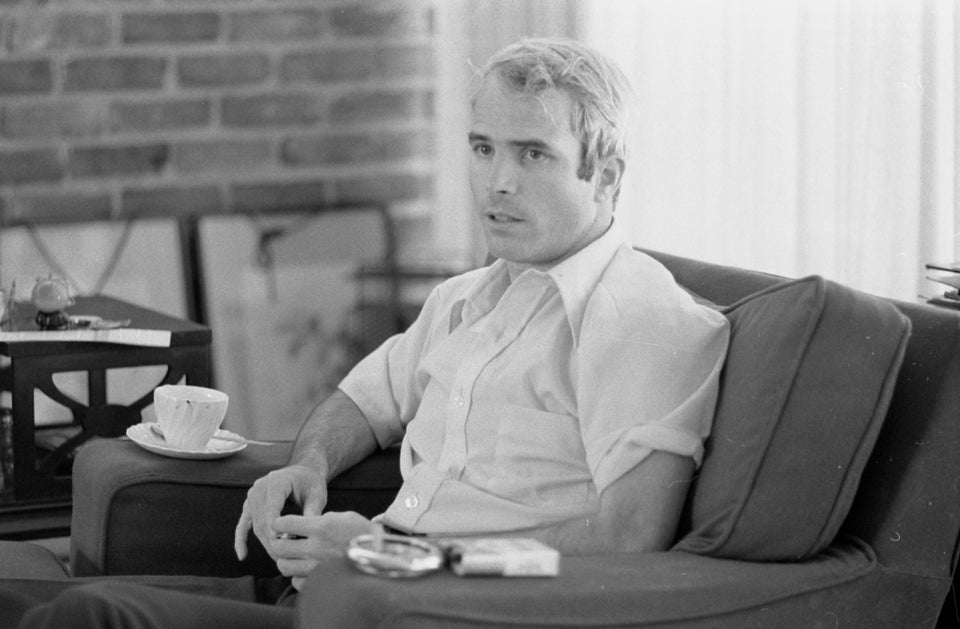 John McCain's Life In Photos
Popular in the Community