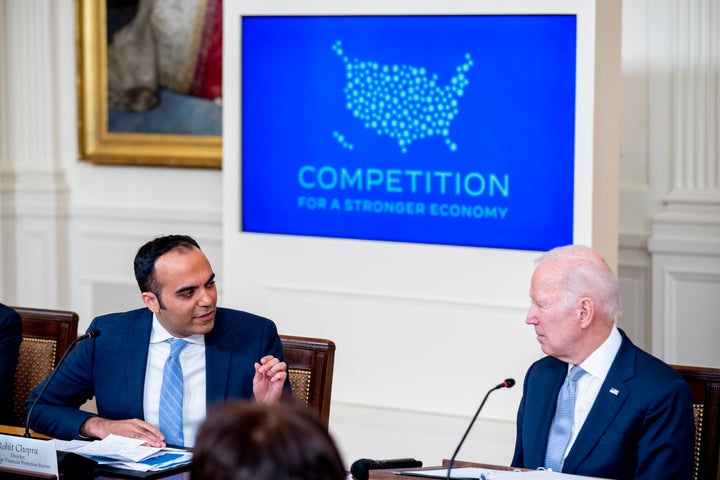 As President Joe Biden's administration moves to ban so-called "junk fees," a new study has found that the banks reliant on these hidden charges overwhelmingly operate in low-income parts of the country.
The study from the progressive public interest group Accountable.US looked at the 20 banks in the United States that generate the largest share of their income from service charges. It found nearly 60% of their branches are located in counties where the poverty rate is higher than the national average, and 72% of their branches are in counties where the median income is lower than the national average.
The Consumer Financial Protection Bureau announced a broad review of "junk fees" ― such as fees for late payment, ATMs and overdrafts ― in January 2022. Biden picked up the baton last week, appearing alongside CFPB Director Rohit Chopra to announce a new rule sharply limiting credit card late fees.
And he continued the message during Tuesday night's State of the Union address, noting his administration is set to cut the average credit card late fee from $31 to $8.
"Junk fees may not matter to the very wealthy, but they matter to most folks in homes like the one I grew up in," Biden said. "They add up to hundreds of dollars a month."
Many of the banks on the Accountable.US list are smaller regional operations with a handful of branches, but two larger banks ― TD Bank and Regions Bank ― are also on the list. TD Bank draws 9.3% of its operating revenue from service charges affiliated with customer deposits, while Regions Bank takes in 6.8% of its revenue through those charges.
"Make no mistake: these twenty banks would still be profitable without nickel and diming low-income families under this exploitative practice," said Liz Zelnick, the director of economic security and corporate power at Accountable.US. "Our research demonstrates an intentional and predatory practice of setting up in low-income communities and charging exorbitant fees."
Overdraft fees, in particular, target the poorest banking customers, who are far more likely to draw down their accounts than the better-off. A CFPB study previously found just 5% of bank accounts accounted for nearly two-thirds of overdraft fees.
The CFPB announced plans to crack down on overdraft fees in October, following the September announcement of $191 million penalty for Regions Bank, most of it going to repay customers.
"The Biden administration's first major step towards junking junk fees is a win-win for working families and the economy," Zelnick said.
Popular in the Community