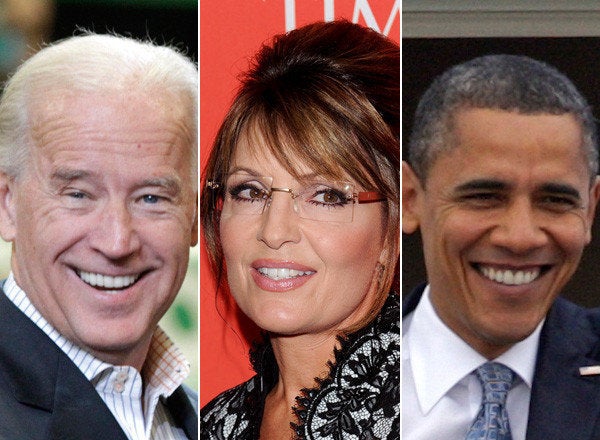 Vice President Joe Biden appeared to respect the clout of Sarah Palin on Thursday, calling his former vice presidential opponent "appealing" and refusing to downplay her as a potential threat to his anticipated Democratic ticket in 2012.
The vice president made the remarks on "Larry King Live," during an interview in which he also discussed Afghanistan, airport security and Don't Ask, Don't Tell. Speaking about Palin, Biden said:
JOE BIDEN: Look, I think Sarah Palin has turned out to be and she is a real force in the Republican Party. And I think Sarah Palin is -- I, were I a Republican senator or a Republican political leader, I would look and say, wait, she's got a good chance of getting the nomination. But look, it's hard enough for us to figure our side of the aisle let alone go over and sort of handicap whether she can win or lose.

KING: What do you think of her?

JOE BIDEN: Well, I like her.

KING: You do?

JOE BIDEN: I mean -- no, no, I personally like her. I mean, if you met her, she's an appealing person. When we campaigned --

KING: You debated her.

JOE BIDEN: Yes, we debated. There was not a harsh word. I mean, we have a fundamentally different outlook on the world, and I think that would be a really, a really interesting race.

KING: Would that be a race you'd like to take on?

JOE BIDEN: Well, you know, my mom used to have an expression, be careful what you wish for, Joe, you may get it. So I never underestimate anyone. But I think, in that race, it would be a clear, clear choice for the country to make, and I believe President Obama would be in very good shape.
Though apparently showing respect for Palin's high regard among conservative voters, Biden's belief that Obama would be in "good shape" in a possible match-up against Sarah Palin could be a sign that the administration is secretly hoping that the former Alaska governor finds her way to the Republican nomination. If so, it is a wish that could potentially come true, as a recent poll showed that a plurality of GOP voters thought she would be best suited to serve their party in 2012.
Biden sought to counter those claims outright on Friday morning, however, when he was asked on MSNBC's "Morning Joe" to respond to Palin's recent display of confidence.
"I don't think she could beat President Obama," the vice president said, "but she's always underestimated, so I don't think I should say any more."
REAL LIFE. REAL NEWS. REAL VOICES.
Help us tell more of the stories that matter from voices that too often remain unheard.