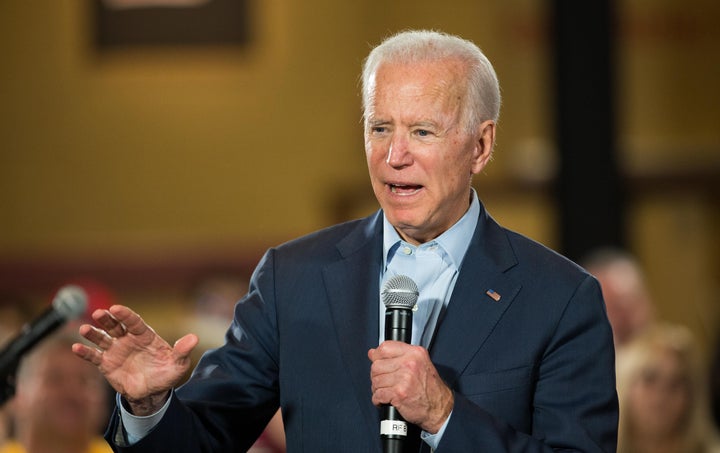 Joe Biden believes that Senate Majority Leader Mitch McConnell (R-Ky.) ― the man who refused to even vote on Merrick Garland for the Supreme Court ― will suddenly become "mildly cooperative" with Democrats once Donald Trump is no longer president.
The former vice president and current Democratic presidential candidate made his rosy prediction at a Tuesday fundraiser in New York City at the mega law firm Skadden, Arps, Slate, Meagher & Flom. He said he believes that "all politics is the logical extension of human nature, personal relationships."
Tuesday's remarks seemed to be an elaboration of his earlier comments that he thinks Republicans will have an "epiphany" once Trump leaves office and will start cooperating with Democrats.
"With Donald Trump out of the way, you're going to see a number of my Republican colleagues have an epiphany. Mark my words. Mark my words," Biden said at a fundraiser at another powerful law firm in November.
Biden offered more extensive remarks on how he believes this awakening will happen on Tuesday, centering on personal relationships. From the pool report (emphasis added):
Think about what you're willing to do personally. You're in a group, whether it is a tennis group, a golf club, a sewing circle, a reading group, wherever it is, and you got nine people in the group. And five of them have a view on where, in fact, we're on, on a position. And four on the other side. And one of the five thinks that, well, maybe the four are correct. But unless they're pretty damn sure that if they go with that other group, they're gonna win, it's not worth dying on a small cross. So what do you do? You stay away.

I predicted once we found that we took back the House, you would find members of the House of Representatives who thought that some of the policies ... being proposed by the administration were wrong would start to step up. No sense in stepping up when you're going to lose anyway, because then you're in real trouble with your own outfit. But it becomes worth it if you step up and it actually changes policy. That's what you [are] beginning to see in the House. And that's [what] you begin to see in the Senate.

I'm not suggesting all of a sudden everyone's going to project a new sense of courage and political courage. What I'm suggesting [is] that the dynamic changes when the right vote, as opposed to the vote you don't agree with, becomes a possibility if you vote for it. But when it's not a possibility if you vote for it, there's no sense in doing it because all you're doing is going to be ostracized by your outfit. And nothing's going to change. That's just the way human nature works. Think about it [in] your own lives. That's how politics works. And so that's why I think you're going to see even Mitch McConnell changing some ideas or being more ― how can I say ― mildly cooperative.
According to the pool report, Biden paused before the final words, and the crowd chuckled.
Much of Biden's pitch centers on his ability to reach out to Republicans ― both Trump voters who may now be frustrated with the president and GOP lawmakers who might not be willing to work with someone they're less familiar with or someone who is more progressive.
There's no doubt that Biden has deep ties in the Senate, where he served for decades. He and McConnell have long been friends. McConnell was the only GOP senator to travel to Delaware for the funeral of Beau Biden, the former vice president's son who passed away from brain cancer in 2015.
But McConnell is a modern-day Machiavelli, known for his ruthlessness. And there's absolutely no indication that he will cooperate at all with Democrats, even if they take control of the White House.
After all, his most breathtaking show of partisanship happened before Trump became president. In March 2016, President Barack Obama nominated Garland to fill the Supreme Court vacancy left when Justice Antonin Scalia died. Even though Obama had nearly a year left in office, McConnell blocked the judge's nomination. He refused to even give Garland a vote in committee, let alone on the Senate floor. And he has since helped Trump remake the federal judiciary with a number of extreme, unqualified nominees.
On one of the most notable deals Biden helped cut with McConnell during the Obama administration ― an extension of President George W. Bush's tax cuts ― the final outcome was seen as a win for Republicans.
McConnell has already said there is no way that proposals like "Medicare for All" and the Green New Deal will pass the Senate as long as he's in charge.
"They won't even be voted on. So think of me as the Grim Reaper: the guy who is going to make sure that socialism doesn't land on the president's desk," McConnell said in April last year.
And he has distinguished little between centrist candidates like Biden and those more to the left, saying that "the nominee for president on the Democratic side is going to be on a path to try to turn America into a socialist country."
Popular in the Community