ANNANDALE, Va. -- Vice President Joe Biden, whom White House aides considered dumping from the ticket in 2012, returned the favor at a campaign event here on Monday, supporting the election of Virginia gubernatorial candidate Terry McAuliffe without ever mentioning Barack Obama or any of the president's achievements in office.
The omission was all the more noticeable because Obama himself had campaigned in the state the day before. The president won Virginia in both 2008 and 2012, signal Southern victories that changed the Electoral College map in the Democrats' favor.
At a get-out-the-vote rally Monday in the grassy backyard of a middle-class suburban home, Biden and other Democratic speakers -- Virginia Sen. Mark Warner, Virginia Rep. Gerry Connolly and McAuliffe -- spent most of their time attacking Republican candidate Ken Cuccinelli, who trails in the polls after a campaign heavy on mud-slinging by both sides.
They depicted Cuccinelli, the state attorney general, as a tea party tool who opposes women's rights, scientific research and the interests of federal workers whose lives were upended by the tea party-instigated government shutdown.
The race in its final days has descended into a name-calling battle: the depredations of the shutdown and sequester-imposed budget cuts, which affected hundreds of thousands of Virginians, versus the controversial Obamacare program, which appears to be dragging down the president's approval ratings. Even the president largely ignored Obamacare when he spoke in Virginia Sunday.
Biden mentioned neither the president nor Obamacare in more than 20 minutes of remarks. Nor did he note, as some other speakers did, how the alliance of the president and Democrats in Congress had stared down the tea party to reopen the government.
Instead, sounding like a man who has not given up the ghost of presidential ambition, Biden linked his own story of middle-class economic struggle with that of McAuliffe, a fellow Irish American who grew up in an unassuming Syracuse, N.Y., neighborhood without money or connections.
Recalling that he had attended law school in Syracuse, and that he knew and felt at home in the neighborhood where McAuliffe had been reared, Biden said, "I knew him before I met him." Alluding to McAuliffe's flat, nasal upstate New York voice, Biden added, "It doesn't matter what the accent is -- it matters what the accent is on."
Biden also heaped praise on Warner, a former Virginia governor credited with focusing on education and research. Biden, who ran his own abortive presidential campaign in 2008, had sought Warner's support after Warner gave up his own thoughts of running. Warner's decision freed then-Virginia governor (and now senator) Tim Kaine to support Obama.
The vice president said that McAuliffe would follow in the tradition of Warner by pushing education, technological innovation and high-end job creation.
Biden ended with a plea for a strong turnout on Tuesday, warning the crowd of 200 canvassers that the tea party was efficient at the polls. "They do turn out their base," he said. In 2008 and 2012, the Obama-Biden ticket did a superb job of turning out the Democratic base.
But Biden didn't mention that, either.
Before You Go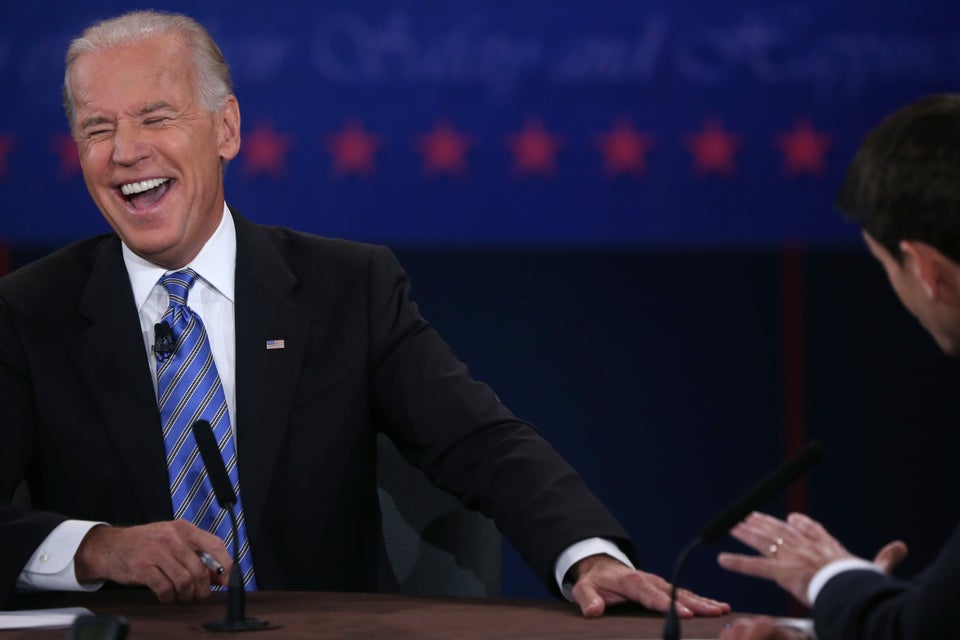 Joe Biden Makes Faces At VP Debate
Popular in the Community