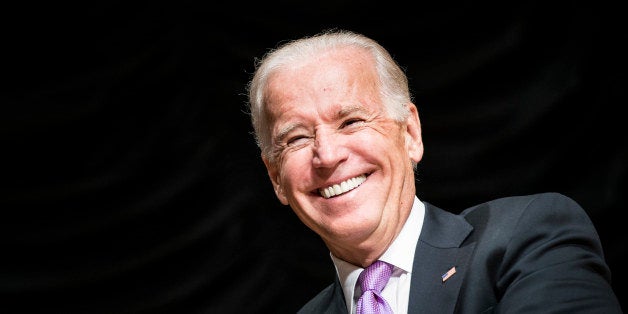 WASHINGTON -- With just days to go before the debut of one of the most significant pieces of Obamacare, Vice President Joe Biden is lining up a mix of phone calls, op-eds and interviews as part of the latest White House push to make sure people understand the health care options becoming available to them.
The health insurance exchanges portion of the Affordable Care Act takes effect on Oct. 1, and is designed to provide health insurance to people who do not have it, or people who don't get health benefits at work. Despite the White House and states promoting the insurance program for months, polls show that many people still don't really know what it is or who can sign up.
Biden is hoping to fill that educational gap. On Sunday, he's running an op-ed in a number of local papers that explains how the insurance exchanges will work. Biden will speak "in plain English," according to materials provided by his office, and "take on the critics and separate the fact from fiction" about the law. Between Biden's op-ed and another planned op-ed by Health and Human Services Secretary Kathleen Sebelius, their pieces will run in at least 29 local papers over the next few days.
The vice president is also reaching out to youth. Early next week, Biden will talk about the program's benefits during an interview for College Radio Day, which airs on over 200 college radio stations around the country.
Biden has been appealing to key groups this week for their help in raising public awareness of the law. He held a Thursday conference call with 3,000 nurses from more than 25 nursing organizations, namely to thank them for their role in educating their patients on Obamacare. Biden promoted the call ahead of time on Twitter with the hashtag #GetCovered, and encouraged nurses to tweet about their conversation. Some of them did -- and by their tweets, it was clear Biden was a hit.
The White House signaled earlier this week that Biden, President Barack Obama and others would be doing more in the coming days to educate people on how they can enroll in health insurance through the exchanges.
"The message is: 'Check it out. You decide,'" David Simas, White House deputy senior advisor for communications, said at a Wednesday event hosted by Third Way. "If it works for you, that's fantastic, because it's better than anything that exists today."
Jeffrey Young contributed reporting.
Calling all HuffPost superfans!
Sign up for membership to become a founding member and help shape HuffPost's next chapter
BEFORE YOU GO
PHOTO GALLERY
Joe Biden Makes Faces At VP Debate