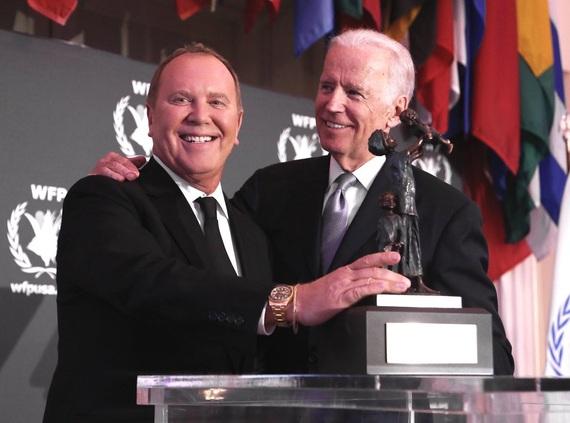 There aren't too many fashion designers who would welcome a comparison to Bob Dole, but Michael Kors took it as high praise.
Last night in Washington, Vice President Joe Biden presented Kors with the McGovern-Dole Leadership Award for his global efforts to fight hunger. The award, given by World Food Program USA, is named after the late Senator George McGovern and Dole, pioneers in the hunger movement.
"A few years ago we decided we wanted to expand our philanthropic efforts, and we went looking for an organization that was expert, that was effective, " Kors said of the WFP, which feeds 80 million people a year in over 80 countries struggling with poverty, natural disasters, and conflict.
"I have to tell you I came to this issue because I am an optimist and a pragmatist. In fashion, I know that if I can help a customer find the right look, it can change their attitude, and change their day to day life. When you give a child a plate of food, you aren't just giving them nutrition, you are giving a family a reason to send their child to school, " Kors explained.
Since 2013, Kors has led the Watch Hunger Stop campaign, which has delivered 13 million meals to children around the world. For every one of his limited edition wrist watches sold, the WFP can feed 100 children.
Kors sees hunger as "a problem that is solvable, "said his friend, actress Olivia Wilde, who sat opposite him during the dinner.
Kors was also joined by his husband, Lance LePere, and models Cameron Russell, Beverly Johnson, and Jessica Hart.
Other guests included Hunter Biden, White House Social Secretary Deesha Dyer, and actress Lynda Carter.