WASHINGTON -- Among those who encouraged Vice President Joe Biden to run for president, none were as ubiquitous and aggressive as Dick Harpootlian.
The former chairman of the South Carolina Democratic Party was quick with a quote, alternating between praising the VP's down-home charm and giving an acid-tongued take on former Secretary of State Hillary Clinton's chances. He cut a $10,000 check to a pro-Biden Super PAC and predicted cataclysmic doom over Clinton's email controversy. Reporters wrote entire articles about his Biden-whispering.
"He would have kicked her ass," Harpootlian said, in reference to Clinton, the Democratic frontrunner. "He would have Kicked. Her. Ass. Write that down."
There isn't much data to suggest that Harpootlian is right. Biden did poorly in national match-ups, and found himself trailing Clinton and Sen. Bernie Sanders (I-Vt.) in some of the early voting states. But Harpootlian argues that on the ground in South Carolina, things were trending the VP's way.
"Joe Riley was ready to endorse and called him telling him to enter," Harpootlian said. Reached for comment, a spokeswoman for Riley, the longtime mayor of Charleston, said that he was not on the cusp of asking Biden to run, though she didn't specify what their private talks entailed.
"I don't know if he could have competed in Iowa at this late date," Harpootlian added. "But South Carolina wouldn't have been his firewall, it would have been his launching pad."
In spite of his disappointment, Harpootlian said Biden's decision to bow out didn't come as a complete surprise. He thought the vice president was planning to run as recently as late last week, but he said things changed over the weekend. Biden had been making calls into South Carolina and then, abruptly, those stopped. "And then everything went radio quiet yesterday," Harpootlian said.
"When you lose the apple of your eye, your son, who you think will be president someday, you have good days and bad days," Harpootlian said. "At the end of the day, he was having good days and bad days. Some days he got up ready to run and some days he wasn't."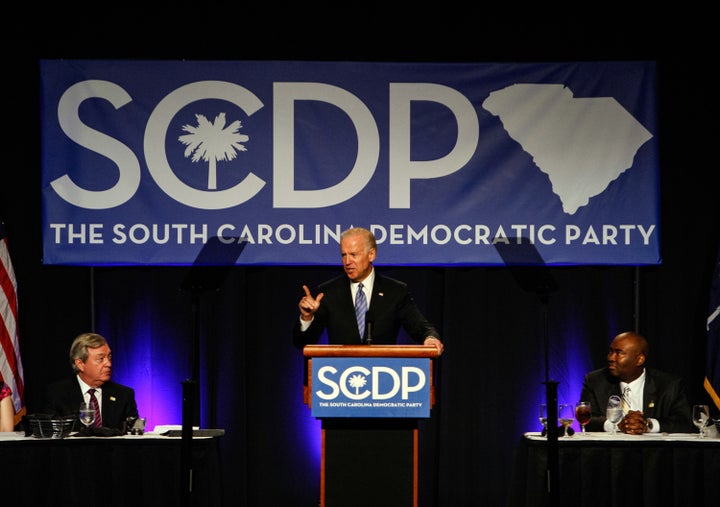 With Biden now out of the race, Harpootlian is grappling with the likelihood that Clinton will end up winning not just his home state, but also his party's nomination. She is a "deeply flawed candidate," he said, who will have trouble winning the general election. If he were managing her campaign, he'd "strip away all these freaking people she surrounds herself with" and tell her to go "off the script."
"She is much more comfortable rubbing elbows at the Aspen Institute than she is in speaking to real people with real problems. There is a sense of noblesse oblige in her approach to real people," he argued, suggesting it is the byproduct of having been at the top echelons of state and national power for three decades. "There has always been someone standing next to her bed in the morning with a cup of coffee on a silver platter."
And yet, despite his feelings toward Clinton, Harpootlian is now rooting for her to win (though he thinks it won't be easy unless Donald Trump gets the GOP nomination). He doesn't want another candidate to enter the Democratic primary to fill the void that Biden left. And he isn't feeling the Bernie Sanders vibe.
"I'm not quite ready to refer to myself as Comrade Harpootlian," he says. "I just don't think the country is ready for a socialist yet. [But] If Republicans take the White House, maybe after eight years of that we will have riots in the street."
PHOTO GALLERY
Reactions To Joe Biden's 2016 Decision
Calling all HuffPost superfans!
Sign up for membership to become a founding member and help shape HuffPost's next chapter