Vice President Joe Biden said he will not run for president in 2016.
Biden announced his decision in a statement given from the White House Rose Garden on Wednesday.
"Unfortunately, I believe we're out of time, the time necessary to mount a winning campaign for the nomination," Biden said. "While I will not be a candidate, I will not be silent."
He urged the Democratic candidates to run on President Barack Obama's accomplishments.
"This party, our nation, will be making a tragic mistake if we walk away or attempt to undo the Obama legacy," he said.
Biden's decision comes after months of speculation over whether he would jump in the race. In May, Biden's son, Beau, died of brain cancer, devastating the vice president and his family. The death of his eldest son left the vice president questioning whether he had the stamina for a 2016 presidential bid.
Biden said Wednesday his ongoing grief over his son's death "closed the window" on him running for president. However, the vice president said he'd spend his remaining months in office supporting efforts to find a cure for cancer.
"I believe we need a moonshot in this country to cure cancer. It's personal. But I know we can do this," he said. "If I could be anything, I'd want to be the president that ended cancer, because it is possible."
Biden was joined in the Rose Garden by Obama and his wife, Dr. Jill Biden. A number of administration officials, including White House Chief of Staff Denis McDonough, Obama adviser Valerie Jarrett, White House Press Secretary Josh Earnest and National Security Adviser Susan Rice, were also in attendance, in addition to Biden's sister Valerie Biden Owens.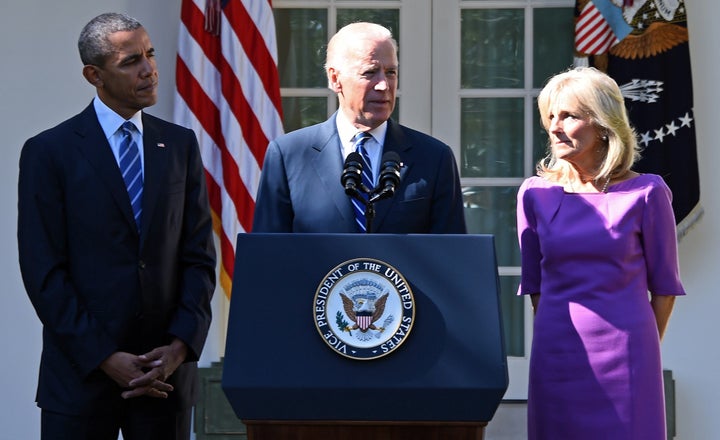 As the vice president weighed whether or not to jump in the 2016 race, he repeatedly said his family would be his top consideration.
"The most relevant factor in my decision is whether my family and I have the emotional energy to run," Biden said in September. "Some might think that is inappropriate. Unless I can go to my party and the American people and say that I am able to devote my whole heart and my whole soul to this endeavor it would not be appropriate."
But as presumed Democratic frontrunner Hillary Clinton faced scrutiny over her use of a private email server during her State Department tenure, Biden made several public appearances that had observers predicting he would soon jump in the race. Reuters reported from a Labor Day event in Pittsburgh, where Biden appeared "energetic and eager":
He jogged back and forth across a downtown Pittsburgh street to greet people who met him with cheers of "Run Joe Run."

He seemed to be genuinely enjoying himself as he snapped selfie photos and waded into the crowd to shake hands.
The vice president also saw a bump in the polls in September. And as The Huffington Post reported in August, Biden expressed concerns over Clinton's effectiveness on the issue of income inequality, telling Democrats he'd be motivated to jump in the race to make the issue a priority.
Biden has a well-deserved reputation for candid, off-the-cuff remarks. After Obama signed the Affordable Care Act into law in 2010, the vice president was caught on a microphone calling the bill's passage a "big f**king deal."
Biden originally sought the Democratic presidential nomination in 1987, but withdrew from the race early amid allegations of plagiarism in speeches.
"I made some mistakes," said Biden, standing beside his wife, Jill. "Now the exaggerated shadow of those mistakes has begun to obscure the essence of my candidacy and the essence of Joe Biden."
He again ran in the 2008 Democratic primary, but dropped out after a poor showing in the Iowa caucuses.
Later that year, then-Sen. Obama selected Biden as his running mate. The pair defeated Republican nominee Sen. John McCain (Ariz.) and his running mate, then-Alaska Gov. Sarah Palin, in the general election. Four years later, they won again, defeating former Massachusetts Gov. Mitt Romney and Rep. Paul Ryan (Wis.).
Biden, who is originally from Scranton, Pennsylvania, practiced law in Delaware before his election to the New Castle County Council in 1969. In 1972, at age 29, he decided to challenge incumbent Sen. J. Caleb Boggs (R-Del.) in his re-election bid. Biden campaigned on ending the Vietnam War as well as environmental and civil rights issues. Despite his campaign's shoestring budget, he defeated Boggs by about 3,000 votes.
Just over a month after his Senate victory, Biden's first wife and daughter were killed in a car accident. His two sons were badly injured but survived.
"For the first time in my life, I understood how someone could consciously decide to commit suicide," Biden said in 2012 at a Tragedy Assistance Program for Survivors gathering. "Not because they were deranged, not because they were nuts, because they'd been to the top of the mountain and they just knew in their heart they'd never get there again, that it was ... never going to be that way ever again."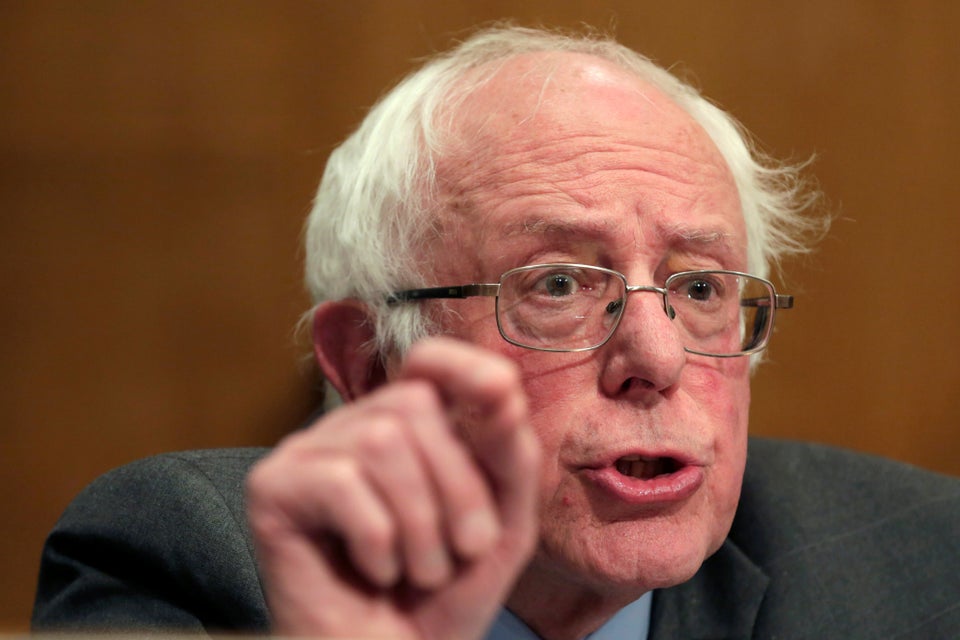 Reactions To Joe Biden's 2016 Decision
Popular in the Community