WASHINGTON -- At least one thing has been decided: Joe Biden has retired the trophy for candidate indecision.
A weary Washington has been driven batty by the vice president's "I'm in, I'm out, I'm in again" agonizing about whether to enter the 2016 presidential contest. He has given us either the longest goodbye since Bogart in "Casablanca" or the longest hello since Castro in Havana.
It's finally dawned on Biden World that they've run out of time. A statement is expected any minute, hour or day now.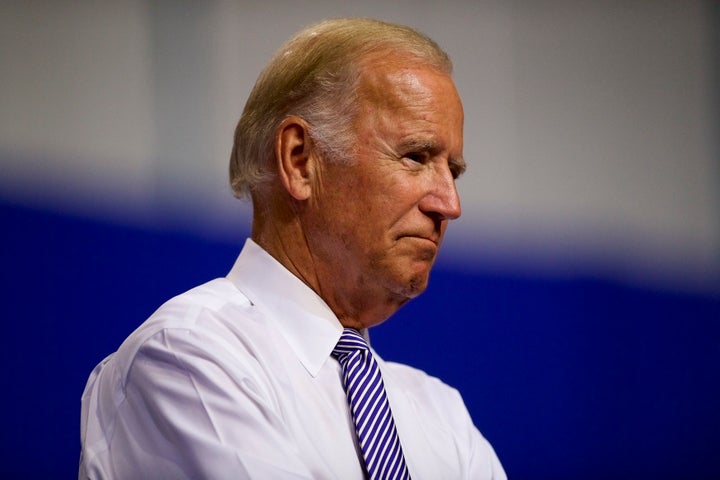 Biden's former chief of staff and longtime Sancho Panza, ex-Sen. Ted Kaufman, sent Biden's friends and allies a letter to calm them as the dramatic moment approached. He assured the troops that, if the vice president indeed were to run, he would do so in the name of the middle class -- as well as in memory of his son Beau, who died of cancer in May.
But the decision slog has focused mostly on Joe Biden himself. No talk of an actual agenda. No hint of his assessment of the candidates already in the race. No talk of what the Democrats really need in order to secure a third-straight term in the White House. Instead, we've been shown a saga of grief and inspiration, with Biden offering soulful public updates on the condition of his political heart.
Why did he do it this way?
Biden is politically savvy and devises strategic and tactical plans at a rapid rate. But they can be contradictory and sometimes pile up like cars on an icy highway. He's both gifted and cursed by the ability to sense all options.
He has wanted to be president forever and has already run twice (in 1988 and 2008) with embarrassingly bad results. It's hard not to think third time's the charm, especially since he's been second in command since 2009 and since age might not be a factor given the other top Democratic contenders. (While Biden is 72, Clinton is 67 and Sanders is 74.)
First elected to the Senate in 1972, Biden sees himself following in Kennedy footsteps -- minus the big money, the Harvard connections and the grand presidential history of Massachusetts behind him.
Then there is Biden World, a vast array of former staffers and permanent friends who adore the man they used to work for. Their hearts ache for the pain he has suffered -- not just the loss of one son, but the deaths of his first wife and daughter in a car accident. They can't bear to tell him that it's over, if indeed it is. They want to accommodate his dreams. And they love being part of the political action, the thrill of being on the inside with a man of certifiable importance, and the cachet they will lose when his career ends.
Has the indecision hurt him?
Waiting this long certainly hasn't helped him, whatever he decides to do.
If he does run, attention will focus on the signs that he was preparing all along but waited to see the shape of the race. Reporters will seek out some Democratic operative who moved to Washington because she had been promised a job in the campaign policy shop, or examine the donors Biden called on the q.t., or lay out all the detailed groundwork of his innermost circle.
If he doesn't run, expect his inner circle to leak stories about how earnest and serious he was about entering the race. But there will be lots of reasons not to believe them. People will look back at all the things he did not do, such as call key members of Congress whose support was "gettable" by their own description.
Either way, Biden looks less and less like a father stalled by grief and more and more like a manipulative politician. So in that sense he has already lost, no matter what he decides.
In a "60 Minutes" interview last weekend, President Barack Obama praised Biden, calling him perhaps the best vice president ever. But Obama was careful not to recommend Biden as a presidential candidate. In fact, he rather drily observed that running for president is something almost everyone in national politics wants to do.
The implication was: Be kind to Joe, for he has an affliction he can't shake.
CORRECTION: Sanders' age was incorrect in a previous version. He is 74.
Calling all HuffPost superfans!
Sign up for membership to become a founding member and help shape HuffPost's next chapter