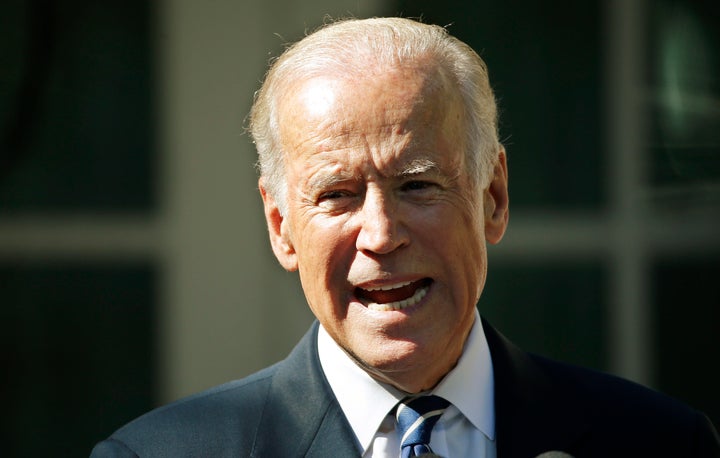 WASHINGTON -- Days after Joe Biden buried his son Beau in early June, the 72-year-old vice president was saying privately that he had concluded that he "didn't have the heart" or the drive to run for president in 2016.
At the time, Biden made no mention of what, in recent weeks, has come to be described as Beau's deathbed plea to his father to seek the Democratic nomination.
"I've had enough," he told one friend in early June. Long before that, in fact, longtime high-level aides, such as Ron Klain, had concluded that Biden was a "no."
So what happened to change Biden's mind? Based on several sources close to him, who declined to be named out of fear of angering their boss, here are the reasons:
1. Friends' encouragement
After the funeral, Biden busied himself with what seemed to be a private, personal task: calling to thank those he knew had attended.
It was a very long list. The affable vice president has been in Washington for four decades, and he is that rare man who has never worn out his welcome.
For Biden – as Irish-American as they come – family, friends and politics are inseparable. So the calls inevitably turned to a second reason that Biden was on the line, which was to gauge how many of his wider clan still wanted him to seek the Democratic presidential nomination.
In the calls, Biden would muse aloud that he was confident he would win if he ran – even as he wearily declared, sometimes not in so many words, that he would not.
The overwhelming and not surprising response in these calls was: Run, Joe, Run! No one could run on purer motives, they said: to restore faith in government.
The vice president had a mostly cordial relationship with Secretary of State Hillary Clinton, and his longtime role as a champion of women's rights amplifies his appreciation for the former first lady.
But, privately, he looks down on what he regards as a political/money-making machine. He sees the Clintons as far more interested in cash and clout than in doing good. "They're everything he hates about the way politics operates today," said one friend.
Biden may conclude that he is the only person in the party who can stop a Clinton return to the White House. If he enters the race, he will at least further complicate Hillary's already dreary slog towards the Democratic nomination.
Whatever lack of "heart" Biden may have had in early June, the polls in early August show that he has at least a plausible path to relevance, if not victory. He trails Clinton in national and local horse race polls. But, as a person, he is more highly regarded than she is.
The Republican attack machine, led by Fox News, has scuffed up Clinton among independents. Sen. Bernie Sanders (I-Vt.), meanwhile, has siphoned away progressive Democratic support.
The former secretary of state has plenty of residual strength, but not as much as she had two months ago.
The polls have a Biden World echo effect, encouraging even more urgent pleas of "Run, Joe, Run" from his circle.
Biden's entry would be an obvious media sensation. But the internal dynamics of the press would help him as well. He will get tons of (reasonably favorable) coverage from Fox, at least early on, because Hillary Clinton remains their main target. Biden has a touch of the Donald Trump garrulous charisma, but without any of Trump's myriad downsides. Clinton has terrible press relations; Joe Biden has held a genial, family-style summer picnic for reporters and their families for years.
Both parties agreed to push back the start of the caucus and primary season this cycle, which won't begin in Iowa until Feb. 1, 2016. That arguably gives Biden enough time to mount a real campaign.
It's been a long time since the descendants of the Kennedys ran American politics, and Biden, in a way, is the last of the old breed. His benighted campaigns in 1988 and 2008 were exercises in uplift and blarney without the steely organization and Harvard faculty of the old school.
If they have a living bard, it is New York Times columnist Maureen Dowd, who broke the story of the latest private meetings at the mansion in D.C. in a column that excoriated the Clintons as only she can do.
For a generation or more of aides and pols, another Biden run would be an homage to the Kennedy blend of liberal idealism, cold pragmatism, emo-driven stagecraft and sheer love of the game.
It took an Irishman, the late Sen. Eugene McCarthy (D), to say it best. "It's easier to run for president than to stop," he once told Chris Matthews.
And if Beau did in fact urge Joe to run, it will now be even harder to stop.
Popular in the Community