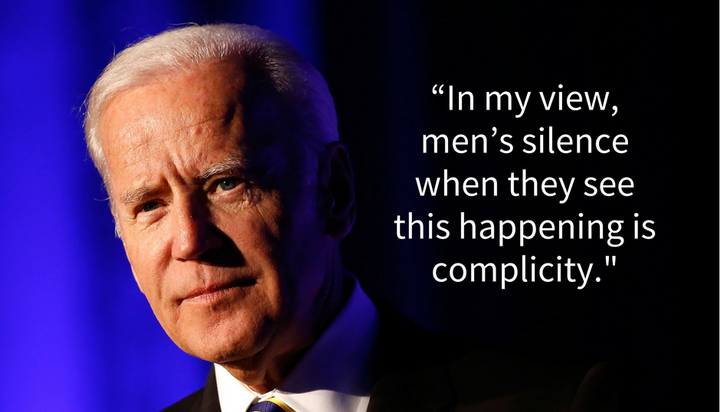 Former Vice President Joe Biden wants to get more men involved in the national fight against sexual assault. 
"We haven't yet truly changed the culture to the point where no man believes he has a right to raise his hand to a woman and no woman ever asks herself what she did to deserve it," Biden began his essay published by Cosmopolitan on Wednesday. In the essay, Biden discussed his organization It's On Us and how it's working to prevent sexual assault. 
"We're still working on that ― together," he continues. "And I need your help."
Biden reflected on what it was like to pass the Violence Against Women Act in 1994 and how the law has helped to reduce violence against women. But when he became vice president in 2008, he reviewed the current sexual assault statistics in the U.S. and he was "heartbroken" by what he found.
The rate of violence against women was as high as when Biden drafted VAWA. One in 5 women will be sexually assaulted at some point in her college career and 1 in 3 women will be victims of intimate partner violence at some point in her lifetime. 
So Biden created the It's On Us organization alongside former President Barack Obama in 2014. Their main goal? Get men involved. 
"We called on men to step in, at a bar, at a party, in a dorm room, or anywhere they might see a woman being targeted for sexual assault, especially if she is incapacitated by drugs or alcohol or for any other reason is not able to consent," Biden wrote in Cosmo. "In my view, men's silence when they see this happening is complicity. We also know that sexual violence happens in LGBTQ communities too. It's on Us is about changing the culture for everyone."
Students are leading the way in the fight against sexual assault, Biden wrote.
"In huge part because of [students]," he concluded, "we are so much closer to a world where no woman will ever blame herself for being sexually assaulted and no man will make excuses for this unconscionable behavior."
Head over to Cosmo to read Biden's full essay. 
Calling all HuffPost superfans!
Sign up for membership to become a founding member and help shape HuffPost's next chapter
BEFORE YOU GO