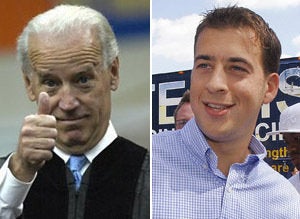 Joe Biden will be in Chicago next week to help raise money for Illinois Senate candidate Alexi Giannoulias.
The Chicago Sun-Times' Lynn Sweet reports that Biden will headline a fundraiser for Giannoulias on June 21. The Vice President was already scheduled to be in Chicago for another fundraiser to benefit Tenth District Democratic House nominee Dan Seals at the Union League Club in the Loop.
"We are looking forward to Vice President Biden's trip to Illinois and are grateful to have his support," Alexi for Illinois campaign manager Michael Rendina said in a statement. "There is so much at stake in this election and voters are seeing more and more every day that the choice between Congressman Mark Kirk and Alexi Giannoulias is one between a failed past and a promising future."
The Biden event was announced Monday by Giannoulias to his supporters on Twitter: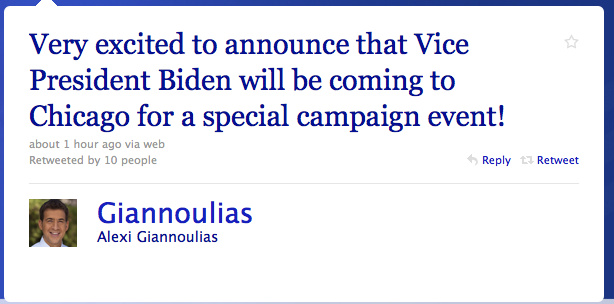 Sweet reports that the Biden fundraiser is proof that the White House is throwing its weight behind Giannoulias' bid for President Obama's former senate seat:
Biden's coming signifies to the Democratic donor community that Giannoulias is worth investing in his contest against GOP nominee Rep. Mark Kirk (R-Ill.) badly wounded in recent weeks with stories about his embellishments about his career as a Navy reserve officer.

The Obama team is sending significant fund-raising help to Giannoulias: Education Secretary Arne Duncan hits Chicago on Thursday; Deputy White House Chief of Staff Jim Messina on Saturday and former Obama campaign manager David Plouffe on June 30, the last day of the second quarter of fund-raising for the November contests.
Related
Popular in the Community