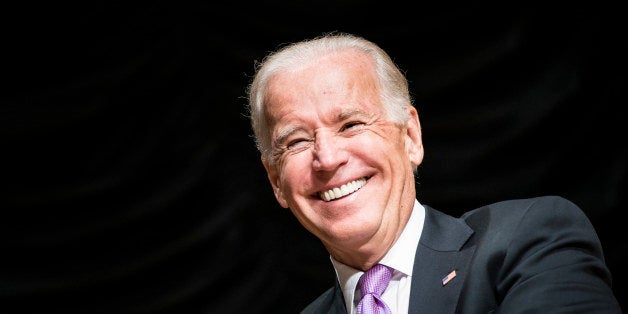 Vice President Joe Biden touted the success of the reauthorized Violence Against Women Act -- and slammed those who slowed the renewal process -- at an event celebrating its 19th anniversary on Thursday.
Biden said it's been "absolutely fascinating to see the ripple effect of this little old act we passed 19 years ago," to supporters, saying he's had the privilege of seeing the impact VAWA has had on other nations during his travels as vice president.
Biden said he was "stunned" by the months-long fight that House Republicans pitched against the reauthorization of the act this time around. The bipartisan Senate version of VAWA extended protections to Native American women, members of the LGBT community and immigrants, prompting Republican backlash and a narrower GOP proposal.
"I'm going to say something outrageous," Biden said Thursday. "I think I understand the Senate better than any man or women who's ever served in there, and I think I understand the House ... I was surprised this last time ... The idea we still had to fight? We had to fight to reauthorize?"
Biden blamed "this sort of Neanderthal crowd" in the House for slowing the reauthorization, and applauded the women in the Senate for their relentless effort to push Republicans to accept the extended protections.
"It makes a difference with women in the Senate," he said to applause. "It does. It does, man ... Because they go and look all the rest of those guys in the eye and say, 'Look. This is important to me.'"
During his remarks, Biden recalled a 2012 incident in which he announced his support for same-sex marriage before Obama had publicly announced his own position.
"I make no apologies on the issue of marriage," he said.
Jennifer Bendery contributed to this story.
Calling all HuffPost superfans!
Sign up for membership to become a founding member and help shape HuffPost's next chapter
BEFORE YOU GO
PHOTO GALLERY
Joe Biden Makes Faces At VP Debate