Vice President Joe Biden on Wednesday told world business leaders not to relax efforts to help women make economic progress, reminding them that they must also help change the culture of sexual harassment and abuse.
"None of this matters if a woman is not safe: safe in her workplace, safe in her home, safe on the street. It's a basic human right -- the right to be safe," Biden said at an event co-hosted by The Huffington Post and Goldman Sachs' 10,000 Women Initiative, which supports female entrepreneurs in developing countries.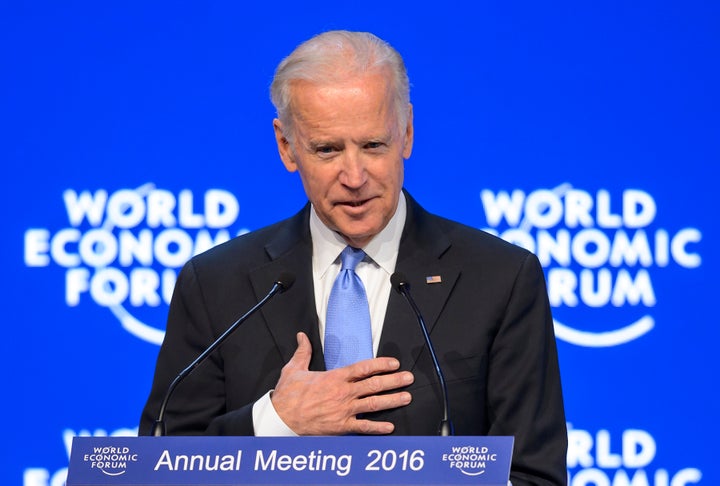 The event was held during the annual World Economic Forum in Davos, Switzerland, where Biden met with international business and political leaders.
While Biden lauded them for creating economic opportunities and hailed the "exponential change" for women in recent decades, he said women still face discrimination and violence.
"You have to get to the point where you give them the freedom to be secure," he said.
Biden cited his decades-long work on domestic violence, in particular the Violence Against Women Act he championed in the Senate, which he considers "the proudest thing I've ever done." Biden said he had hoped the legislation would help change attitudes toward women, especially the tendency to blame victims of sexual assault.
"When a woman is raped, when a woman is abused, the first thing other women ask is what did you do? Why were you there? What were you wearing?" Biden said. "Folks, all the opportunity and entrepreneurship in the world is good. But ultimately, starting in this country, we have to change the culture. And we're not going to change that culture until not a single woman who is abused ever asks herself: 'What did I do?'"
Biden also mentioned the widespread problem of sexual assault on college campuses. In 2014, the White House launched "It's On Us," a campaign to hold more colleges and universities accountable for rapes and to encourage students and administrators to curb the culture of rape.
"I think we have a real chance to have a cultural change. No means no. Yes doesn't mean yes if you're drunk and can't say yes. It's rape," he said.
Biden implored men to speak up if they see instances of harassment and abuse of women, saying that "the most cowardly men I know are the ones who know it's happening, but do nothing because it's not good for them."
Biden celebrated the progress that world leaders have made in allowing women more economic opportunities, but lamented that more countries need to work on providing "the basic building blocks" for women.
"If you lack basic freedom and equality, if you lack health, if you lack access to education, it's really hard to start anything," he said.
But in order to promote global progress in women's rights, Biden argued that the U.S. needs to do more at home to ensure equal opportunities.
"Every single solitary opportunity that my son has, and my grandson, there's not a single damn thing that my daughter, my granddaughter, my sister can't do. Nothing," he said.
"The day I look forward to, when I see the women in the Senate, when there are 51 women in the Senate, we'll finally be over whether or not we're smarter or you're smarter, or you're more venal or we're more venal. Women are just as venal as men. Same thing. Once we get to the place where it no longer is an issue, that's when this country can take off."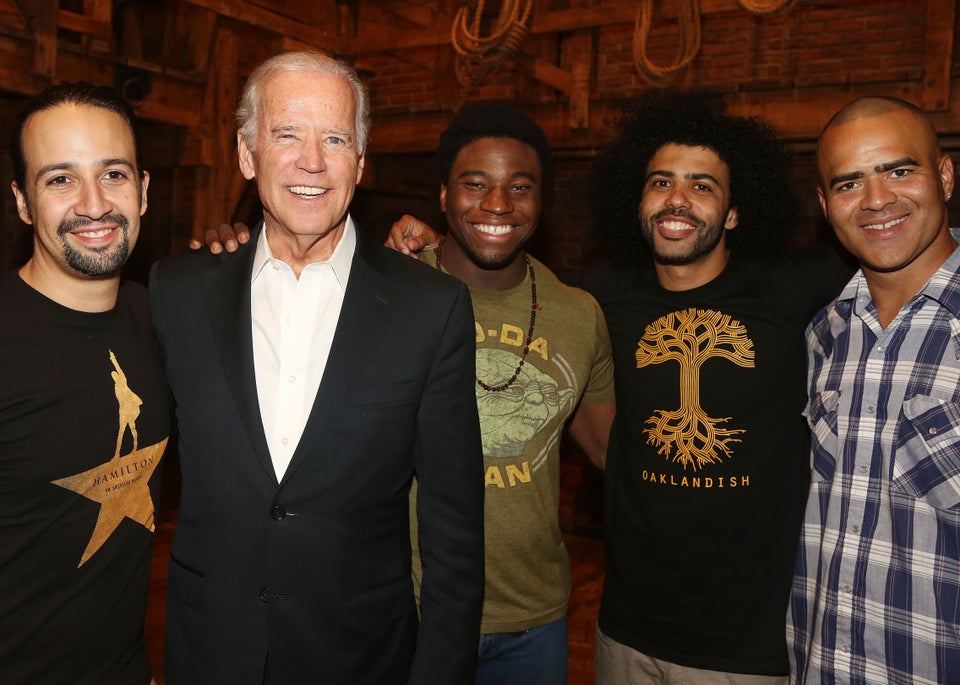 Biden with the Cast of Hamilton