Vice President Joe Biden cracked several jokes during the mock swearing-in of senators in the new Congress.
Biden told Sen. Tim Scott's (R-S.C.) brother that he could "help with" his "pecs."
Biden also told Sen. Heidi Heitkamp (D-N.D.) to "spread your legs, you're gonna be frisked." HuffPost's Eliot Nelson reports:
It is during the ceremony that Heitkamp and her husband encounter one particularly outspoken male legislator, Vice President Joe Biden.

"Spread your legs, you're gonna be frisked," Biden jokes while Heitkamp and her family stand for photos.

"Drop your hands to your sides," Biden continues, vamping on the photographer's commands to Heitkamp's husband, Darwin Lang, to keep his arms straight. "You say that to somebody in North Dakota, they think it's a frisk. Drop your hands to your side, y'know?"

Biden turns to Lang, looking for someone who gets the joke.

"They think you're in trouble, right? You drop your hands to the side..."

Lang remains stiff and nods his head ambivalently.

Biden shrugs it off with a big smile. "Ahhh, I'm a little formal, I know."
Watch a video of some of Biden's antics above.
This post has been updated to include more of Biden's remarks.
Before You Go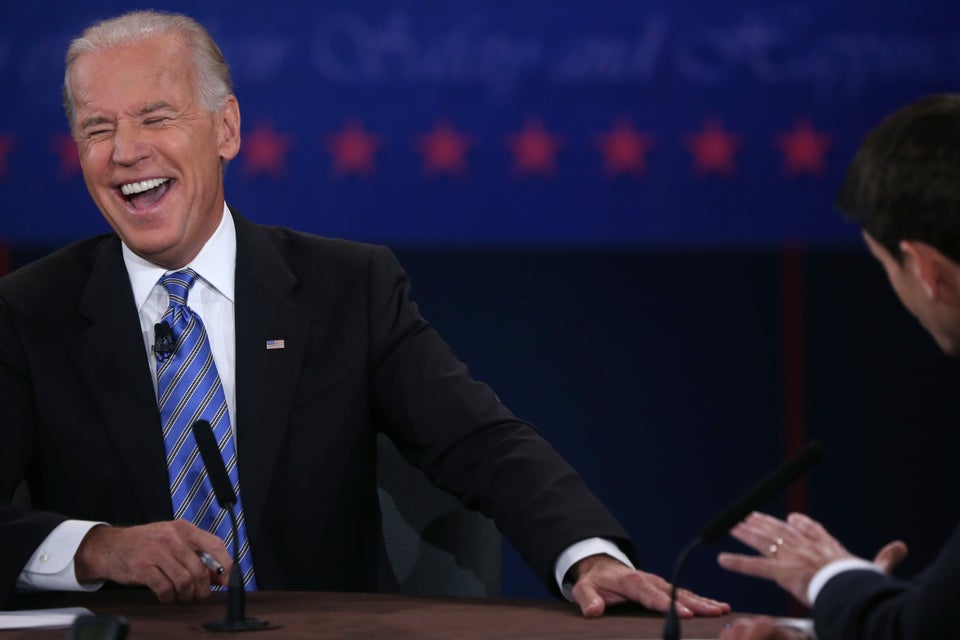 Joe Biden Makes Faces At VP Debate
Popular in the Community