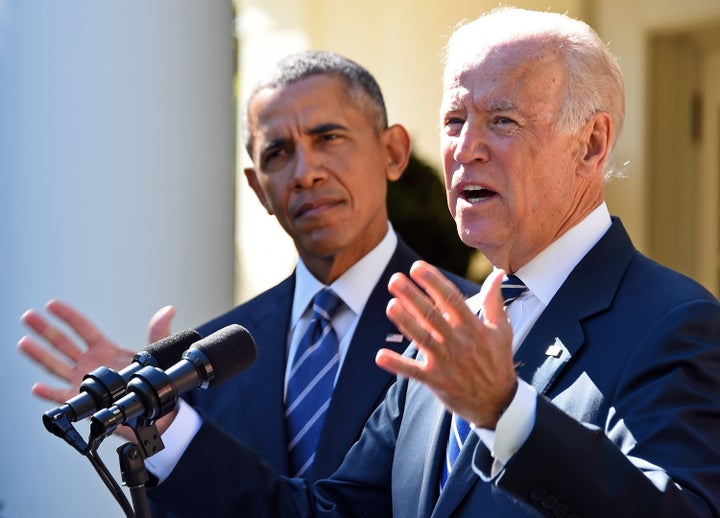 NEW YORK -- Vice President Joe Biden's announcement Wednesday that he will not run for president put an end to months of frothy speculation in the press, in which a seemingly endless supply of anonymous "friends," confidants," "advisers," "sources," and "Democrats" told journalists he was likely getting in the race.
Biden's non-campaign kickoff in the Rose Garden turned the spotlight once more on the priorities of the political press, which produced countless stories from early summer into the fall pegged to the vice president's considerations about seeking the presidency a third time. 
In recent days, several prominent journalists and commentators signaled Biden was all but in the race.
But the months of Biden 2016 reporting won't be remembered by these select few misfires. Instead, it will be defined by outlets that grabbed at small parcels of news in recent months and turned them into far grander headlines.
And therein lies the difficult task that faced the press corps as they went about reporting on Biden over the last few months. He was, in fact, very serious about running and took steps to do so, even apparently relaying to The New York Times the plea his dying son gave him to enter the race. Aides and advisers to the vice president, meanwhile, had a vested interest in keeping the chatter of a run going and took active steps to keep the press corps engaged. And so, while the countless stories of Biden leaning closer to launching a bid turned out wrong, they weren't necessarily misleading or ill-informed.
The impulse to one-up competitors led news organizations to devote significant resources to nailing down even the most granular details from Biden's conversations, relayed by typically anonymous sources and interpreted as signals of leaning one way or the other. The resulting coverage, produced by some of the nation's best news outlets, provided endless fodder for political junkies and cable news producers hoping for a fresh segment after months of drama. 
Journalists were generally cautious not to go too far out on a limb in fueling the Biden story along and typically included some necessary caveats, like reiterating that he hasn't made a final decision. 
But collectively, the avalanche of speculation and emergence of a de facto Biden campaign press corps looks in retrospect like a misallocation of resources. The most consequential scoop, inevitably, was always going to come directly from Biden as he publicly announced his decision. And now he did. 
Calling all HuffPost superfans!
Sign up for membership to become a founding member and help shape HuffPost's next chapter