I've recently received a flurry of inquiries regarding Joe Biden's Irish heritage, so thought that it might be interesting to share research I did in 2008 during the last election cycle.
The Vice President has frequently made reference over the years to his Irish Catholic roots, and more specifically, to his "Grandpa Finnegan" -- claiming that it was at his home in Scranton, Pennsylvania that his early political values were formed. Grandpa Finnegan would have been Ambrose Finnegan, who was born in Pennsylvania in 1884, but what were his origins?
In my attempt to answer this question, I tripped across a few interesting discoveries, including the following:
Biden's grandfather, Ambrose, was orphaned at an early age
His great-grandfather, Ambrose's father, was a blind musician (and given that he played the violin, was literally a blind fiddler)
Obama's and Biden's shoemaking, Irish ancestors arrived in New York in May and April 1849, respectively, with their families making the voyage the following year
Biden's Finnegan roots stem from County Louth
Let me back up and explain how I reached these conclusions. Ambrose Finnegan's WWI and WWII draft registration cards reveal that he was born in Olyphant, Lackawanna County, Pennsylvania - not far from Scranton, where he would spend most of his life. By the 1900 census, he was living with an uncle, which begged the question - what happened to his parents? Sadly, Lackawanna County records revealed that the most obvious explanation was correct. Ambrose was orphaned at a young age, losing his mother, Catherine, before his second birthday and his father, James, at the age of 10. In this snippet of James's will, he leaves his prized violin to Ambrose.

Curious to learn more about James and Catherine, I checked out assorted census records for them and quickly discovered from the 1880 census that James was a blind musician (blind being indicated by a tick mark). The census also showed that both James and Catherine had been born in Ireland, so I was already back to the immigrants, but there was still a lot to learn.

This same 1880 record indicated that several of their children had been born in New York, but where? The 1870 census showed them living in Rochester with James running a hotel, but this, it turned out, was just a brief detour. More digging took me to Seneca County, New York, where James's family was concentrated primarily in Ovid and Catherine's a few miles away in Lodi.
In all, I found four census records for James, two indicating he was blind and two not. I take this to mean that while he may not have been completely blind, he probably had a severe vision problem of some sort. This also provides a likely explanation for why I found no records for him serving in the Civil War, although others in his family did.
James and Catherine married in Ovid in 1866 at Holy Cross, a Roman Catholic church. Before then, I find them living with their respective parents, Owen and Jane Finnegan and Thomas and Bridget Roche.

At this point, I concentrated on the Finnegan family. They were already in Covert, Seneca County, New York by the 1850 census. So when had they come to America? As it turns out, not much earlier.
Owen, Biden's great-great-grandfather, arrived in New York on May 31, 1849 on a ship called Brothers. His wife Jane immigrated with their children (including Biden's great-grandfather, James) almost a year later on May 15, 1850 on a ship with the interesting name of Marchioness of Bute. The Boyles traveling with her? Likely her younger siblings, as Jane's maiden name was Boyle.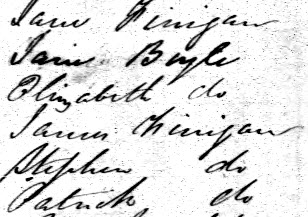 While their son, James, eventually moved on to Pennsylvania, Owen and Jane remained in New York where they are buried with other family members.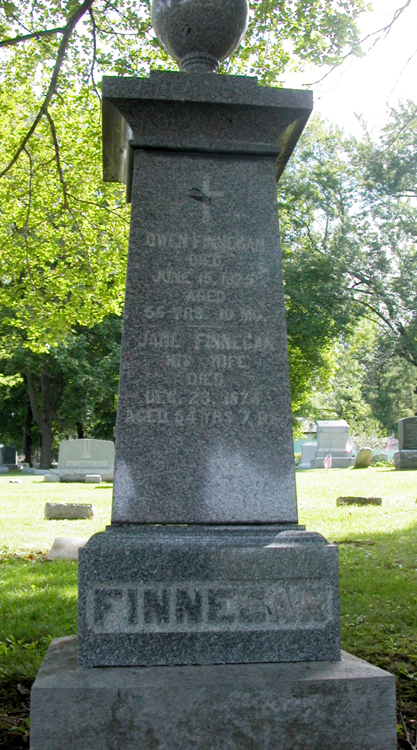 I've often thought that countries like the United States, Canada and Australia were the accidental beneficiaries of the Irish famine, and as I looked at these arrival records, I realized that this was a familiar story to me. Back in 2007 when I traced Barack Obama's Irish roots to Moneygall in County Offaly, I had seen this same pattern. His 4th great-grandfather, Joseph Kearney, arrived on April 25, 1849, and his son (Obama's 3rd great-grandfather) turned up the following year on March 20, 1850. So both of their emigrant ancestors had crossed the pond in 1849 and been followed by their families in 1850, little imagining how the lives of a pair of their descendants might intersect in the future. Another curious overlap is the fact that both Obama's and Biden's immigrant ancestors were shoemakers.
Returning my attention to the Finnegan family, I had uncovered their arrival details, which naturally led to the question of where in Ireland they had come from. The ships they came on all left from Newry, so that provided a clue. Working with Griffith's Valuation pointed to the counties of Armagh, Louth, Cavan, Monaghan and Meath - a useful narrowing, but still a lot of territory.
I knew from my research to this point that I was looking for a James Finnegan who was born around 1840 with parents named Owen Finnegan and Jane (Boyle) Finnegan, who would have probably married in the late 1830s, since James was the oldest of their known children. After a lot of digging, I found James "Finegan," baptized on December 18, 1840 in Lordship Parish in County Louth with parents named Owen Finegan and "Jean Bail" (likely a distortion of Boyle due to factors such as poor penmanship or transcription errors, as Griffith's Valuation shows no Bail families). Owen "Finigan" and Jane Boyle had married on December 8, 1839 in Cooley Parish in County Louth.

The records involved are all Roman Catholic and the parishes neighbor each other, indicating an origin in the vicinity of Carlingford, County Louth, Ireland. So should Joe Biden decide to go to Ireland and pay tribute to his Grandpa Finnegan, County Louth should expect a visitor!
Support HuffPost
The Stakes Have Never Been Higher
Popular in the Community