"The real trick to it all is to control as many parts of your own destiny as humanly possible." -- Joe Bonamassa
As a fan of blues music, I tend to gravitate toward the old masters. But as I started to listen to more of the contemporary guitar virtuosos, I could see that some, like Joe Bonamassa, are taking the genre of blues music and kicking it up a notch. It's to a point where the genre of music that he is playing no longer needs to be defined, and you know what, it's probably better that way.
In this interview, we talked about paying homage to his heroes, collecting guitars, being in charge of his career, and his quest to support music in schools.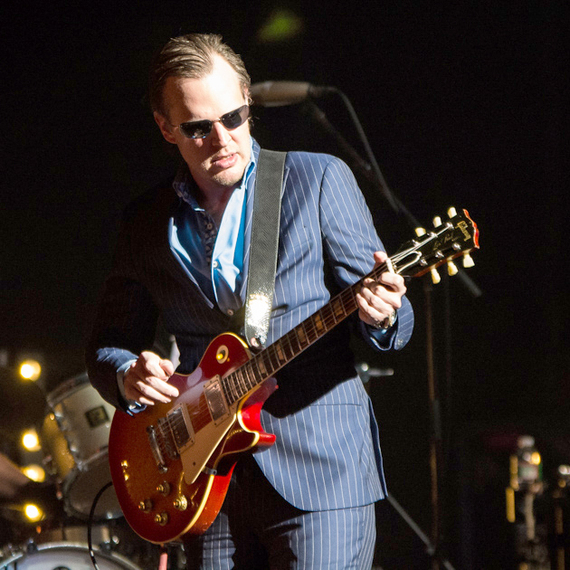 Photo courtesy Leslii Stevens - Studio23Hudson.com
You're on the road again after a successful 3-Kings tour. There aren't too many musicians out there who take detours from their own music who go and do entire tours of other peoples music. Do you feel that blues musicians are more likely to do that? Paying homage to their heroes?
JB: Well, maybe. I actually saw that Zakk Wylde just did a three or four show run in California and he called it Zakk Sabbath, and all he did was play Black Sabbath tunes. Everybody has their influences. Everybody has their heroes. Sometimes, it's fun to, in the best of your ability, try to recreate that music in tribute to the people who inspired you, and I think your own fans enjoy that. I don't think it's "blues specific" as far as I'm concerned. Does it happen very often--not really. Will it stop me from doing it--No.
If the 3 Kings (B.B. King, Albert King, Freddie King) were alive today, and you could pull each of them up on stage with you, what songs in their catalogs would you love to play with them?
JB: Well, with B.B. it would be The Thrill Is Gone, and I've done that before when he asked me on stage. With Albert, it would have to be Breaking Up Somebody's Home, or Don't Burn Down The Bridge. And with Freddie, it would be Palace of the King or a great version of Aint No Sunshine, that Bill Withers song.
Has there ever been a concert you played, or a moment in your career playing with other musicians where you were truly nervous?
JB: Not really. A lot of times it's not the nerves that get you. Sometimes when you do these DVD shoots, and you know that you have just one take to get this crap right, or right enough to release it is when it's nerve racking. It's the kind of situations where you manufacture that yourself. When Clapton came out in 2000 that was a big 'holy crap' moment for me. But that was also a situation where I knew, that for me, this was my make or break moment--that I really had one shot.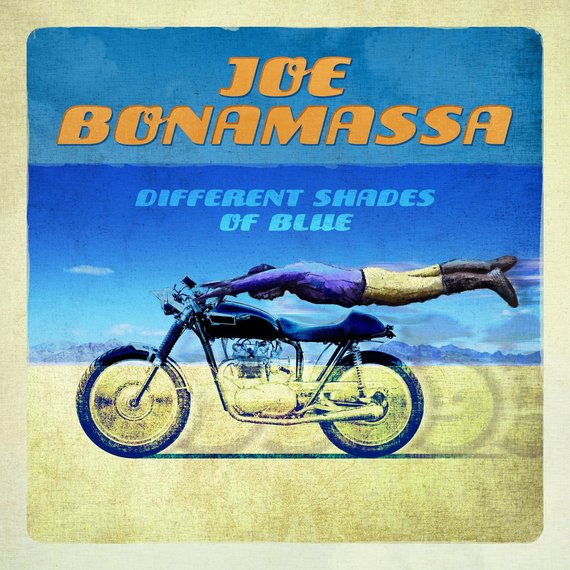 As for your music, the illustration on your CD cover Different Shades of Blue has this guy hanging onto a motorcycle for dear life. Was there a specific concept that you were trying to come up with, or a specific message? Was it time to take your listening audience on a wild ride?
JB: That cover is an adaptation of a very famous old racing poster, and when we did Driving Toward the Daylight, we did adaptation of a very famous Monaco grand prix poster. So it was kind of an extension of that. If you have listened to my music, you'll see that Different Shades Of Blue is not blues specific. There are so many different genres that I float in and out of. It becomes something that I don't even think of anymore. It was a fun cover that services the collector side of me, and an analogy for all of the styles of music that we cover.
For a while there, you were putting out an album almost every single year. For newer artists trying to make a name for themselves, how important is it to continuously work, produce albums, self-promote, and do press?
JB: For new artists, it's critical that when you are starting out that you understand that the second word in music is business. And you have to treat it as a business. You can't as an artist at any level, whether you are a member of a band, or a solo artist, you can't just default to: I'm just a musician and other people handle the business. The minute you actually get somewhere, if you don't know how you made it there, and it just happened, you don't know how it's going to disappear. And you can never get it back if you don't know how you got there in the first place. Owning your own label avoids having to sit in some A&R guys office and have him speak some absolute fucking nonsense to you about not hearing a single, or not hearing this, that or the other thing, or why something's not happening, or him getting fired by the label so you're left on some island without a bridge. And then you got a promoter saying that, well, you did less tickets on a Monday then you did the last time you played, so I'm gonna offer you half the money, and we'll keep it at the same venue, with the same ticket prices. All of a sudden, you're in a situation where other people are in charge of your destiny. The real trick to it all is to control as many parts of your own destiny as humanly possible. Without that, you have to bow down to people and play the game, which is always fun and disheartening and soul-sucking, or you can do it all on your own, write your own checks, call your own shots, and make your own hours. I prefer the 'B' method than having to show up to someone's office and play a tune just to get them to support a record that they should have fucking supported back when you signed. At the end of the day it becomes a self-fulfilled prophecy, or a self-defeating prophecy, depending on the way you look at it.
I have noticed you have been using this new live social media app called Periscope. What do you like about it?
JB: People like to look into your daily life, and unfortunately my life is rather dull and mundane. In the afternoon, you'll find me at the local guitar shops trying to pull old tweed amps out of their basements. My live persona with the sunglasses and the suit--people have a certain expectation of what your personality is like, and my off-stage persona--a lot of people don't even recognize me without that get-up on. It's just a way of showing people that I'm just a guitar nerd who's done well.
The Gibson Les Paul has pretty much been your go-to guitar. Can you describe what you get out of this guitar that you don't get from other guitars? Is it a sound, or is it a feeling?
JB: I'm an electric guitar player, not an acoustic guitar player. Started on an electric--will finish my career on an electric. Everybody has a tone in their head--has a sound in their mind that they want to sound like. When I use to play telecasters or Fender strats, or a 335, or an SG, or any delineation of Fender or Gibson guitars, I found that I could get there, I could get the sound that I wanted in my head, only it required more pedals, or it required some modifications. With the Les Paul, I could just plug it into a tweed amp, and this is what I hear--my inner ear tells me it's right. So, I've always defaulted to a Les Paul, especially in the last twelve to thirteen years, to where I build my whole tone and sound around them.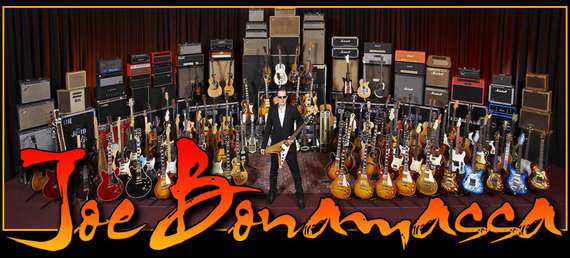 Collecting Guitars. I've seen the pictures. You have quite a collection of guitars and amps. Do you get a euphoric feeling when you buy a new guitar or amp?
JB: It's weird. It's almost to a point where I feel that I have to rescue stuff. Like today, I woke up, and knew of one guitar shop in town, bought an amp from them and then found another one on Yelp, and then bought four more amps. They are all pre-1965 Fender's. I have all of these things in doubles, triplets, quadruplets, and quintuplets. But for me as a collector, if I see something in great or mint condition, they are not really making these anymore. It's becoming harder and harder to find. Mom and pop music shops are starting to go under faster than they are popping up. It's tough to do brick and mortar retail, especially now. There aren't as many gigs as they once were--the farm system is dead. I have an advantage because I play live to two thousand to three thousand seat places every night. When I was coming up fifteen, seventeen, twenty years ago, that farm system that held a hundred or two hundred people, those clubs are gone. The little music shops are gone. But if there is no place to play, there is no reason to buy any more gear.
How did you obtain the most treasured guitar in your collection?
JB: The rarest guitar I have is a '58 flying V that I recently bought at Norman's Rare Guitars. It turned out to have a very cool back-story. The shop was still open that it was originally purchased at in 1958. The shop is in Indianapolis. A couple of weeks ago, I took the guitar back to the shop to meet Amos Arthur's daughter--Amos Arthur was the founder of the shop. They didn't make that many of these flying V's that year, and to have this provenance, and this connection to an old mom and pop music store in Indianapolis was really special. It was really thanks to Norman's Rare Guitars for putting the right guitar with the right guy who appreciated the history.
Do you feel being musically gifted is truly a gift that you could be born with, or is it more about how dedicated you practice?
JB: In my case, it was more about how dedicated you practice. Mine was ninety percent work, and ten percent natural gift. For some people they can just stand there and open their mouth and a bellowing operatic voice comes out. I wasn't one of them. I had to sit down and learn and develop a technique.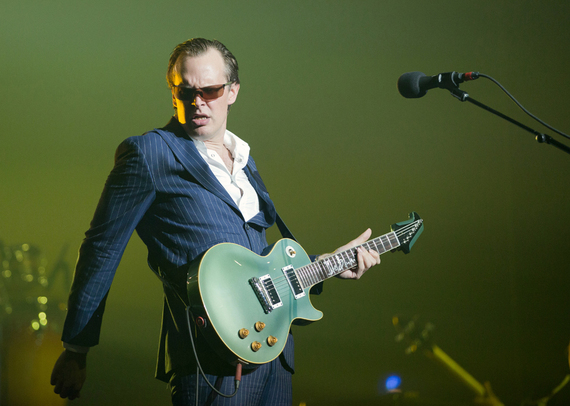 Photo courtesy of Marc Lacatell. MLACphotography.com
You started the Keeping the Blues Alive Foundation to help support students, teachers and music projects in schools around the United States. With so many music programs being cut in schools due to budgetary issues, what message are you trying to get out to the public?
JB: If the public is not going to pay for it then somebody is going to have to help out, and that's what the whole foundation is about. Necessity is the mother of invention. We started this thing to give back, and it's been a great thing that we've done. It's hard to raise money. But music in the schools has proven that people do better in math, they do better in science, they are more focused, and they have a creative outlet besides playing Xbox. This creative outlet can be used to start a career or enrich their lives.
Having been playing guitar and touring since such a young age, do you feel that you'll still be doing this into your late 70's or late 80's like Buddy Guy and B.B. King?
Do you have a retirement date?
JB: The goal right now is twenty-two more years. But I may round it up and go to the AARP age of 62 so that I can put in an even fifty years--that is if the fans allow it.
What's your plan for after you retire from playing music?
JB: I'll take up like woodworking. I'll be like Bob Villa and do something like This Old House, but I'll call it This Old Guitar.
Calling all HuffPost superfans!
Sign up for membership to become a founding member and help shape HuffPost's next chapter