 A Republican lawmaker in Tennessee has proposed legislation to ban the enforcement of any new federal gun bans, becoming the third state legislator in the nation to propose the constitutionally questionable legislation.
State Rep. Joe Carr (R-Murfreesboro) announced Wednesday that he wanted to make it a misdemeanor for federal law enforcement to enforce any new federal gun bans in Tennessee, DJR.com reports. Carr's move comes after President Barack Obama signed 23 executive orders for gun control measures, along with several additional proposals to Congress. Much of the opposition to Obama's proposals has focused on his decision to enact gun reforms through executive order instead of legislation.
The proposals to Congress include a federal assault weapons ban. The National Rifle Association has denounced Obama's proposals, making resistance in Congress certain.
Carr's move comes after Republican lawmakers in Wyoming and Texas proposed similar legislation. Carr said he offered the proposal to allow residents to "defend themselves from tyranny."
"In light of recent comments and actions taken by President Obama and Vice President (Joe) Biden, I believe it is necessary that Tennessee proactively promote, maintain and defend Tennessee's sovereignty guaranteed to it in the 10th Amendment to the Constitution," DJR.com quoted Carr as saying. "Additionally, this blatant assault on the Second Amendment by the Obama Administration is a systematic effort to disarm the law abiding citizens of the United States."
Last week, Wyoming state Rep. Kendell Kroeker (R-Evansville) introduced legislation to make enforcement of any ban on assault weapons and high-capacity magazines a felony in the state. Texas state Rep. Steve Toth (R-The Woodlands) introduced legislation this week making it illegal for enforcement of a federal ban in his state.
Jeffrey Fisher, a Stanford University law professor and former Supreme Court law clerk, told The Huffington Post last week that the state legislation is questionable under the Constitution. Kroeker had claimed it was allowed, citing an example of Thomas Jefferson's involvement in the writing of advisory resolutions for Kentucky and Virginia opposing the Alien and Sedition Acts in the late 18th Century. The resolutions did not commit the two states to ban enforcement.
Two county sheriffs in Oregon have announced that they will not enforce the new federal gun laws in the state, CBSNews.com reported. Linn County Sheriff Tim Mueller and Crook County Sheriff Jim Hensley wrote in a letter to Vice President Joe Biden that they cannot enforce what they believe are unconstitutional laws.
"We must not allow, nor shall we tolerate, the actions of criminals, no matter how heinous the crimes, to prompt politicians to enact laws that will infringe upon the liberties of responsible citizens who have broken no laws," Mueller and Hensley wrote, according to CBSNews.com.
Twitter traffic indicated that Talking Points Memo reported that Sen. Rand Paul (R-Ken.) would introduce legislation to block Obama's gun control executive orders.
Not every state and local official has opposed Obama's proposals. A group of 70 mayors from around the country, organized by Mayors Against Illegal Guns, converged on Capitol Hill Wednesday to lobby for a series of proposals, including bans on assault weapons and high-capacity magazines, both of which Obama proposed. Santa Fe, N.M., Mayor David Coss (D) told HuffPost that he believes the current political environment in the wake of the Connecticut school massacre would help passage of new federal gun measures. At least one Republican mayor joined Wednesday's congressional push.
"I am concerned about the attacks that have taken place, the stream of weapons out there," Roselle Park, N.J., Mayor Joseph Accardi (R) told HuffPost. "Something has to be done."
Before You Go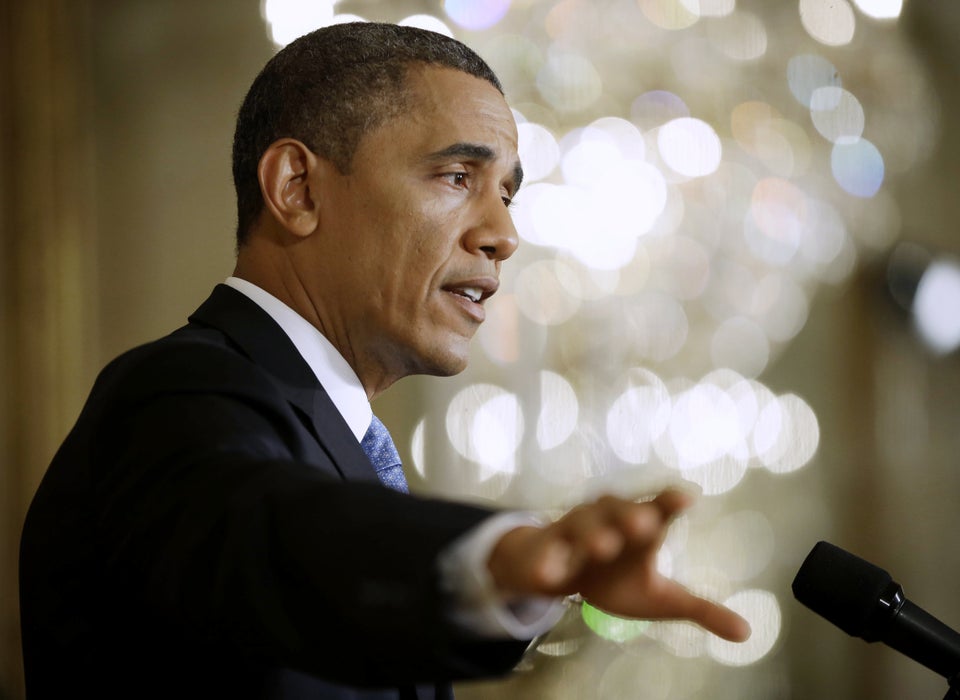 Obama's Executive Actions On Gun Violence
Popular in the Community