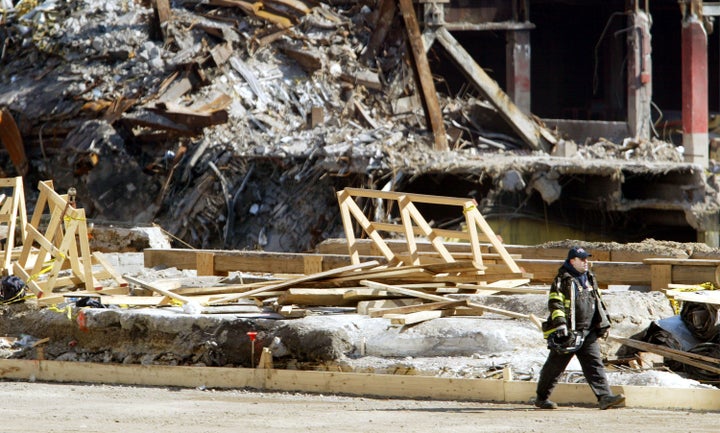 WASHINGTON ― Rep. Joe Crowley (D-N.Y.) on Wednesday launched a petition to help stop the deportation of an undocumented immigrant who helped clear hazardous materials at ground zero following the attacks on Sept. 11, 2001.
Shortly after the petition was filed, the U.S. Immigration and Customs Enforcement announced they released Carlos Humberto Cardona from custody on Wednesday afternoon.
"Cardona will be required to check-in periodically pending the outcome of his immigration case," ICE public affairs officer Rachael Yong Yow told HuffPost in a statement.
Cardona, 48, fled violence in Colombia and moved to New York City over 30 years ago. He maintained regular contact with U.S. immigration officials during the past several years but was detained in the early days of President Donald Trump's presidency over a 27-year-old drug conviction.
Cardona suffers from respiratory and gastrointestinal problems because he inhaled poisonous fumes at ground zero. He has developed other health problems since being detained, including depression.
"Instead of expressing our gratitude as a nation that Mr. Cardona helped clean and contain the World Trade Center site, our government is doing everything it can to deport a man who is facing serious health problems because of the work he did on our behalf. This is shameful," Crowley wrote in the petition addressed to President Trump, Secretary of Homeland Security John Kelly and acting director for ICE Thomas Homan.
Crowley called Cardona's release a "positive step," urging the Homeland Security department to allow Cardona to establish a permanent legal residence in the U.S.
"It's the least we can do for a man who helped New York after the 9/11 terrorist attacks," he said.
Cardona's wife, Liliana, said her husband didn't worry about his immigration status when he volunteered to help in the recovery effort after Sept. 11.
"When he was working in 9/11, they didn't ask for his papers," she told The New York Daily News. "They asked him to help."
Last week, New York Gov. Andrew Cuomo (D) granted Cardona clemency. The governor argued that Cardona's health problems would not be adequately addressed if he was deported to Colombia.
The agency has aggressively stepped up its immigration enforcement following Trump's inauguration, detaining and deporting people with felony and misdemeanor convictions. ICE agents have also sought to arrest undocumented immigrants at courthouses, schools, and hospitals.
Crowley said the issue was larger than just that of Cardona's case.
"Deporting Mr. Cardona would send a message to the immigrants who call our country home that even if they serve our country during its darkest days, we will not welcome them in our communities," the congressman said.
REAL LIFE. REAL NEWS. REAL VOICES.
Help us tell more of the stories that matter from voices that too often remain unheard.
BEFORE YOU GO
PHOTO GALLERY
How Donald Trump Talks About Undocumented Immigrants