 WASHINGTON -- Rep. Joseph Crowley (D-N.Y.), an honorary co-chair of centrist think tank Third Way, became the latest Democrat to reject an op-ed by the group's leaders trashing the economic populism championed by Sen. Elizabeth Warren (D-Mass.).
"Congressman Crowley has worked with Third Way on a range of issues, such as immigration reform and the Affordable Care Act, but on this matter they strongly disagree," Crowley spokeswoman Courtney Gidner wrote Thursday in an email to The Huffington Post. "The Congressman has and will continue to fight to protect Social Security and Medicare."
Representatives for Third Way did not immediately respond to a request for comment.
Four progressive groups -- Progressive Change Campaign Committee, Social Security Works, Democracy For America and Progressives United -- have called on Crowley and Reps. Jared Polis (D-Colo.) and Jim Clyburn (D-S.C.) to resign as Third Way co-chairs and denounce the op-ed, which was published Monday in the Wall Street Journal.
In a statement to HuffPost, Polis declined to take a side in the fight. "I like Elizabeth Warren. I like Third Way. I hope they can learn to get along better," he said. Clyburn declined to comment.
Rep. Allyson Schwartz (D-Pa.), another honorary co-chair of Third Way, rejected the editorial on Wednesday after progressive pressure, though she declined to cut ties with the group. While none of the three congressmen face particularly challenging elections in 2014, Schwartz is running for governor against Republican incumbent Tom Corbett.
The letter apparently infuriated some Washington Republicans. An anonymous "senior DC Republican" compared Warren on Thursday to Lyndon LaRouche and Joseph McCarthy in an email to Politico's Morning Money.
The Monday op-ed by Jon Cowan, the president of Third Way, and Jim Kessler, the group's senior vice-president for policy, lambasted economic populism, calling it a "fantasy," "disastrous" and "reckless." It criticized Warren, who has called for greater regulation of large financial institutions and stronger advocacy for consumers, and New York City Mayor-elect Bill de Blasio, who has also championed populist policies.
The ideas denounced in the editorial -- expanding Social Security amid statistics that many Americans have insufficient retirement savings and raising taxes on the wealthy -- are popular among voters. A November MoveOn/Public Policy Polling survey in 10 key House and Senate Districts found that 65 percent of voters favored increasing social security. A December 2012 AP poll, meanwhile, found that only 3 in 10 respondents supported slowing the rate of growth in Social Security benefits and 48 percent opposed raising the eligibility age for Medicare. The poll also showed 48 percent favored raising taxes on those who made $250,000 or more per year to pre Bush-era levels.
UPDATE: 1:25 p.m. -- Rep. Ron Kind (D-Wis.), another honorary co-chair of the group, also denounced the editorial. "I'm tired of the politics of polarization," he said in a statement. "We need to find ways to build bridges, not tear them down. Opinion pieces attacking people are unproductive, and do nothing to help solve the challenges that our nation is facing." A spokesman for Kind said he would continue to work with the group.
Before You Go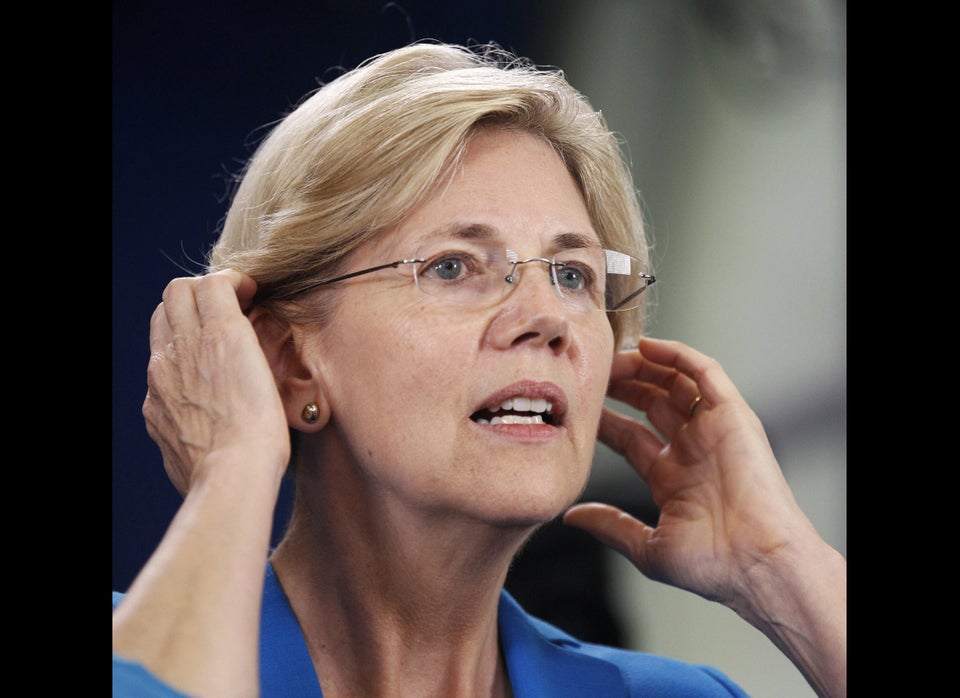 Elizabeth Warren
Popular in the Community