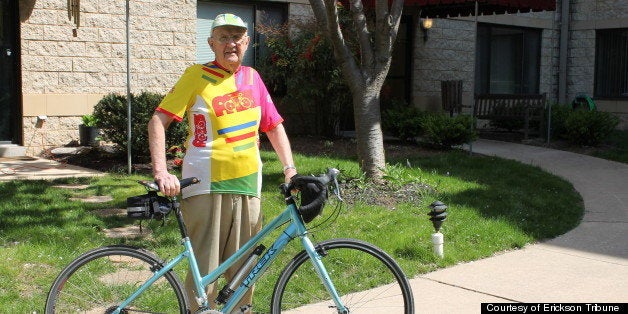 "This Is What ... Looks Like" is a Huff/Post50 series delving into the extraordinary accomplishments and adventures of post 50s at every stage of life. Want to share your experiences? Email us at sayitonhuffpost50@huffingtonpost.com.
Joseph Datsko, at 92, has pedaled more miles in his life than many people rack up on their cars. He has clocked more than 150,000 miles in the saddle of his bicycle and still cycles more than 50 miles a week -- despite a recent health issue that rendered one foot dangling from the ankle. "Ask me again in a few weeks," Datsko said, "I'm working back up to 100 miles a week."
Datsko, a retired University of Michigan mechanical engineering professor who now lives in the Charlestown Retirement Community in Catonsville, Maryland, cycles daily at Pataspco State Park. He does laps around the 1.3 mile loop, noted for its hilliness. Here's the real rub: He's a Johnny-come-lately to cycling; he didn't begin until he was in his 50s.
"I cycle for a lot of reasons," he said. The reasons, in fact, keep changing.
When he first started, cycling was a family event shared with his wife, who died in 2010, and their five children. They enjoyed it so much, he said, that for about a decade, the whole crew would spend every Mother's Day weekend on a 200+ mile cycling trip along the Ohio River. Another decade was spent on cycling trips that lasted a week and involved the grandkids. He tallies up about 42 family outings -- reunions -- spent on bike wheels.
From "something we could all do together," bicyling grew into a much deeper passion for him. At his peak, he spent four to eight hours a day, six days a week, on his bicycle. He rode cross-country several times, visiting 25 states in the process. He also rode from Maine to Florida. When he was 71, he joined a group of 35 bicyclists going cross-country from Bellingham, Washington, to Portland, Maine. "We rode six days a week for 12 weeks -- about 75 miles a day," he said.
He cycled in five more long-distance rides ranging from 1,680 miles to 5,236 miles. He traveled down the East Coast from Portland, Maine, to Orlando, Florida, and he toured the southern half of the United States on a ride from Oceanside, California, to the seaside town of St. Simons Island, Georgia.
His last long-distance ride was six years ago along the Oregon Trail from Independence, Missouri, to Oregon City, Oregon. "By that time I was considered an old man" said Datsko. "One of the benefits, though, was I had nothing but time, so I could go on rides that lasted a few weeks or more."
His youngest son got into bike racing and was invited to the Olympic tryouts in 1992. One daughter and her husband rode from the Pacific to the Atlantic; that ride began with their back wheels touching the Pacific Ocean in Oregon and ended with the front wheels dipped in the Atlantic. The memories he has from various biking expeditions are long and flawless. And it's clear that cycling has been a core thread of his life.
But when his wife Doris suffered a stroke in 2006, he reduced his time in the saddle to care for her. Gradually, for his own emotional and health reasons, he began biking again and returned to it being central in his life after his wife's death in 2010.
In September, he developed a medical condition known as foot drop, which left him with little control of one foot from the ankle down. "It just kind of dangles there," he said. But that hasn't stopped him from biking. With his doctor's OK, he resumed cycling about a month ago and is rebuilding his strength.
"I like to ride standing up and I can't do that anymore," he said, noting that he's afraid that his foot won't bear his weight well enough to stand on it on the pedals. "But that's not going to stop me."
Cycling has had a positive cardiovascular impact on his health, but he also credits it with his weight loss. When he started biking in his 50s, he weighed 215 pounds. He now is a trim and fit 178.
In addition to cycling he uses the Charlestown's Fitness Center to work out on the resistance machines or stationary spinning bikes.
"I try to get to the fitness center five to six days a week for about an hour to an hour-and-half," Datsko said. "But I prefer to be outdoors.
"There's nothing like riding outdoors in the fresh air," he said.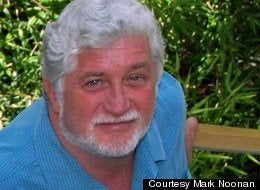 Post 50s Declare Their Independence
Popular in the Community