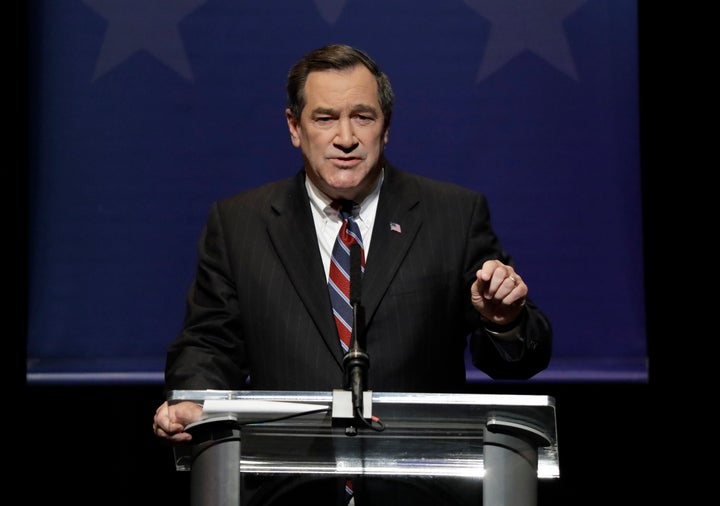 Sen. Joe Donnelly (D-Ind.) used some awkward phrasing to describe minority staffers in his office during a debate Tuesday.
Responding to a question about diversity in staffing, Donnelly said, "Our state director is Indian-American, but he does an amazing job. Our director of all constituent services, she's African-American, but she does an even more incredible job than you could ever imagine."
Donnelly's ham-handed attempt to praise his staffers quickly got attention online.
The Indiana Democrat, who is facing a tough re-election fight this year, later claimed he "misspoke."
"I meant to say 'and' instead of 'but,'" he said in a statement to HuffPost. "That would have communicated what I have tried to do my entire life: that I make a habit to seek out and promote people of color for both my campaign and official staff."
A Donnelly spokesman said that 25 percent of his official staff identifies as nonwhite. The campaign of his opponent, Republican Mike Braun, did not immediately respond to a similar request for information about his staff.
Regardless of what Donnelly meant, one couldn't help but draw comparisons to GOP presidential nominee Mitt Romney and his verbal difficulties in connecting with voters. His goofiness repeatedly drew mockery, especially over lines like "binders full of women," which he once used in a 2012 presidential debate to boast about his efforts to hire female employees as governor of Massachusetts.
Gaffes have a long history in politics ― Howard Dean's infamous scream being a prime example. But it's interesting what counts as a campaign faux pas these days, given the mouth that occupies the Oval Office.
Donald Trump's presidency has included statements that would have long ended the career of any other politician ― and he's still going. On Wednesday, for example, Trump tweeted a deeply weird video appearing to celebrate his family's performance while visiting Pittsburgh after a deadly synagogue shooting there last week. Earlier this week, Trump referred to the black Democratic mayor of Tallahassee, who is running for governor in Florida, as a "thief" without offering any evidence. He's previously called NFL players "sons of bitches" for kneeling during the national anthem, and that's not even counting the dozens of racist statements he's made about immigrants and other minorities.
REAL LIFE. REAL NEWS. REAL VOICES.
Help us tell more of the stories that matter from voices that too often remain unheard.