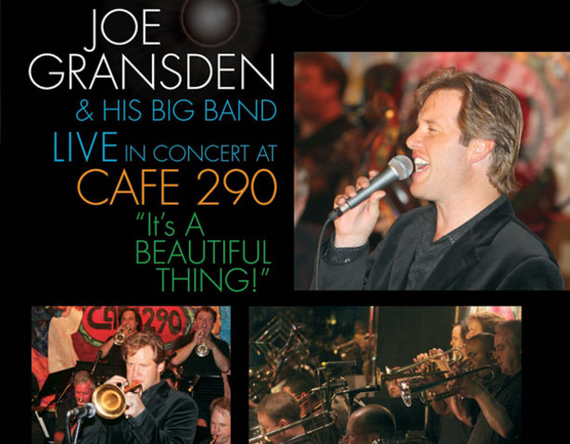 For the last seven years the Atlanta based trumpeter& vocalist Joe Gransden has brought his style of big band music to the crowded stage of owner John Scatena's jazz club, Café 290 in Sandy Springs, Georgia. It has become one of those venerated rituals that those in the know can't get enough of; a full seventeen-piece big band hearkening back to the days of Artie Shaw, Maynard Ferguson, Count Basie and Duke Ellington playing great music.
There is nothing quite like the sound of a well-tuned big band, a sound created by multiple musicians that play with a beautiful precision through musical passages, like a school of fish moving instinctively in unison through the ocean. A big band offers a unified sound that comes from the deft arrangement of so many instruments all playing in precision concert. The band that Joe has assembled is a testament to his vision and fortitude; a commitment he and his musicians have made to persevere with this project over the last seven years. One is reminded of the revered Thad Jones-Mel Lewis Orchestra, which eventually morphed into the Village Vanguard Orchestra. That band has played that famous jazz haunt weekly since it first started back in 1972! Through Joe and his fellow musicians, these bi-monthly performances at Café 290 have become a source of pride for the Atlanta jazz community, offering an exciting and reliably entertaining evening of music for all who love the big band genre.
The musicians are some of the best from the southeastern United States and many have nationwide credentials. They are led by Joe Gransden on trumpet and vocals, with most of the arrangements by lead trombonist Wes Funderburk. The other musicians include Mace Hibbard on lead alto saxophone, Brian Hogans on alto sax, John Sandfort on tenor sax, Mike Walton on tenor sax, Don Erdman on baritone saxophone and clarinet, Chip Crotts lead trumpet, Rob Opitz trumpet, Clark Hunt trumpet, Melvin Jones trumpet, Tom Gibson trombone, Kevin Hyde trombone, Sam LoBue Bass trombone, Geoff Haydon on electric piano, Neal Starkey on bass and Justin Chaserek on drums. Together these guys make swinging, beautiful music.
This past Monday evening was my maiden voyage to Café 290 to catch this Atlanta phenomenon first hand. We arrived early and got to see the band warm-up. The amazing thing about big bands these days is that they do not get a chance to practice together on a regular basis. With the economics of the music business being what it is, there is little money for the rental of a practice space let alone being able to compensate the musicians fairly for their time. So the warm-up session before the set was the perfect time to do a sound check, work out possible song selections for the evening and tweak sectional requirements and solo spots based on their pre-worked out book. Despite these handicaps, these guys are all professional, can sight read quickly and are accomplished session players, so when the band hit the stage for the opening song, Oliver Nelson's "Miss Fine," they were up to speed in no time, running as smoothly as a Swiss movement, and featuring an especially combustible trumpet solo by Melvin Jones.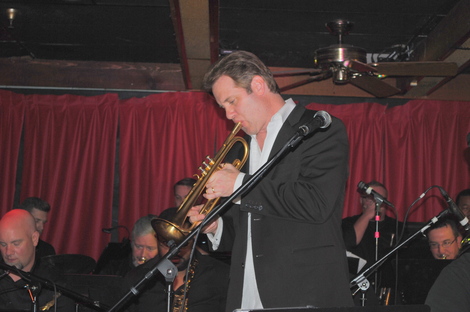 The affable Gransden made his entrance after the first tune and introduced the sultry "Speak Low," playing the melody on his trumpet in front of the big band. The band purred behind on the spirited Eugene Throne arrangement, with Gransden taking the high register lead solo on trumpet and John Sandfort taking a spirited tenor solo on this old Sinatra standby.
The audience was transfixed with the powerful swing of this well-oiled machine as they dialed it down a bit into the slower tempo Sinatra/Count Basie arrangement of" More." Joe's voice has a silky smoothness to it and his stage manner is loose and confident. In many ways he takes his vocal style from the great crooners that fronted the big bands of yesteryear like Sinatra and Tormé.
With the crowd primed for music that could be sung to, Gransden took to another Sinatra tune singing "Get Me to The Church on Time" as the band roared behind him. A quick scan of the crowd and you could see several patrons mimicking the words.
The next song, newly arranged by alto saxophonist Brain Hogans, was the Jimmy Van Heusen standard "Polka Dots and Moonbeams," and was Frank Sinatra's first hit he recorded with the Tommy Dorsey Orchestra. The lush arrangement swelled languorously as it featured Gransden's trumpet at the lead. Joe's playing was reminiscent of trumpeter Chet Baker's 1959 version in both style and lyrical beauty.
Gransden is always the consummate showman and after miscalling his next chart he related how nice it would be to lose the bulky book of arrangements that he carries around. He told of how the band would soon be able to read their charts on individual I-pads with foot actuated page turning capabilities, a vast improvement. After a short technical disruption due to microphone difficulties, the band roared into Wes Funderburk's arrangement of "Chicago Blues", the perfect vehicle for soloist to blow on. And blow they did with Joe singing the opening lyrics and a soon to follow rousing tenor solo by Mike Walton, a bellowing trombone solo by Kevin Hyde and a solo spot featuring the unified saxophone section before Joe returned to the refrain.
Gransden introduced a song from trumpeter Maynard Ferguson titled "Fox Hunt," which featured a two trumpet duel between he and Melvin Jones. The two trumpets stating the line as the big band pulsed behind them. True to the Ferguson style, the trumpet licks from Jones were stratospheric. When Gransden took his solo his playing was equally as fiery. The two alternated on the high register of their horns running off lines of notes at break neck speed, eventually ending this jazz duel in flurry of high energy with piercing punctuation.
The band lowered the intensity of the proceedings by introducing a slow ballad "The Nearness of You," on an arrangement by Atlanta's own Jim Basile. Gransden's voice rendering the song with great tenderness, before he picked up his trumpet and showed what a great balladeer he can be. His tone is warm and honeyed and he often phrases with Baker-like sensitivity. Another moving tenor solo by John Sandfort capped off this beauty.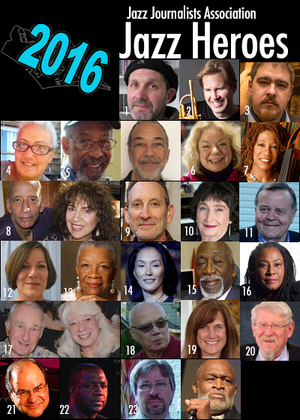 At this point in the show, members of the Jazz Journalist Association, Scott Fugate, aka the Jazz Evangelist, and myself had the honor to present Joe with one of this year's JJA Jazz Heroes award. The award is given to individuals who, in the opinion of the board and members of the JJA, best represent advocacy for the proliferation and appreciation of jazz music in their respective local areas. Joe Gransden was chosen to receive this award for his tireless efforts to promote, educate and foster jazz throughout the Atlanta area. The self-deprecating Gransden accepted the award and the audience warmly applauded him for this well-deserved honor.
The band continued the performance with an impromptu saxophone duel by alto saxophonists Brian Hogans and Mace Hibbard; each man taking the other to new heights of improvisational adventures, as the rhythm section of Haydon, Starkey and Chesarek kept the groove.
After the band did a second-line birthday tribute, New Orleans's style, to a member in the audience whose birthday some people were celebrating at the club that night, Gransden and company went into a tribute to Glenn Campbell, the Jimmy Webb song "Wichita Lineman" featuring a bass trombone solo by Sam LoBue and some nice interplay between Gransden's trumpet and Hibbard's alto. This was followed by a rousing version of the shout-out Glenn Miller Band 's "Pennsylvania 6 Five Thousand" complete with Joe's hand-muted trumpet solo. The set ended with a Dizzy Gillespie burner, the furious "Things to Come" where Joe's fluttering trumpet solo took flight in true Gillespie-like fashion, pianist Haydon gave a remarkable solo on his electric piano and Mike Walton screamed on his tenor.
Coming from the New York area only a little over a year ago, I was mistakenly concerned that the jazz scene in the South might be somewhat lacking. While New York is still the epicenter of jazz, musicians like Joe Gransden and the artists in his big band, as well as jazz club owner's like café 290's John Scatena, make it clear that jazz is alive and well in the Atlanta area.
This band should not be missed by anyone who loves big band music. You can catch them every 1st and 3rd Monday night at Café 290. The band is making a special trip to appear at the Blue Note Jazz Club in New York on Monday July 11, 2016. They have three album titled It's a Beautiful Thing, Song's of Sinatra & Friends and I'll Be Coming Home for Christmas that can be purchased on I Tunes here.
Calling all HuffPost superfans!
Sign up for membership to become a founding member and help shape HuffPost's next chapter